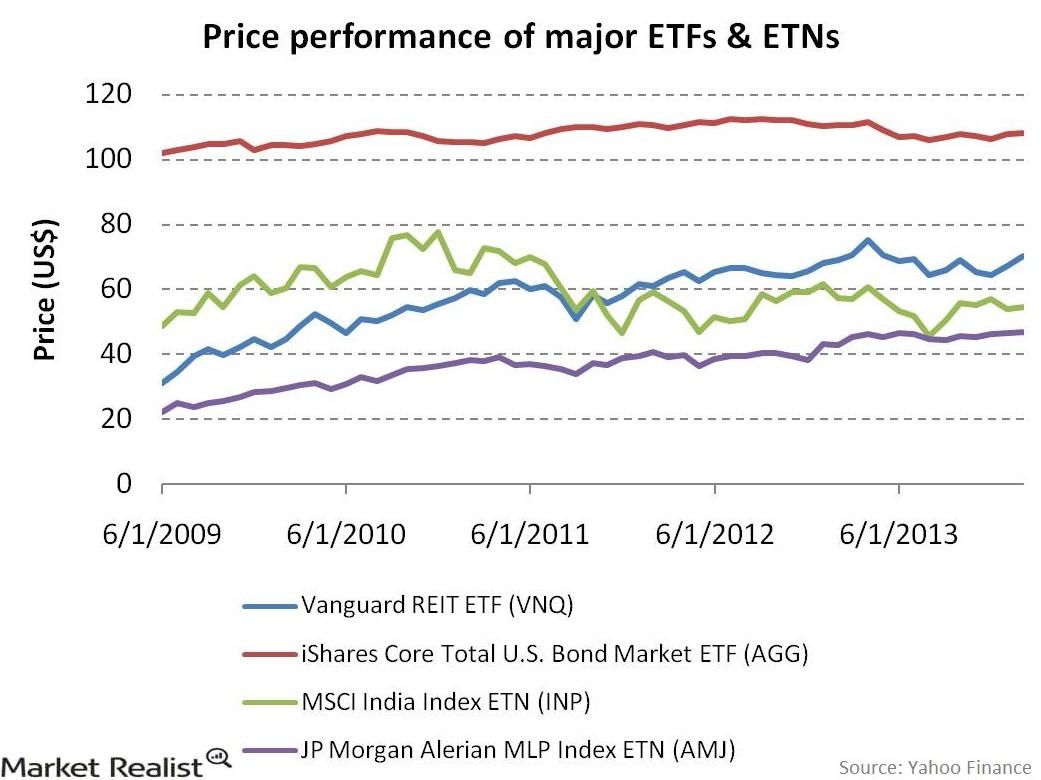 A head-to-head comparison: What are ETFs and ETNs?
Exchange-traded funds (or ETFs) and exchange-traded notes (or ETNs) are both capital market instruments that are designed to track the underlying assets. ETFs and ETNs are very similar—both trade on an exchange like a stock, follow an underlying product, and are easily accessible to investors.In the chart above, the emerging market ETN, INP, shows a high degree of volatility.
When an investor purchases an ETN, it's a purchase of a debt product which is similar to a bond. When an investor purchases an ETF, it's a purchase of an asset like a stock or index.
Article continues below advertisement
The key difference is that when you invest in an ETF, you are investing in a fund that holds the asset, which it tracks. That asset may be a stock, bond, gold, or any other commodity, or futures contract. On the other hand, when you invest in an ETN, you are being issued an unsecured debt note by a financial company, usually a bank. ETNs do not actually hold any securities; instead, an issuing bank promises to pay to investors the amount reflected by the index's performance (minus the fees). Similar to how a bond works, an ETN can be held to maturity, bought or sold at will, and if issuer were to go bankrupt, the investor would risk a total default.
Types of ETFs
ETFs have gained tremendous popularity over the years. There are currently about 1,500 ETFs trading on the market. Given the popularity, the market never fails to bring in new types of ETFs every now and then. They can be broadly categorized as sector and industry ETFs. Examples of ETFs are the Vanguard REIT ETF (VNQ) with major holdings in Simon Property Group Inc. (SPG) and Public Storage (PSA); bond ETFs like the iShares Core Total U.S. Bond Market ETF (AGG) and the iShares Barclays TIPS Bond ETF (TIP); the U.S. Market Index ETFs; foreign currency ETFs; commodity ETFs; inverse ETFs; leveraged ETFs; and many more.
Types of ETNs
Article continues below advertisement
ETNs are broadly categorized into commodity, currency, emerging market, and strategy ETNs. Commodity ETNs include categories such as energy, oil, and metals. Currency ETNs include the euro, the British pound, and the Japanese yen. An example of an emerging market note is the iPath MSCI India Index ETN (INP), and there are certain strategy ETNs linked to the performance of the CBOE S&P 500 BuyWrite Index (BXM). One of most popular ETNs is the JP Morgan Alerian MLP Index ETN (AMJ).
Volatility ETFs and ETNs
Volatility ETFs and ETNs are another form of a hedging tool among the plethora of options in the inverse and short ETF market. These products generally move higher when markets are slumping, or when fear levels about the future are high. Furthermore, their gains tend to be pretty big when markets are down, with moves of even 4% in a single session. They achieve this by tracking a volatility index like the Volatility S&P 500 Index (VIX) as the underlying asset or benchmark.
Continue reading about hedging in Why worry when you can hedge your fixed income portfolio?