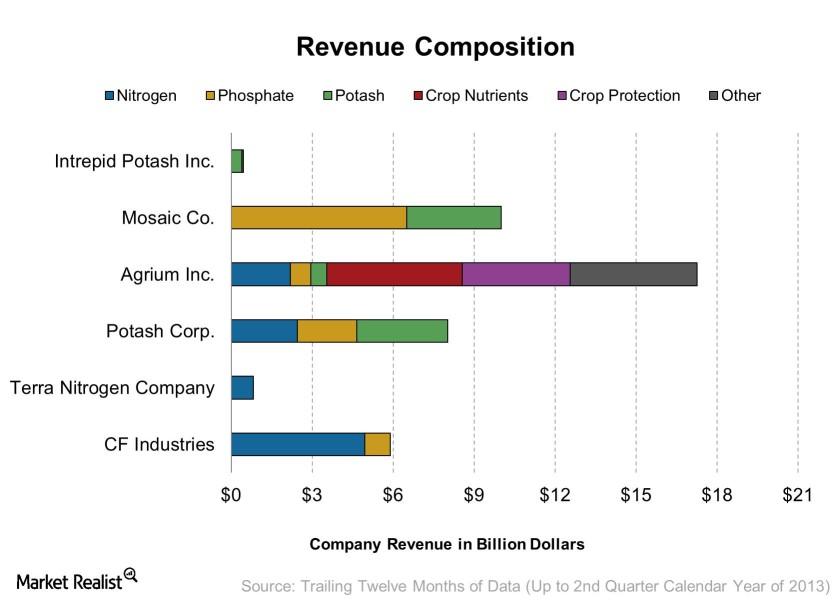 Revenue composition of major publicly traded fertilizer stocks
By Xun Yao Chen

Oct. 17 2013, Published 11:00 a.m. ET
Main companies traded on the US market
There are six main fertilizer producers that are widely traded on the US stock exchange: CF Industries Holdings Inc. (CF), Agrium Inc. (AGU), Mosaic Co. (MOS), Potash Corp. (POT), Terra Nitrogen Company LP (TNH) and Intrepid Potash Inc. (IPI). While they all operate producer fertilizers, each are exposed to different fertilizers, and sometimes to different businesses within the supply chain too.
Specialized companies: TNH, IPI, and CF
Article continues below advertisement
The chart above shows there's a wide variety of companies that investors can select from. Investors who want to specialize in specific companies like potash or nitrogenous fertilizers can select Intrepid Potash inc. (IPI) or Terra Nitrogen Company LP (TNH). You could also say CF Industries (CF) is pretty much a pure-play nitrogenous fertilizer (85% of total revenue) producer as well.
Terra Nitrogen Company and CF Industires
The key difference between TNH and CF Industries (CF) is that TNH is a master limited partnership company that's obliged to distribute the majority of its earnings to shareholders, while the company's earnings aren't taxed at the business level. Sometimes, TNH may be mistaken for a dividend-paying company. But make no mistake because the company's dividend ultimately depends on earnings. If earnings do fall, then share prices can tumble. Note that the majority of Terra Nitrogen Company is owned by CF Industries.
Phosphate and potash exposure: MOS and POT
For investors looking to find companies that derive more business from phosphate, Mosaic Co. (MOS) would be the right choice, with about two-thirds of the company's revenue generated from the product. For investors looking to invest in a diversified revenue stream, Potash Corp. (POT) would be an option.
Retail exposure: AGU
Agrium Inc.'s (AGU) fertilizer business isn't that small compared to IPI or TNH, but a large portion of its revenue comes from retail business that sells primarily crop nutrients (fertilizers) and crop protection products. So while the company is still subject to fluctuations in fertilizer production cost and wholesale prices, its performance is more based on farmers' demand of nutrients, crop protection, and agriculture services, and the price it pays to purchase nutrients. (The revenue shown above for Agrium doesn't exclude inter-company sales of ~$800 million.)
Go even broader: MOO
Investors looking to diversify internationally and into agriculture machinery and seed producers can consider the VanEck Vectors Agribusiness ETF (MOO), which invests in the large companies mentioned above.