Rihanna Scoops Up Matthew Perry's 'Mansion in the Sky'— Take a Look Inside
Rihanna is the new owner of Matthew Perry's 'Mansion in the Sky' in L.A.'s The Century condominium. Keep reading for more on this luxury penthouse.
Friends with benefits? Rihanna purchased Matthew Perry's former 'Mansion in the Sky' in the celebrity-approved, paparazzi-proof The Century condominium building for a cool $21 million.
The hitmaker, who has been a resident of the Robert A. M. Stern-designed building since 2014, upgraded to a larger penthouse with an extra bedroom, three more bathrooms, and nearly 6,000 additional square feet.
Article continues below advertisement
Article continues below advertisement
The extra space will be useful for Rihanna and rapper A$AP Rocky who are expecting their second child. Let's take a look at the deal that saw Rihanna buy Matthew Perry's 'Mansion in the Sky.'
Rihanna paid $21 million for Matthew Perry's 'Mansion in the Sky.'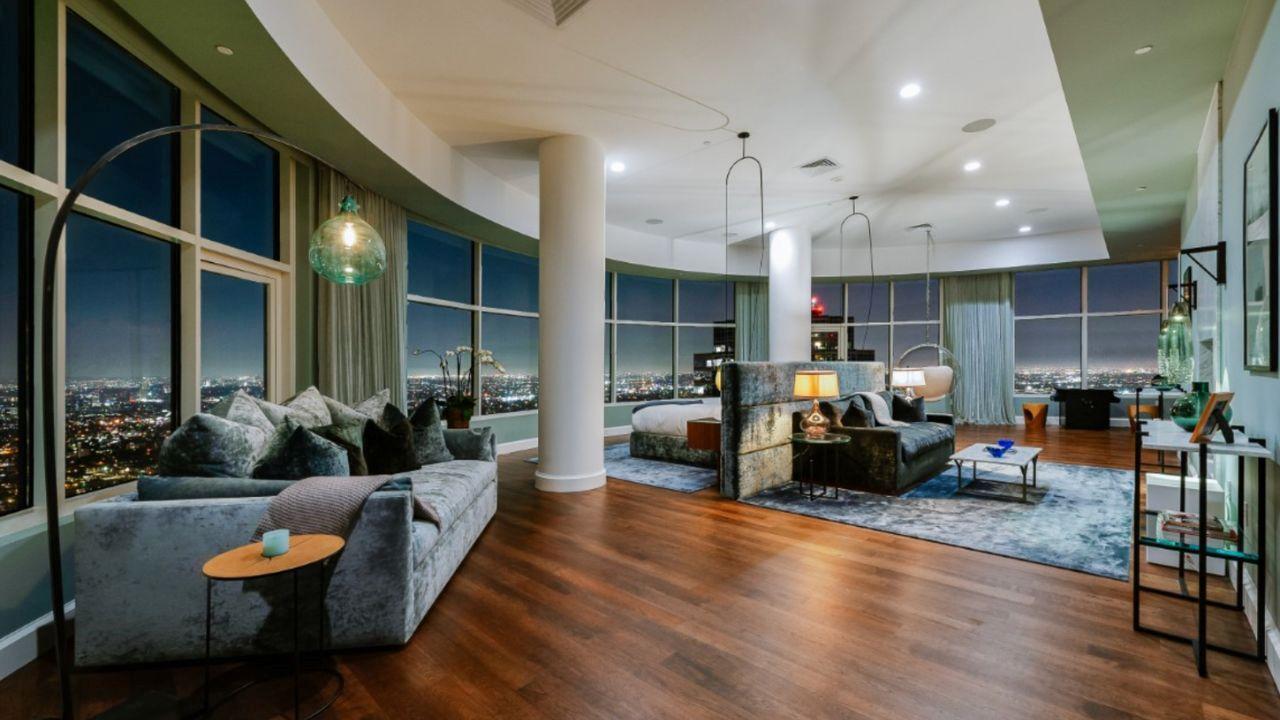 The Savage X Fenty superstar splashed out $21 million to buy one of the largest condos in The Century, a penthouse spanning the entire 40th floor with over 9,000 square feet of living space.
Perry, who bought the entire 40th floor in 2017, brought in a team of architects to renovate the space and listed it for $35 million in 2019. He then reduced the price to $23 million before selling it in 2021 to Nick Molnar, the Aussie co-founder of Afterpay.
Article continues below advertisement
Molnar then listed the apartment in late 2022 for $28 million. Notably, these are two of the most expensive condo sales in Los Angeles sales history, which is impressive to say the least.
The Century condo definitely has celebrity appeal.
Rihanna got a discount and the deal closed on March 31, 2023, one day before L.A.'s mansion tax kicked in, according to The New York Times. Her new home features a private elevator, panoramic views over Los Angeles, a living room with two fireplaces, and a huge master suite with multiple living spaces.
There are four bedrooms and eight baths, a game room, and home theater. The chef's kitchen has island seating, a casual dining table, and a separate dining room with glass walls and four terraces for entertaining and eating.
Article continues below advertisement
Article continues below advertisement
The Century building, which has been called one of the world's best homes by Homes & Gardens Magazine, lists celebrities like Paula Abdul, Elizabeth Berkley, Denzel Washington, and Candy Spelling as its residents.
With 42 floors, this luxurious high-rise boasts sweeping views of the city, four acres of lush private gardens, a 75-foot-long swimming pool, a screening room, yoga and Pilates studios, and a wine-storage facility.
Rihanna and Perry are part of Hollywood's celebrity home-lover's clan.
Aside from her music, makeup, and clothing, Rihanna has owned or rented at least a dozen homes, including two Beverly Hills homes that she is currently renting out. Rihanna has sold over 250 million records and was the star performer at the 2023 Super Bowl halftime show.
In addition to The Century condo, Perry has owned luxury homes in Pacific Palisades and a 5,500-square-foot Malibu Beach home he sold in 2021 for $13.1 million.
Best known as Chandler Bing in the mega-hit sitcom Friends, Perry has continued to act in television, film, and on stage. His most recent project was a two-part miniseries starring as Ted Kennedy in a Reelz production of The Kennedys: After Camelot.