Zomedica Stock Forecast 2025: Will ZOM Rise or Fall More?
Zomedica (ZOM) is one of the most popular penny stocks among retailer traders. It was pumped by the Reddit group WallStreetBets, which took the stock to as high as $2.91. However, it's back under $1 now. What's the long-term forecast for ZOM stock? Will it rise or fall by 2025?
Article continues below advertisement
There has been a bloodbath in all of the penny names, especially those that were pumped by WallStreetBets. While short squeezes that WallStreetBets triggered can impact the short-term price movement, in the medium to long term, stocks tend to trade according to their fundamental value.
Zomedica went on a capital raising spree
Like many other WallStreetBets pumped stocks, Zomedica went on a share selling spree. It raised almost $200 million from a bought deal with H.C. Wainwright. The issuance was way above what the company was originally planning.
Article continues below advertisement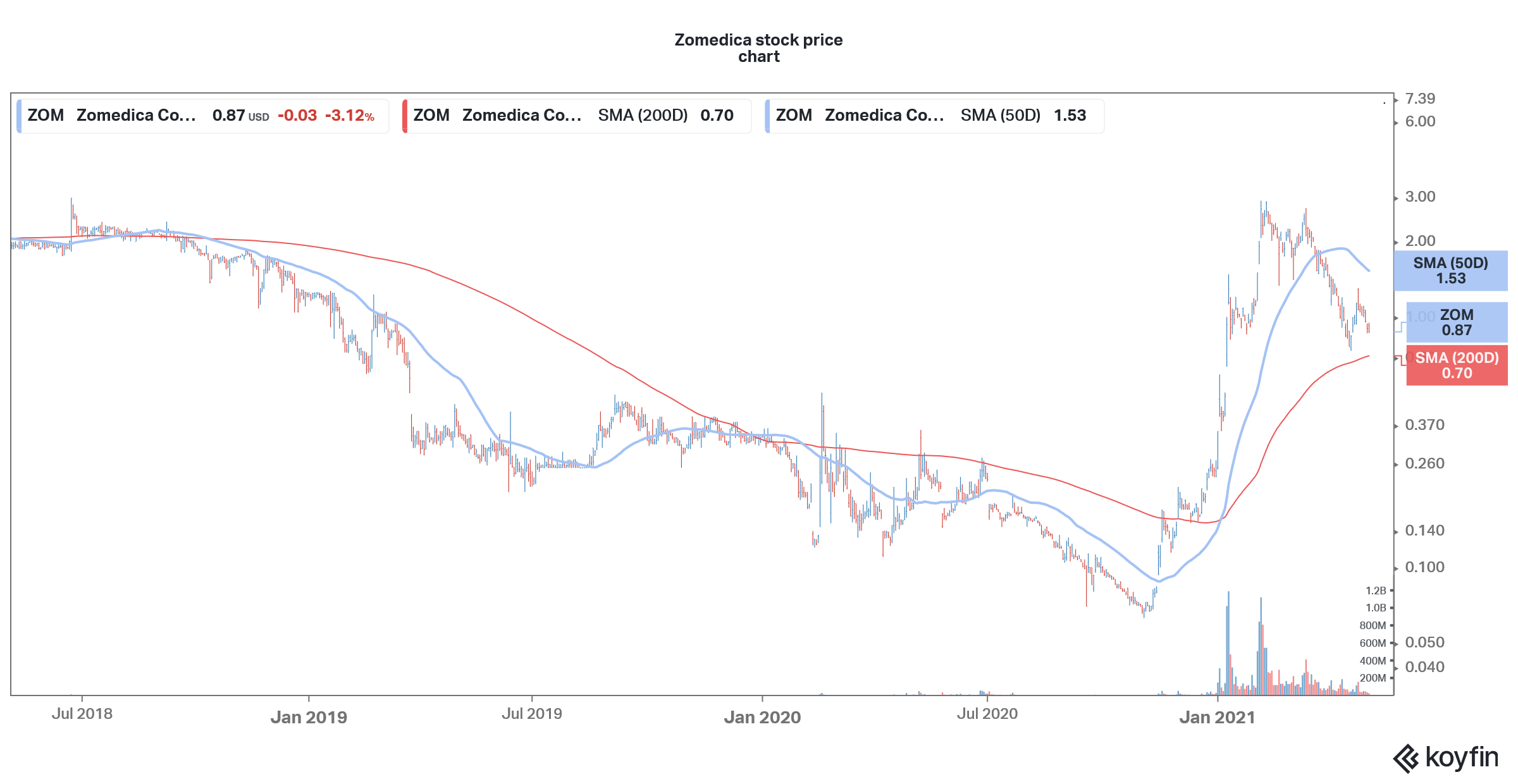 Also, the shares were issued at $1.90 per share, which is twice what ZOM currently trades at. The same pitchbook was adopted by many penny names this year and they raised a lot of cash by selling shares. Sundial Growers (SNDL) is a prime example. In most cases, the stocks trade below the issuance price.
Article continues below advertisement
The cash helped to strengthen Zomedica's balance sheet. It had cash and cash equivalents of $62 million at the end of 2020. The company also converted the preferred shares to common shares ending the overhang from the instruments, which were entitled to 9 percent royalty of the sales.
Article continues below advertisement
ZOM stock forecast 2025
ZOM stock's forecast looks positive if we stretch it to 2025. In the past, I said that ZOM stock looks like a good long-term investment. My only concern was with the price. The stock is now trading below $0.90 and has a market capitalization of $825 million. While we don't know the cash burn in the first quarter, the total cash should be around $250 million, which would mean an EV (enterprise value) of $575 million.
Currently, ZOM is commercializing its Truforma, which is a point-of-care device meant to be used by veterinary doctors. The platform would help detect thyroid and adrenal diseases in pets.
Article continues below advertisement
In its filing, citing data from MarketsandMarkets, Zomedica said that the market opportunity for companion animal diagnostics is expected to rise from $1.7 billion in 2019 to $2.8 billion in 2024. The growing pet care market in the U.S. as well as globally is a good opportunity for Zomedica.
Article continues below advertisement
Also, Truforma is a recurring revenue product and veterinarians would have to buy cartridges frequently based on their usage. While the forecasts provided by companies, especially penny names, should be taken with a pinch of salt, I find ZOM worth betting on for the long term.
Article continues below advertisement
Will ZOM stock rise or fall?
In the short term, ZOM stock might still be susceptible to a fall. However, the stock could be getting near its bottom now. If you are a patient investor and can hold the stock for the long term, it could turn out to be a winner.
The company's balance sheet looks strong and it has more cash than it needs. I wouldn't be surprised if it looks at acquisitions to make use of the cash. From a product standpoint, Truforma looks like a good bet.
If Zomedica can successfully commercialize Truforma, the stock could be a good buy. However, like all companies in the pre-revenue stage, it's still a high-risk bet. In markets, risk and return tend to go hand in hand.