Zomedica (ZOM) Stock Is Dropping, Investors Should Wait to Buy
With Zomedica (ZOM) stock falling 55 percent from its highs, should you buy the dip or still stay away from the speculative penny stock?
Like many other meme stocks that were pumped by WallStreetBets, Zomedica (ZOM) stock has crashed from its highs. ZOM stock is now down almost 55 percent from its 52-week highs. In March, I noted that the spike in ZOM stock was an opportunity to exit this speculative play. With the stock now dropping sharply from the peaks, should you buy the dip?
Article continues below advertisement
Article continues below advertisement
While ZOM stock has fallen sharply from its peak, it's still up over 476 percent YTD. We've seen something similar with most meme stocks and they have settled at a higher price level. Like other WallStreetBets pumped stocks, Zomedica also used the rise in its stock to issue shares.
Why Zomedica stock is dropping
Over the last month, investors have exited speculative stocks like ZOM. Also, given the rising bond yields, there has been a sell-off in companies whose cash flows are skewed towards the future. Zomedica isn't making any revenues currently and is a play on the success of its diagnostic device called Truforma.
Article continues below advertisement
Truforma is a point of care device meant to be used by veterinary doctors. The platform would help detect thyroid and adrenal diseases in pets, and many see it as a potentially game-changing product. Last month, Zomedica announced the first commercial sale of Truforma.
Article continues below advertisement
Article continues below advertisement
Finally, as the short squeeze driven rally faded, attention shifted to Zomedica's fundamentals and valuation. The stock's valuation looked overstretched at the peak considering the market potential for Truforma.
Will ZOM stock go up?
ZOM stock has been on a falling spree. It fell 8.9 percent on April 5 and was trading lower in pre-market trading on April 6. There has been a tectonic shift from speculative growth stocks towards established value stocks. ZOM stock would continue to remain under pressure for some time.
Article continues below advertisement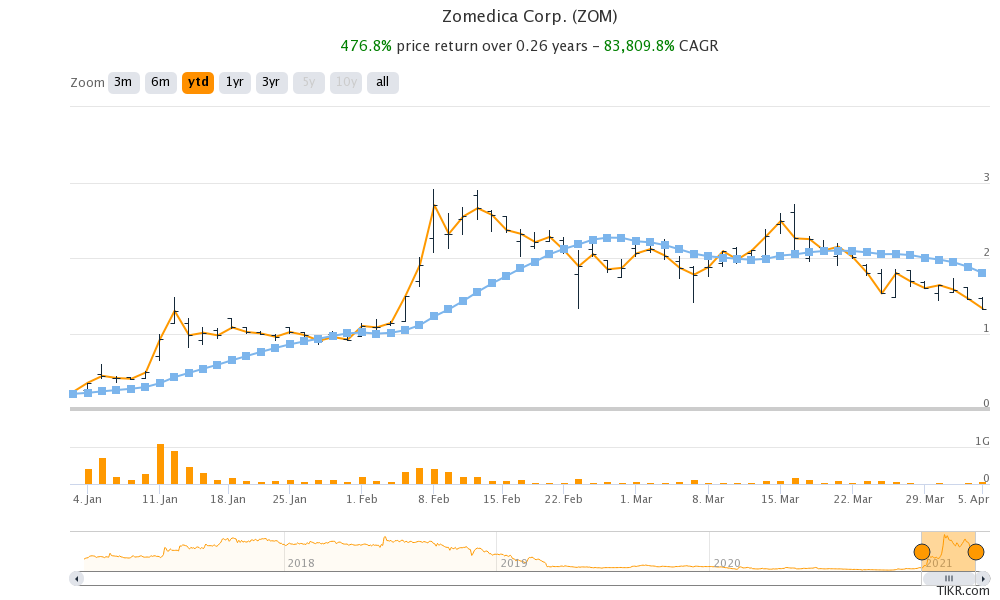 Article continues below advertisement
The market for companion animal diagnostics was $1.7 billion in 2019, which ZOM expects to rise to $2.8 billion by 2024 citing data from MarketsandMarkets. Even after the fall, ZOM stock has a market capitalization of $1.3 billion. This is more than double the forecasted 2025 market opportunity for companion animal diagnostics. Looking at the still stretched valuations, ZOM stock could fall more from these levels.
Article continues below advertisement
ZOM stock's short interest
ZOM stock was targeted by WallStreetBets because of its high short interest. The short squeeze helped drive ZOM stock higher. ZOM's short interest came down in February as bears were once bitten twice shy to bet against the company. However, the stock's short interest ticked up to 6.3 percent in the most recent filing.
The short interest data is only publicly available every two weeks and the metric can vary significantly between the two filings. Currently, the short interest is low, which makes a short squeeze unlikely.
Article continues below advertisement
Article continues below advertisement
Investors should wait on ZOM stock for now.
Zomedica is a niche company and is a good way to play the animal diagnostic market. According to Zomedica, nearly two-thirds of U.S. households have at least one pet and most of the households with a pet dog visit a veterinarian annually.
However, my concern is with the valuation and current prices. Another risk is execution and the commercial success of Truforma. Overall, despite the massive fall, I still wouldn't buy ZOM stock at these prices.