Will DIDI Stock Recover, or Has China Created Another BABA?
Chinese ride-hailing company DiDi Global (DIDI) stock has plunged below its IPO price of $14 after China's crackdown. The country has targeted several tech giants, especially Alibaba (BABA), which has underperformed over the last year. Will DIDI stock recover, or has China created another BABA?
Article continues below advertisement
China has been worried about tech giants' growing monopoly, as well as the massive amounts of data these companies process.
Why is DIDI stock falling?
DiDi priced its IPO at $14 and closed marginally higher on its listing day. China has banned new downloads of the DiDi app in the country over data privacy concerns. Given DiDi's foreign listing, the country sees its data processing as a security threat—the data could be compromised.
Article continues below advertisement
DiDi may also face challenges related to the Holding Foreign Companies Accountable Act, which warrants greater scrutiny of U.S.-listed foreign companies. The act is supposedly country-neutral but seems to have targeted Chinese companies.
Article continues below advertisement
DiDi was cautioned to delay the IPO
In its IPO filings, DiDi discussed regulatory risks in China. Whereas such risks are a boilerplate disclosure in filings, The Wall Street Journal reported that Chinese regulators had suggested the company delay its U.S. listing, meaning the risks were very real. The company went ahead with the IPO, which was the biggest by any Chinese company since Alibaba's massive 2014 listing.
Article continues below advertisement
Alibaba's regulatory woes
Going against regulators is uncommon in China. Alibaba and DiDi now find themselves in the same boat, with a tepid valuation and their stock sagging despite strong fundamentals.
Alibaba co-founder Jack Ma showed what happens when people speak out against the country's regulators. After his outburst, China blocked Ant Financial's IPO, he wasn't seen publicly for months, and Alibaba had to pay a $2.8 billion antitrust fine.
Article continues below advertisement
In contrast, in the U.S., we saw Tesla CEO Elon Musk get his way by opening the EV maker's Fremont, Calif., plant despite COVID-19 concerns. He also mocks regulators occasionally, with the hardest punches reserved for the SEC—he calls it the "Short Seller Enrichment Commission"
Article continues below advertisement
DIDI stock looks undervalued
DIDI had a market capitalization of around $60 billion on Jul. 6, below its pre-IPO $62 million valuation. Many were expecting the company's market cap to reach $100 billion with the listing.
The valuation seems reasonable. DiDi reported revenue of $21.6 billion in 2020, which implies a price-to-sales multiple of around 2.7x. That multiple is less than a third of Uber's. Likewise, Alibaba trades at a massive discount to Amazon.
Article continues below advertisement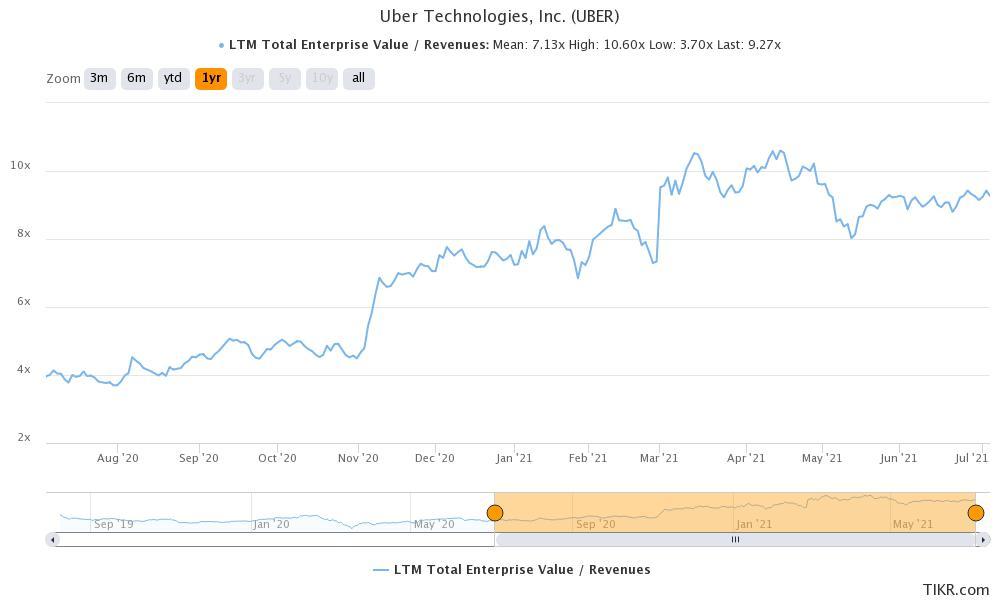 Will DIDI stock go back up?
DiDi turned profitable in the first quarter of 2021, and its revenue rebounded from its 2020 lows. The stock's fundamentals and valuation suggest it could recover, but that depends on the Chinese government. For now, market sentiment is negative—the stock was down in premarket trading on Jul. 7.
Article continues below advertisement
China's crackdown on tech giants has added another layer of risk of investing in Chinese companies. Alibaba and Ant Financial's challenges are solid reminders that China may value its authority more than a flourishing tech industry.