Why You Should Buy the Dip in AHT Stock and Bet on an Upside
Ashford Hospitality stock has been volatile in 2021. The stock was down in premarket trading on Jul 6, and is 53 percent below its 52-week high. Will AHT stock go back up, and should you buy it now?
Article continues below advertisement
Ashford Hospitality stock is falling after the company announced a one-for-ten reverse stock split. Often, when their stock price is too low, companies opt for such splits. The minimum stock listing requirement is $1.
Why is AHT doing a reverse stock split?
Although AHT's stock price was triple the minimum listing threshold, the reverse split wasn't expected by the market. Ashford Hospitality believes the reverse stock split will add value through lower transaction and margin costs for investors. Also, several institutions have a policy of not investing in penny stocks. The split will take AHT stock way above $5, which is the SEC's upper threshold for penny stocks.
Article continues below advertisement
When General Electric announced a reverse split, its stock price rose. That said, the artificial increase won't mask the fact that GE stock has significantly underperformed the market over the last decade.
Article continues below advertisement
Why did Ashford Hospitality stock crash?
Even in early June, the risk-reward dynamics for AHT stock looked unfavorable. The stock has crashed since then, as it looked overvalued. In addition to announcing its surprise stock split, the company has announced an agreement with Seven Knots, where it will sell 40.1 million shares.
Article continues below advertisement
Will AHT stock go back up?
AHT stock could recover after the crash as investors see value in the beaten-down stock. On Jul. 6, it looks set to fall below $3, which happens to be analysts' lowest target price. Their median target price of $4.50 for AHT implies a 55 percent upside over its Jul. 2 closing price. In May, B. Riley raised its target for the stock to $5.
AHT stock a good buy now after the crash
The crash has created a good opportunity to buy this recovery stock. Demand for travel has been growing, and Ashford Hospitality looks well placed to capitalize on it. The company has exposure to high-end hotel properties, which could be among the best-performing segments as more people get comfortable with travel.
Article continues below advertisement
Ashford Hospitality joins the Russell indexes
In Jun. 2021, Ashford Hospitality joined the Russell 2000, Russell 3000, and Russell Microcap indexes after they were overhauled. Coupled with the reverse stock split, this index inclusion could make AHT stock investment-worthy for a lot of financial institutions.
Article continues below advertisement
Whereas many passive funds tracking these indexes will have to buy AHT stock, we could also see buying from some active funds as AHT sheds its penny stock status. The company's operating metrics are expected to improve in 2021 and beyond.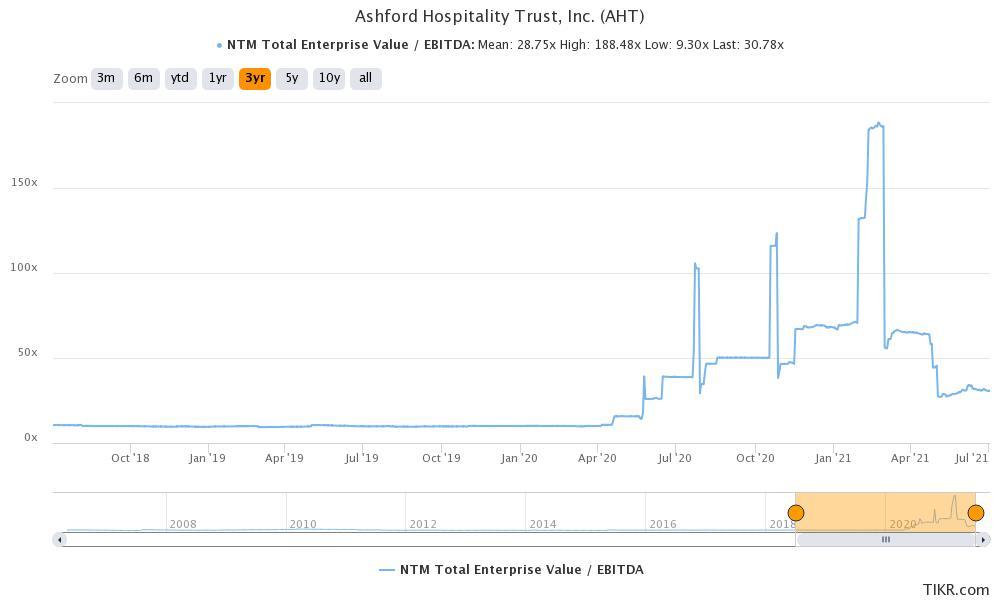 Furthermore, AHT's next-12-month enterprise value-to-EBITDA multiple of 30.8x looks reasonable and isn't much higher than its three-year average of 28.7x. Bargain hunters could help the stock recover, given the expected recovery in travel and AHT's reasonable valuation.