Ashford Hospitality (AHT) Stock Is Dropping—How Low Can It Go?
Ashford Hospitality (AHT) stock has gained almost 70 percent so far in June. One could easily mistake it for another "meme stock," which are being pumped by Reddit group WallStreetBets. However, AHT isn't being discussed much on Reddit groups. After the massive rise, the stock is trading sharply lower on June 10. Why is AHT stock dropping now and how low can it go?
Article continues below advertisement
Ashford Hospitality is a REIT based in Dallas. It invests in upscale hotel properties and has brands like Marriott, Hilton, Sheraton, Crowne Plaza, Hyatt, and Courtyard under its portfolio. Marriott is the biggest contributor to the company's EBITDA followed by Hilton.
Ashford Hospitality stock has been rising due to reopening optimism.
With a large percentage of the U.S. population now vaccinated against the coronavirus, the economy has been booming even though it's coming from a low base. There's genuine and considerable pent-up demand for vacations. Initially, the rise in AMC Entertainment (AMC) stock pivoted around the reopening optimism.
Article continues below advertisement
However, the pumping from WallStreetBets took AMC stock way beyond its fundamental value. There's a Reddit group focused on discussing AHT stock and some members see the stock skyrocketing like AMC.
Article continues below advertisement
Why AHT stock is dropping
AHT stock is dropping on June 10 amid the sell-off in meme stocks. GameStop is also sharply lower after announcing an SEC inquiry and plans for another capital raise. Other high-flying meme stocks like Clover Health and AMC Entertainment are also falling.
Article continues below advertisement
AHT stock price prediction
The target price for AHT stock implies a 50 percent downside from these levels. Now, there's a bearish and bullish narrative for the stock. Looking at the bearish narrative, the book value of Ashford's investments in hotels is below its debt load. This basically means that the company has negative shareholder equity and in case of a liquidation, shareholders will lose all of their money, at least theoretically.
Also, in order to derisk its balance sheet, Ashford has been converting preferred shares into common shares. While it would help lower the dividend payments towards the preferred shares, it will also lead to dilution.
Article continues below advertisement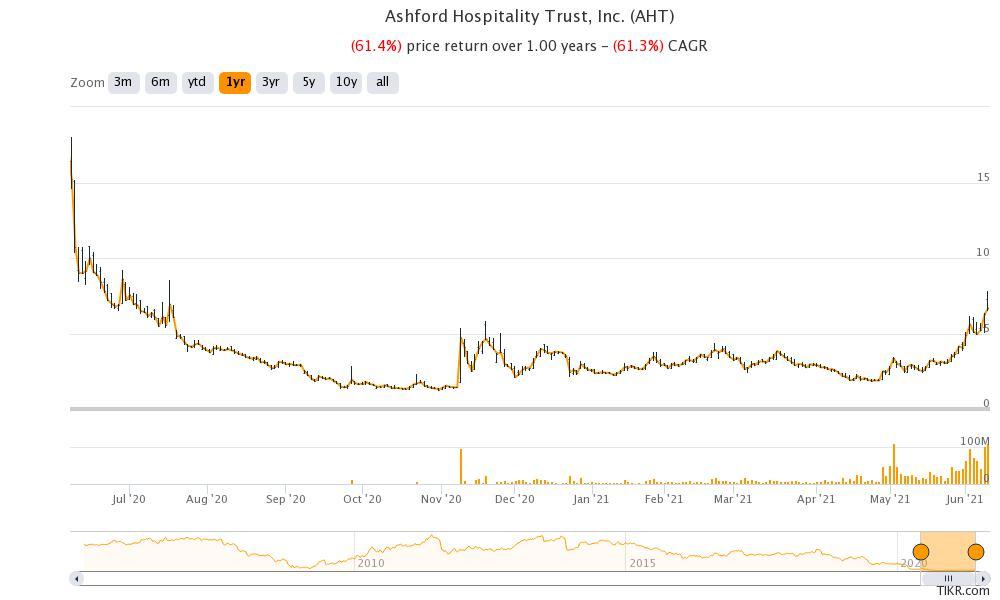 How low can AHT stock go?
In the worst-case scenario, AHT stock could be worthless. According to the most recent SEC filing from Ashford, it had over 190 million outstanding shares as of June 7. This brings the market capitalization to just under $1 billion. Another risk for Ashford is the expected increase in interest rates. The company has a debt maturity of $2.6 billion in 2025, which would have to be refinanced.
Article continues below advertisement
Can AHT stock bounce back?
In a previous article, I noted that AHT stock looks like a good buy. Looking at the bullish thesis, investors shouldn't look at book value, which can be misleading at times. Instead, they should look at earnings potential.
If we consider Ashford as a going concern, it's important to value it based on the earnings. The company should see earnings rebound in 2021 and beyond. However, after the sharp increase in the stock, the risk-reward might be getting unfavorable now. While AHT stock might still rise on sentiment-driven trading, the margin of safety isn't much at these levels.