Grab Affirm Stock Now, There Might Not Be a 'Buy Later' Option
Affirm (AFRM) stock has fallen sharply on reports that Apple plans to get into the BNPL (buy-now-paly-later) market. The iPhone maker already has its Apple card and reportedly plans to increase its presence in financial services. Will Affirm stock go back up after the crash or does Apple's entry into BNPL signal that the game is over for the fintech company?
Article continues below advertisement
Affirm went public in January after delaying its IPO in 2020 to increase the pricing. Investors weren't too perturbed with the higher price and the stock almost doubled from its IPO price of $49. The stock hit a high of $146.50 and is now down over 60 percent from those levels.
Why Affirm stock has fallen
The fall in Affirm stock on reports of Apple entering into the BNPL market isn't hard to comprehend. The mere news of a tech giant entering an industry triggers a sell among incumbents. Many times in the past, we have heard about a company getting "Amazoned." This time it was the case of Affirm to get "Appled" for lack of a better word.
Article continues below advertisement
The slide in Affirm stock didn't start with news of Apple getting into its core BNPL market even though the sell-off intensified after the reports. Affirm's valuations started to look frothy at the peaks and it was impacted negatively amid the sell-off in growth names.
Article continues below advertisement
Also, themes like fintech, green energy, and "stay-at-home," which were the darlings of investors in 2020, have fallen out. Investors have instead pivoted towards more "traditional" names like legacy automakers and banks.
Article continues below advertisement
What does Apple's entry into BNPL mean for Affirm?
There are two ways to look at what Apple's entry into BNPL means for Affirm. First, it signals that Apple sees massive potential in the market. However, it also means that incumbents like Affirm will now have to deal with a competitor with much deeper pockets.
Analysts on Apple's BNPL entry
Truist and Barclays reiterated their ratings on Affirm and think that the markets overreacted to Apple's entry into the BNPL market. However, Stephens thinks that Apple's entry will significantly impact Affirm. Mizuho analyst Dan Dolev initially kept his ratings and $90 target price for AFRM unchanged. He also thought that the market reaction was overblown.
Article continues below advertisement
However, soon Dolev lowered the target price for AFRM to $76. While he thinks that Apple doesn't have much overlap with Affirm, he lowered the stock's valuation multiples after Apple's entry.
Article continues below advertisement
Jim Cramer is bullish on Affirm stock.
CNBC Mad Money host Jim Cramer is also bullish on Affirm stock and saw the crash as a buying opportunity. He said that he would buy the stock near the $56 price level. AFRM stock trades only slightly above the price level.
AFRM stock forecast
Among the 13 analysts polled by TipRanks, eight have rated Affirm stock as a buy, while four have rated it as a hold. One analyst has a sell rating on AFRM stock. Its average target price of $73.62 is a premium of 24 percent over the current prices. Most Wall Street analysts have a bullish forecast for Affirm stock.
Article continues below advertisement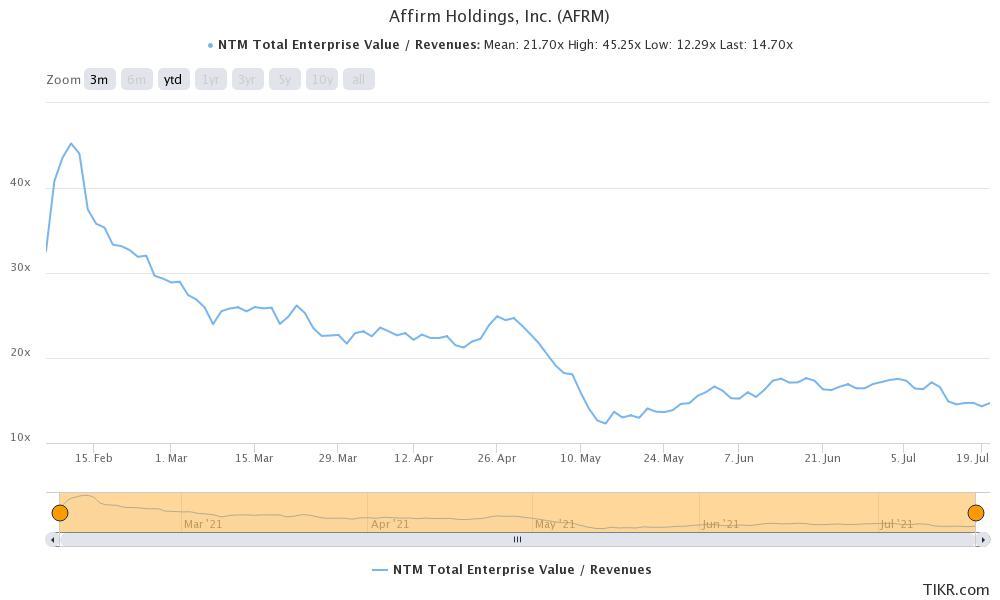 Will Affirm stock go back up?
Affirm stock should go back up as market sentiments improve. Now, it trades at an NTM EV-to-EBITDA multiple of 14.7x, which looks reasonable. The company's revenues are expected to rise 64 percent in 2021 and 38 percent in 2022, which looks healthy. While Apple's entry into BNPL could be a dampener, Affirm stock looks attractive after the crash.