CYDY Stock Might See Better Days in 2021 and Rise to $10
Late-stage biotechnology company CytoDyn (CYDY) has been very volatile over the last year. It made a 52-week high of $10.01 but is now down 71 percent from the highs. Why is CYDY stock falling and will it go up?
Article continues below advertisement
To be sure, there has been a bloodbath in most penny stocks after the rally that we saw at the beginning of the year. Names like Zomedica, Humbl, and Naked Brands are among the penny stocks that have crashed from their highs.
Why is CYDY stock falling?
First, the sell-off in penny stocks is weighing heavy on CYDY stock. Second, since CytoDyn isn't making any revenues and all of its earnings would be in the future after its products get commercialized, it has been a casualty of the sell-off in speculative growth names. Companies that have their profits skewed towards the future have stumbled amid the rise in bond yields.
Article continues below advertisement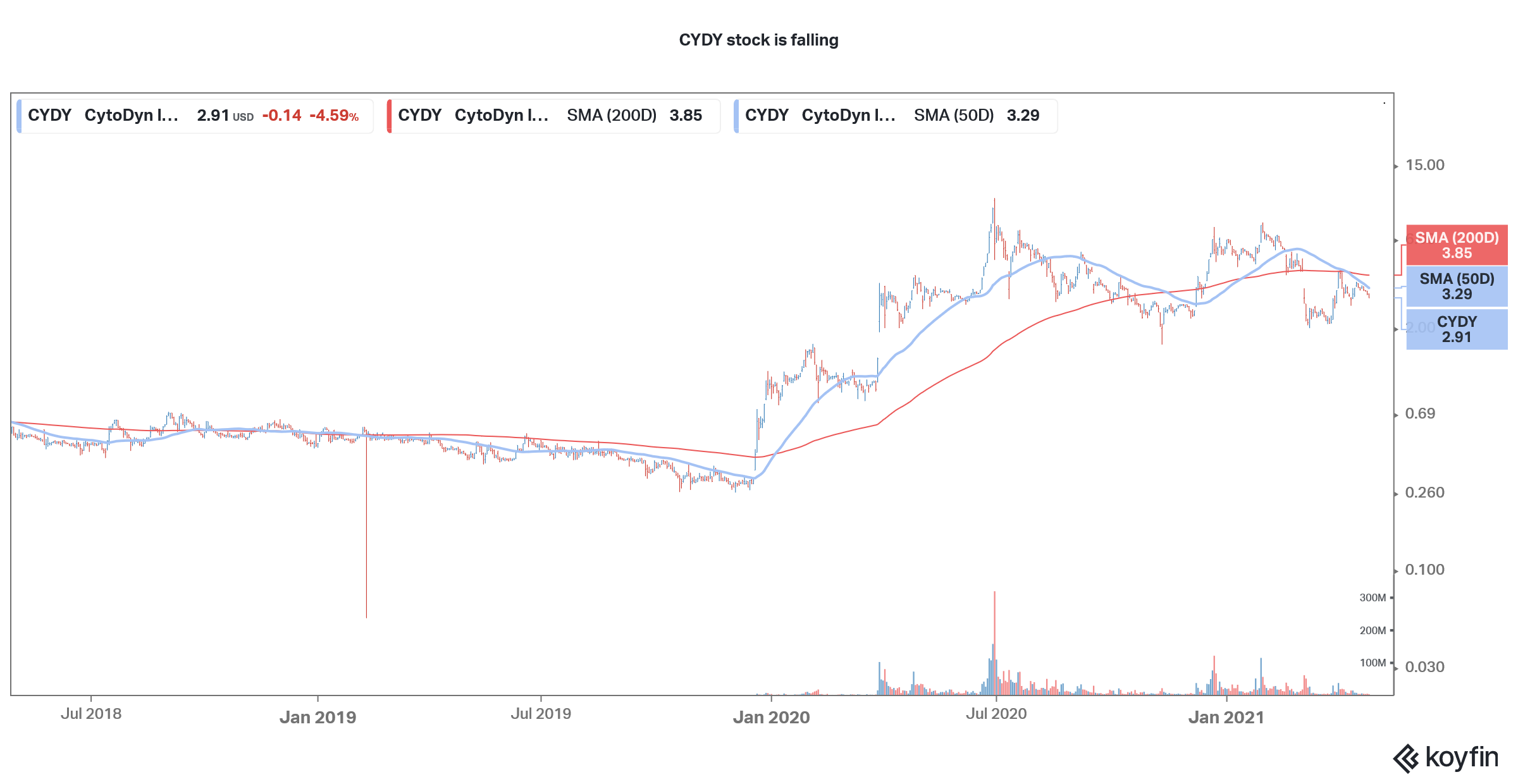 In CYDY's case, there hasn't been much news flow on its trials lately that could help uplift the sentiments. Earlier this month, the company announced that it's providing Leronlimab to another 28 patients in the Philippines under the Compassionate Special Permit.
Article continues below advertisement
What happened to the Philippines' patients who were given Leronlimab?
Joseph Estrada, former president of the Philippines, was among those who were given Leronlimab and his condition reportedly improved. However, there hasn't been any announcement on how the other patients reacted to Leronlimab. This could be another reason why CYDY stock has dropped. Markets have been waiting for an update for over a week now.
Article continues below advertisement
Gulia Gomez, another prominent politician in the Philippines, has tested positive for COVID-19 for the second time. Many people wonder if she will also be given Leronlimab.
CYDY stock could recover.
Some triggers can lead to a recovery in CYDY stock. First, markets would wait for the results from the trial in the Philippines. Second, in a release earlier this month, CytoDyn said that its clinical trials in the U.S. would start soon. It's also in talks with Brazil to initiate COVID-19 trials in the country.
Article continues below advertisement
If Leronlimab can get approvals, it could be a game-changer for CytoDyn. The COVID-19 pandemic continues to create havoc in several parts of the world, especially in India and Brazil. CYDY stock could go up if Leronlimab is successful
Article continues below advertisement
CYDY and Merck partnership
Many users on social media have been speculating about a potential agreement with CytoDyn and global pharma giant Merck. CytoDyn has also hired some former Merck employees. However, we don't have anything official on a partnership between CYDY and Merck.
CYDY's target price implies upside.
CYDY is covered by HC Wainwright. Previously, the brokerage had a buy rating on the stock. In July 2020, the brokerage downgraded CYDY to a hold with a $4 target price, which implies a 37.5 percent upside over the current prices.
Article continues below advertisement
CytoDyn convertible notes
In April, CytoDyn has completed $57 million in financing through convertible notes. These offer an interest of 10 percent per annum and have a maturity of two years. The notes are secured and the holder can convert them into ordinary shares at a conversion price of $10. The conversion price is a massive premium over CYDY's current stock price.
Will CYDY stock rise to $10?
Many people on social media are speculating that CYDY stock could rise to $10. How the approvals for Leronlimab shape up will be the key near-term driver of how the stock performs. Like all clinical-stage companies, CYDY is a speculative play on the product that it's developing.