Humbl Stock Is a Speculative and High-Risk Play With Potential
By Mohit Oberoi, CFA

Mar. 31 2021, Published 11:43 a.m. ET
Humbl (HMBL) stock rose over 8 percent on March 30 and is now up 458 percent YTD. However, the stock is off its 52-week highs and is trading at less than half of its 52-week highs of $7.72. Why has HMBL stock dropped and is it a good buy now?
Article continues below advertisement
The fall in Humbl stock has largely to do with the massive rally earlier this year, which looked speculative. Investors have been selling speculative stocks over the last month amid concerns about their soaring valuations.
SPAC-like transaction between Tesoro and Humbl
Tesoro (TNSP) was primarily a home-renovation retailer. However, in December 2020, it announced a merger with Humbl. TNSP merged with Humbl and the merged entity now trades under the ticker symbol "HMBL."
Article continues below advertisement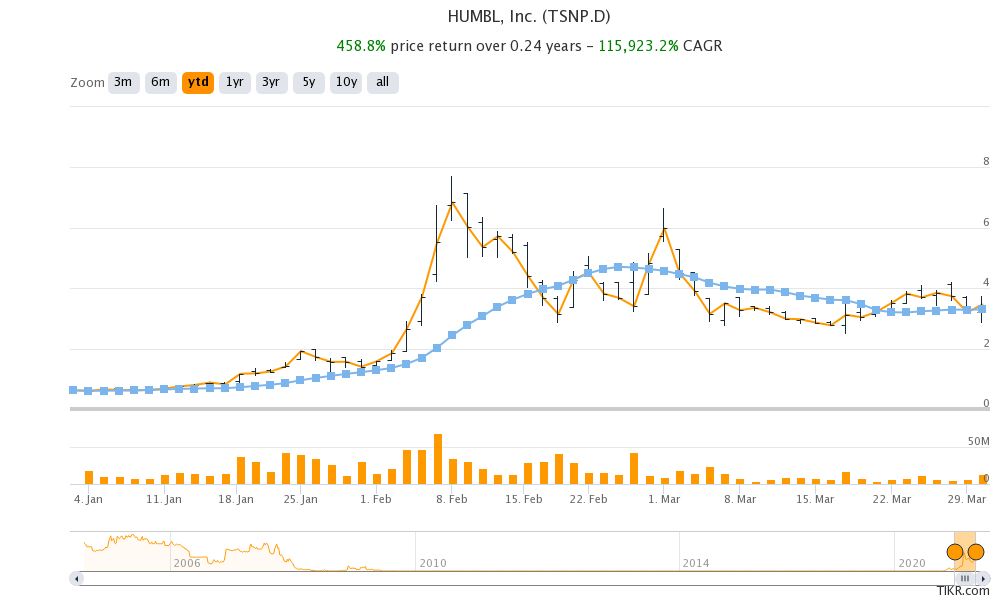 While it was a SPAC-like transaction, Tesoro wasn't a SPAC. The transaction between these two companies was like a reverse merger. Tesoro acted like any other SPAC and took Humbl public. However, while SPACs, in general, are blank-check companies with no operations of their own, Tesoro had business operations before the merger.
Article continues below advertisement
Humbl's stock news
On March 16, Humbl announced the signing of a Securities Purchase Agreement with Chile-based Aurea Group Ventures. As part of the deal, Aurea, through an affiliate, agreed to buy 437,500 shares of Humbl's shares for $1,000,000.
On Feb. 26, Humbl held a conference call with investors to discuss the merger with Tesoro. In the same month, the company did a one-for-four reverse stock split. Commenting on the reverse stock split, Humbl's COO Jeffrey Hinshaw said, "The company's Board of Directors concluded that it was important to quell the volatility in the share price. Prospective investors and current shareholders were concerned that it was difficult to pinpoint the true value of the common shares."
Article continues below advertisement
Humbl's stock forecast
Humbl is a startup fintech company and we don't have much information about its financials. The company will release its audited financials only in the second quarter. Only then can we come up with some sort of a forecast for the stock.
Article continues below advertisement
Humbl stock on Reddit
Humbl isn't the most popular stock on Reddit. A post on Reddit talked about Humbl Financial going live this week and pointed to a tweet from the company's CEO Brian Foote.
Article continues below advertisement
Should I buy HMBL stock?
Currently, Humbl operates under three verticals—Financial, Marketplace, and Mobile Pay. The financial business is more of a blockchain vertical. The vertical has BLOCK Exchange Traded Index (ETXs), which would enable a buyer to invest in a basket of cryptocurrencies. The surge in HMBL stock has mainly been due to these ETXs. Investors bought into all of the assets that are linked to cryptocurrency markets.
In the marketplace, Humbl has Humbl Studios, which features products from third-party sellers, and Humbl x Shop, which has merchandise from Humbl. The Mobile Pay vertical is a payment solution business. However, it hasn't gone live yet and merchants can pre-register. The company claims that with its Humbl Pay merchants can go digital in one day.
Article continues below advertisement
While Humbl has massive plans and all three business verticals seem exciting, we don't have much data to analyze the stock. Investors have been buying the stock based on sentiments and the outlook for the businesses where Humbl is present.
To sum it up, Humbl looks like a blank-check company even as it isn't one. As is the case with investing in a SPAC before the merger, you can only trust the management team to do justice to your investment. Humbl is a speculative and high-risk play. However, if the management can execute on the not-so-humble plans that it has outlined, it could be a million maker stock.