CytoDyn Stock Forecast: Will CYDY Recover or Fall More in 2021?
By Mohit Oberoi, CFA

Apr. 12 2021, Published 8:10 a.m. ET
CytoDyn stock has fallen almost 42 percent YTD and is down almost 69 percent from its 52-week highs. What's the forecast for CYDY stock? Will the stock recover or fall more in 2021?
Article continues below advertisement
CytoDyn is a late-stage biotechnology company. Its product pipeline includes HIV, cancer, COVID-19, and GVHD (graft-versus-host disease). Last year, famous short-seller Citron Research accused the company of hyping its leronlimab as a potential treatment for COVID-19 despite not having any supporting scientific data.
Citron Research withdrew its report on CytoDyn.
Meanwhile, CytoDyn countered the allegations made by Citron Research and the short-sell report was later withdrawn. Citron also released a short-sell report on GameStop in January. However, as I had noted then, the report lacked substance. GameStop stock is up sharply this year.
Article continues below advertisement
CYDY stock news
Being a late-stage biotech company, CYDY is in the news for its trial results and approvals. On April 8, the company announced that its COVID-19 long-haulers study or "CD15" is fully enrolled ahead of target. A day earlier the company announced that it's providing Leronlimab to another 28 patients in the Philippines under the CSP (Compassionate Special Permit).
Article continues below advertisement
CytoDyn approvals
Earlier in April, the company announced that the first patient that was administered Leronlimab in the Philippines improved and was released in three days. It also filed a new protocol with the FDA analysis of CD12 trial data that showed an 82 percent survival rate in critically ill COVID-19 patients compared to those who were administered the placebo.
Article continues below advertisement
Key CytoDyn official quits
In an SEC filing, CytoDyn said that its chief scientific officer Mahboob Rahman, M.D., Ph.D. quit on April 5. A Fierce Biotech report sounded critical of the company and raised doubts about Rahman's sudden exit, which was announced in an SEC filing rather than a press release which is the norm.
The report said that the exit "comes a few weeks after a phase 3 clinical trial of CytoDyn's leronlimab in COVID patients missed its primary and all major secondary endpoints. However, CytoDyn zeroed in on a subgroup of patients and performed an 'age adjustment' analysis to hail the study as evidence of the efficaciousness of leronlimab."
Article continues below advertisement
CYDY stock on Stocktwits
CYDY stock is popular on Stocktwits. A user who goes by the name Victru17 called CYDY the greatest biotech underdog ever. Another user by the name of nmucha said that he has been holding the stock since 2019 and didn't sell even at the peak. The users are also positive about the stock and intend to hold it for years. 
Article continues below advertisement
Another user by the name Jesse21SD made comparisons between CYDY stock and Amazon in the past before it became popular. The user had an old Jeff Bezos photograph working in the office. Is CYDY an underappreciated jewel like Amazon was 20 years ago?
CYDY stock forecast
CYDY is under-covered by analysts for sure. Only one analyst is covering the stock with a hold rating and a target price of $4 on CYDY stock. The target price implies an upside of 27.8 percent over the next 12 months. However, it isn't uncommon to see the analyst community stay on the sidelines in clinical-stage biotech companies given the risk and uncertainties involved.
Article continues below advertisement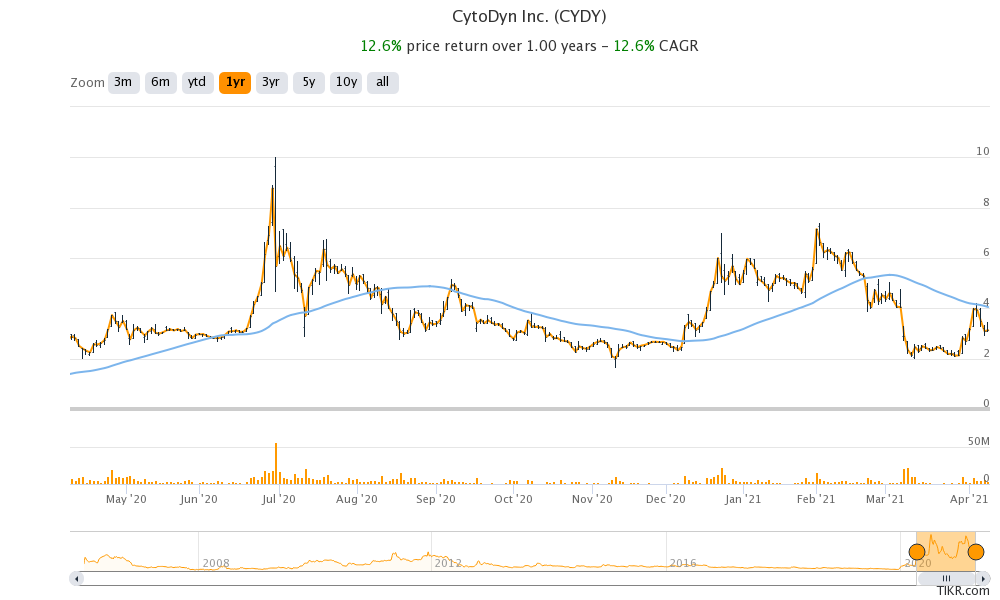 Will CytoDyn products get approval?
Meanwhile, CytoDyn is a play on approvals. On a more positive note, like many other clinical-stage companies, CytoDyn isn't a one-product wonder. The company is working on multiple products, but it's a speculative play right now.
CYDY stock recovery
The recovery in CYDY stock would depend on the approvals for its product pipeline. The near-term stock price driver could be the results from the Philippines where leronlimab is administered to more COVID-19 patients. If the test results are positive, it could lead to a recovery in CYDY stock.