GME Stock: A Point-by-Point Rebuttal to Short-Seller Citron
Short-seller Citron has released a video highlighting Andrew Left's views on GameStop. Here's a point-by-point rebuttal to Citron on GME stock
GameStop (GME) stock has been on fire this year. The stock gained 51 percent on Friday to take its year-to-date gains to 245 percent. GME stock has risen over 1,300 percent over the last year. And in premarket trading today, the stock was trading higher. Amid the rally, Citron Research, which in the past has issued bearish notes on NIO and Palantir, raised alarm over the stock. While Citron's Andrew Left initially canceled his live stream to put forward his bearish views on GME, he has now released a video highlighting his views. Here's a point-by-point rebuttal to short-seller Citron on GME stock.
Article continues below advertisement
Article continues below advertisement
While Citron Research has had its share of success, it's made some bad calls as well. NIO and Palantir are some prime examples. Despite Citron's bearish reports, NIO stock has surged and looks on track to reach a $100 billion market capitalization.
Citron Research's short report on GME stock
In the video, Left and Citron highlighted five reasons they believe GME stock is a "sell:"
GME's falling sales.
GME's high debt and possible equity issuance.
No "short squeeze" is happening.
GME stock is overvalued.
Mob mentality is driving the stock.
Article continues below advertisement
Yes, GME's sales are falling and have fallen for the last several quarters. But that decline is linked to the company's strategy to shrink its retail footprint. For retail companies, we should look at comparable sales.
Article continues below advertisement
Article continues below advertisement
In the nine weeks ended Jan. 2, which included the holidays, GME's comparable sales rose 4.8 percent. However—hold your breath–its e-commerce sales rose 309 percent and accounted for over one-third of the company's sales. GME is focusing on profitability by increasing its online sales and shutting down stores to lower fixed costs.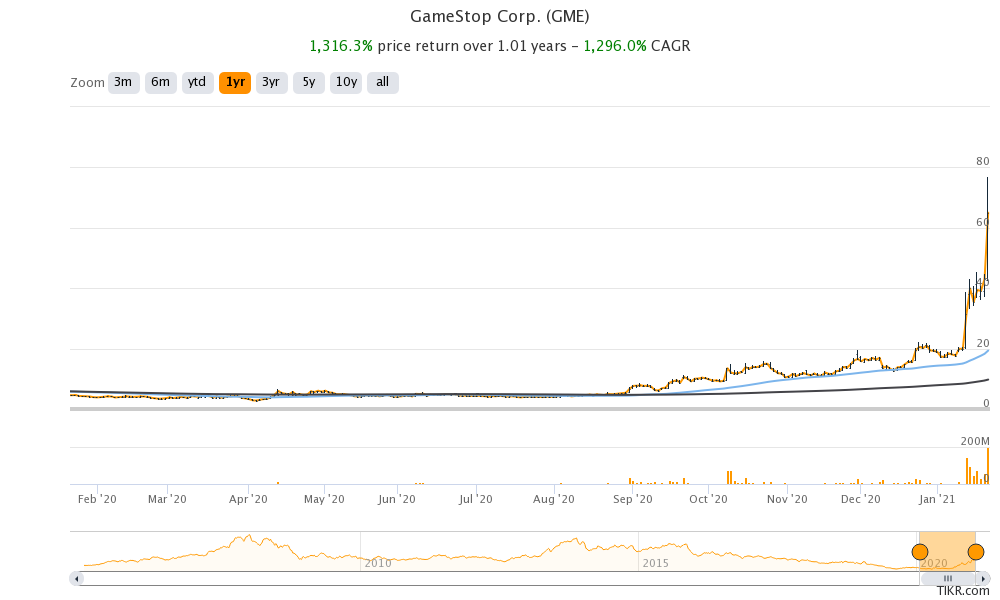 Article continues below advertisement
GME's debt burden
There's no denying that GME has a pile of debt. However, it would be a good move for the company to reissue shares to cut that debt down. Electric vehicle companies Tesla and NIO made the most of their high stock prices and issued shares three times in 2020. Markets seem to have approved of their share issuances, and the stocks both rose.
Article continues below advertisement
GME stock: The short squeeze is yet to happen
If Citron Research is right and the short squeeze hasn't yet happened, GME stock could be set for even more upside.
Article continues below advertisement
Is GME stock overvalued?
Citron Research has pointed out that GME stock trades at 40 times its EBITDA. Based on just its next-12-month valuation numbers, GME looks expensive. However, all green energy companies would also look expensive based on these numbers. While GME stock may not have the same long-term growth ahead as green energy stocks, it may have a turnaround story now with Ryan Cohen on board and his focus on profitability. Its sales decline may even soon reverse, as its e-commerce sales growth has more than offset the decline caused by shutting stores.
Article continues below advertisement
Article continues below advertisement
GME stock: The mob versus the short-sellers
Over the last year, retail traders have come in different shapes—they're generally referred to as "Robinhood traders," the "Twitter mob," or the "Reddit army." Their views have often countered those of large investors and short-sellers such as Citron.
However, these retail traders have been right about some stocks, especially in the green energy space. In some instances, major investors have pared their gains after a spike. As for GME stock, even if the stock dips, I believe in its long-term growth and see every dip as a buying opportunity.