Arrival Stock Looks Like a Solid Buy, Should Recover Soon
By Mohit Oberoi, CFA

Apr. 16 2021, Published 8:07 a.m. ET
Arrival (ARVL) stock dropped over 8 percent on April 15 and was trading lower in pre-market trading on April 16. The stock is now down 64 percent from its 52-week highs. Why is Arrival stock dropping and will it recover after the massive crash?
Article continues below advertisement
Arrival is a startup EV (electric vehicle) company that's focusing on the commercial EV markets and plans to produce electric buses and vans. The company went public through a reverse merger with CIIG Merger Corp. (CIIC). The merger was completed in March. The merged entity started to trade under the ticker symbol "ARVL."
Why Arrival stock is dropping
Arrival stock has been falling for multiple reasons. First, EV stocks have been out of favor with the markets in 2021 after the surge in 2020. The competition is heating up in the EV space with legacy automakers like Ford, General Motors, and Volkswagen stepping up their game.
Article continues below advertisement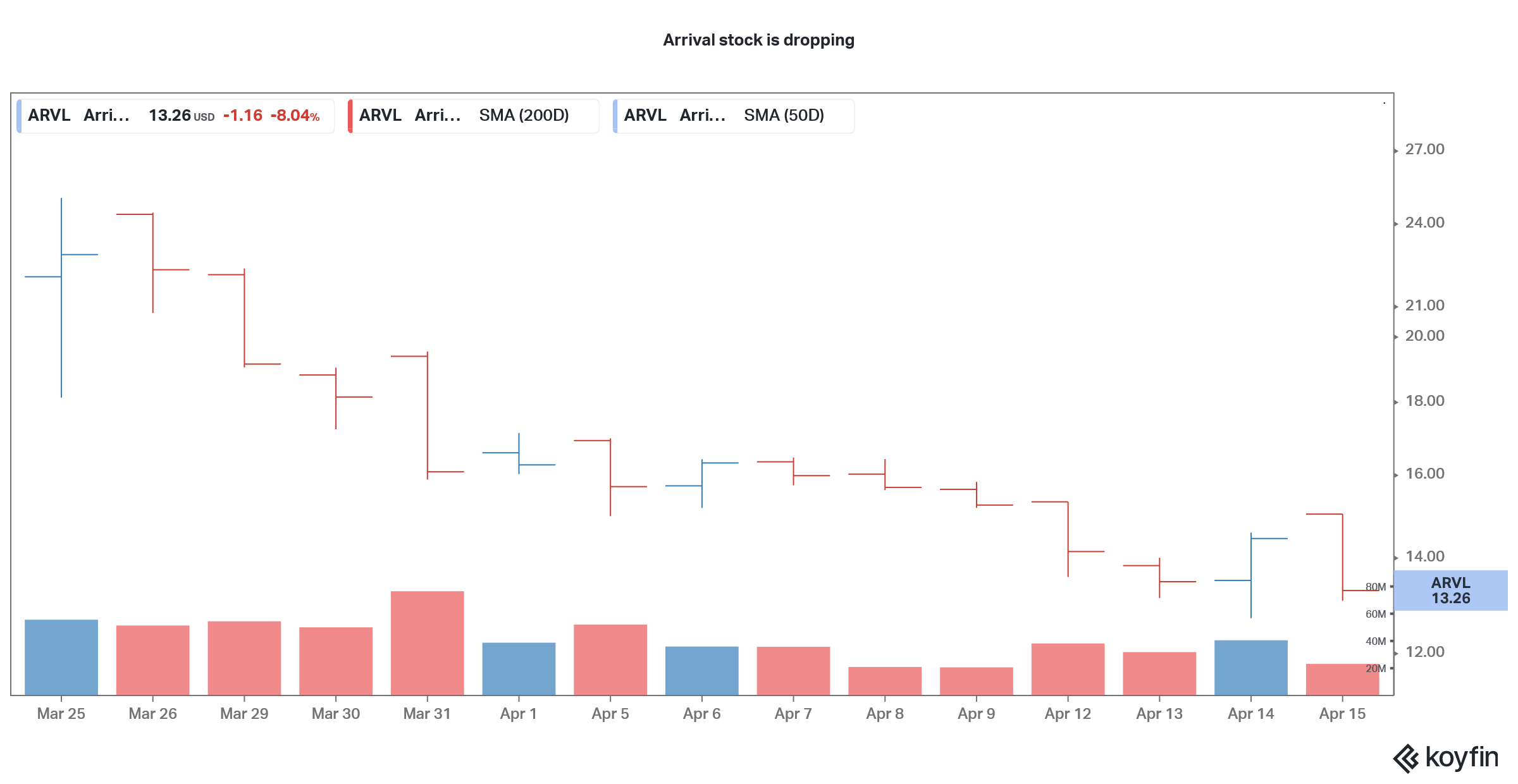 Looking at Arrival, it will compete with companies like Nikola, Workhorse, BYD, Lion Electric, Volvo, and Rivian. Currently, Arrival is a pre-revenue company that isn't making any revenues—unlike many of its peers that are producing cars and making revenues. The markets are apprehensive about the execution capabilities of many of the start-up EV companies like ARVL, which has sent their stocks south.
Article continues below advertisement
There has been a sell-off in companies that either aren't making any revenues or most of their revenues are skewed to the future. The rise in bond yields has made growth stocks less attractive, which is the third reason behind the fall in Arrival stock.
Article continues below advertisement
Arrival stock fell due to valuation concerns.
Arrival stock fell because its valuation multiples soared amid the rally. Even now, the company has a market capitalization of $8 billion. The company's market capitalization is nearly twice that of Nikola.
ARVL stock's target price implies upside.
According to the estimates compiled by CNN Business, two analysts cover ARVL stock and both have a buy or equivalent rating on the stock. The stock's median target price of $32.75 is a premium of 147 percent over its April 15 closing prices.
Article continues below advertisement
Is Arrival a good stock to buy now?
Arrival is a pre-revenue company and we need to value it based on the pre-orders and the forecasts provided by the company. While a company going public through the traditional IPO process or direct listing isn't allowed to provide forward guidance, in SPAC mergers, companies are allowed to do since it's a "merger" where such forecasts are allowed.
Article continues below advertisement
Arrival touts $1.2 billion in preorders, which are predominantly from the orders for 10,000 electric delivery vans that UPS has placed with the company. Amazon has placed an order for 100,000 electric vans from Rivian.
Arrival expects to post revenues of $14.1 billion in 2024 and an EBITDA of $3.2 billion that year. Arrival has a market capitalization of around $8 billion, while its enterprise value would be around $7.3 billion after adjusting for the cash that it received as part of the merger with CIIC.
Article continues below advertisement
This would mean a 2024 price-to-sales multiple of 0.56x and a 2024 EV-to-EBITDA multiple of around 2.3x. The valuation multiples look reasonable based on the still bloated valuations of some of the other EV stocks. Also, considering the innovative approach that Arrival is taking towards its production process, the stock looks like a good buy now at these prices.
ARVL stock should recover soon.
Currently, there's a sell-off in growth names as the sector rotation into value stocks continues. However, I expect growth stocks to bounce back soon. As the macro sentiments around growth stocks improve, Arrival stock would also recover soon.