People Are Upset With Netflix, Near-Term Stock Forecast Looks Cloudy
Netflix (NFLX) stock tumbled 35 percent on April 20 and lost over $50 billion in market cap in a single day. Netflix stock is down over 62 percent for the year and its woes look far from over.
Article continues below advertisement
Several analysts, fund managers, streaming subscribers, and Tesla CEO Elon Musk have been upset with Netflix. Why is everyone mad at the streaming giant and will the stock go back up anytime soon?
Why are people upset with Netflix?
If you invested in Netflix stock before the crash, you have good enough reasons to be upset with the company. Nobody likes to lose money and the over 60 percent YTD loss, from a stock that's part of the coveted FAANG group, is hard to digest for many investors.
Article continues below advertisement
Even Bill Ackman, who had bought the dip in Netflix stock in January after it plummeted following its Q4 2021 earnings, has exited the stock and incurred a loss of $430 million.
Article continues below advertisement
Elon Musk also seems to be mad at Netflix.
Musk, who has been in the news lately due to his hostile takeover bid for Twitter, also seems mad at the company and called it "woke" and "unwatchable." Since a lot of Musk's over 80 million followers are his hardcore fans, a lot of them are probably also angry with Netflix after Musk's tweet, even if they weren't before that.
Article continues below advertisement
Consumers are upset with Netflix because company plans to add commercials.
Netflix lost subscribers in the U.S. and Canada in the first quarter after the company raised its fee. If the fee hike wasn't making consumers mad enough, Netflix plans to add commercials on the platform. A lot of people are venting their anger on social media. Many are threatening to leave Netflix if the company adds commercials on the platform.
Article continues below advertisement
Netflix stock's near-term forecast looks cloudy.
The market sentiments towards Netflix are poor currently and the stock's near-term forecast looks cloudy. NFLX stock has seen a deterioration in its structural valuation multiple and markets are concerned about its growth outlook. Management talked about high penetration in the North American streaming market, which alludes to forecasting slower growth.
The company plans to tackle password sharing and is also looking at adding commercials on the platform. These confirm the fears that Netflix is past its prime at least in the North American market, which happens to be the most lucrative streaming market.
Article continues below advertisement
Should you buy the dip in NFLX stock?
As Warren Buffett's quote goes, "be greedy when others are fearful." But then, people who got greedy after the plunge in NFLX stock after the Q4 2021 earnings might not agree since buying the dip hasn't worked for them. While it would be proverbially "once bitten twice shy" for investors, we have to look at things in perspective.
Article continues below advertisement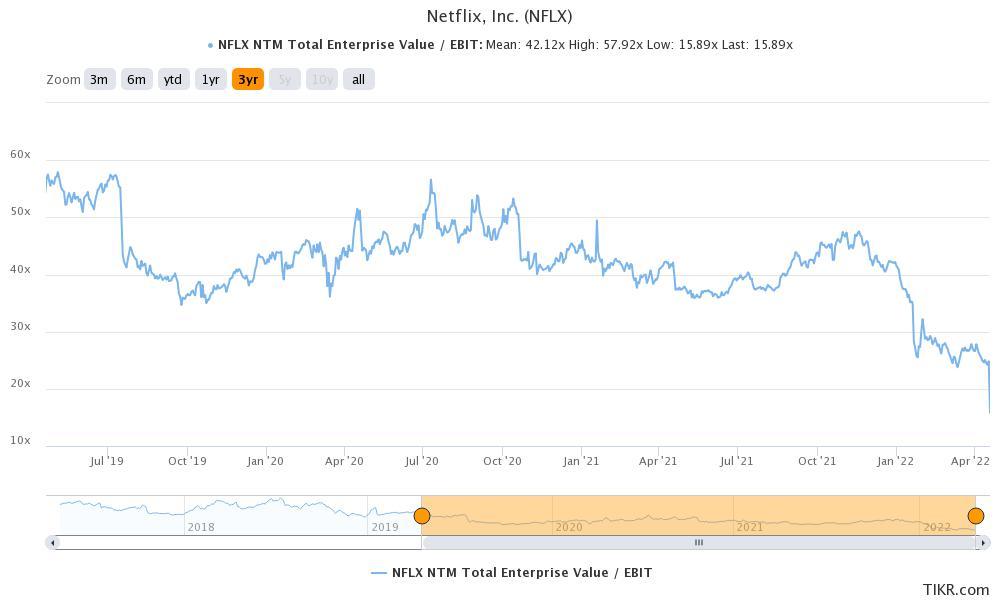 Will NFLX stock go back up?
Netflix stock should go back up in the long term. The stock now trades at an NTM PE multiple of just about 21x. Markets have now derated NFLX stock to an extent where the valuations are similar to some of the value stocks. Overall, while there would be short-term pressure on the stock as more analysts downgrade it, the stock should recover some of its losses over the medium to long term.