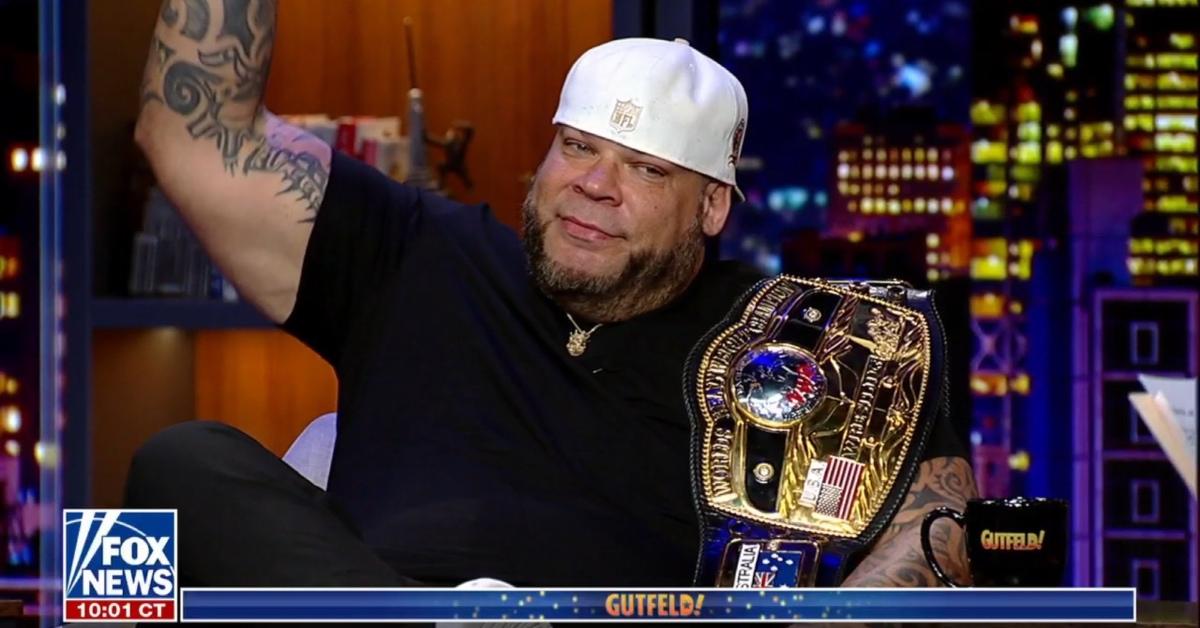 Meet Tyrus, a Professional Wrestler and Fox News Contributor
Aside from working as a professional wrestler, actor, and author, Tyrus now serves as a Fox News contributor. If you're like most people, you're probably wondering who Tyrus is and how he got to the network.
Article continues below advertisement
Article continues below advertisement
Tyrus's real name is George Murdoch. The California native, born in February 1973, attended Quartz Hill High School, Antelope Valley College, and then the University of Nebraska for a teaching course. In college, Murdoch played football, but that ended after a leg surgery went wrong and left him with a limp.
Keep reading to find out how Tyrus got into wrestling and more importantly, how he landed a role at Fox News.
When did Tyrus start wrestling?
Murdoch began his wrestling career with the World Wrestling Entertainment (WWE), making his ring debut in 2006 under the ring name "G-Rilla." He defeated Big Bully Douglas in his first match.
Article continues below advertisement
Who are Tyrus' parents?
Murdoch was born when his parents were just teenagers, and he had a difficult childhood. His family broke up and he and his brother ended up with a foster family.
Article continues below advertisement
Article continues below advertisement
Is Tyrus related to Rupert Murdoch?
After losing his WWE contract, Murdoch worked as Snoop Dogg's bodyguard. Recalling that, he said, "John Cena actually showed up to do a song with Snoop in Los Angeles, and he walked in and was like, 'What the hell are you doing here?' I was like, 'You didn't know? I got let go. I'm back bodyguarding now. He was like, 'What? That's crazy!' I was like, 'It's all good. Good to see you. Appreciate it."
After returning to the WWE after two years away, Murdoch changed his professional name to "Brodus Clay," and used that ring name until he left the WWE in 2014. He then joined Total Nonstop Action Wrestling, adopting "Tyrus" as his ring name. He's now a wrestler with the National Wrestling Alliance.
Article continues below advertisement
Article continues below advertisement
Who is Tyrus on Fox News, and how did he get to the network?
The wrestler joined Fox News in 2016, initially contributing to the network's late night show Gutfeld. His coming to the network started with Twitter chat with the show's host, Greg Gutfeld. Tyrus also contributes to other Fox programs, including Fox & Friends, Outnumbered, The Daily Briefing, and The Five.
Article continues below advertisement
In 2019, Tyrus faced sexual harassment allegations from his Fox co-host Britt McHenry. The issue was settled in 2021. McHenry left the network but Tyrus remained. Here's how much Tyrus is worth now.
George Murdoch (Tyrus)
Professional wrestler and Fox News contributor
Although Tyrus is well known by wrestling fans, he has become a widely recognized for his appearances on Fox News. One of his more memorable appearances was in a Fox News commercial that aired during Super Bowl LVII.
Birthdate: Feb. 21, 1973
Birthplace: Boston, Mass.
Education: Attended Antelope Valley College and the University of Nebraska at Kearney
Spouse: Ingrid Rinck
Kids: 3
Height: 6 feet 7 inches
Article continues below advertisement
Article continues below advertisement
How much money does Tyrus make?
The wrestler and now Fox contributor's fortune is estimated to be $2 million. In addition to the salary he draws from wrestling and television, Tyrus has earned money for appearing in several films, and he's an author. He published his memoir, Just Tyrus, in April 2022. In the book, he shares advice his grandma gave him: "It's not the things that happen to you. It's your reactions that you're judged by."
Article continues below advertisement
Tyrus is married to Ingrid Rinck, with whom he has a daughter. The wrester and Fox News contributor has two other children from a previous relationship.
According to Rinck's Instagram account, she created The Rinck Routine and is still heavily involved in fitness.