Could MIM Crypto Avoid a Terra-Type Collapse? Weighing the Odds
What happened to Magic Internet Money (MIM) crypto has only deepened investors' concerns about of DeFi tokens. Can MIM crypto avoid a collapse?
Magic Internet Money (MIM) lost its dollar peg in a worrying sign to crypto investors already shaken by the Terra meltdown. What happened to MIM crypto? Should you buy the dip in the Abracadabra's DeFi crypto or stay away?
Article continues below advertisement
Article continues below advertisement
Apart from inflation concerns and recession fears that are roiling markets across the board, the crypto sector appears to have a problem of its own. Crypto investors' confidence has been shaken following the collapse of the Terra UST and LUNA crypto network. The debacle at the DeFi lending platform Celsius has only made the situation worse.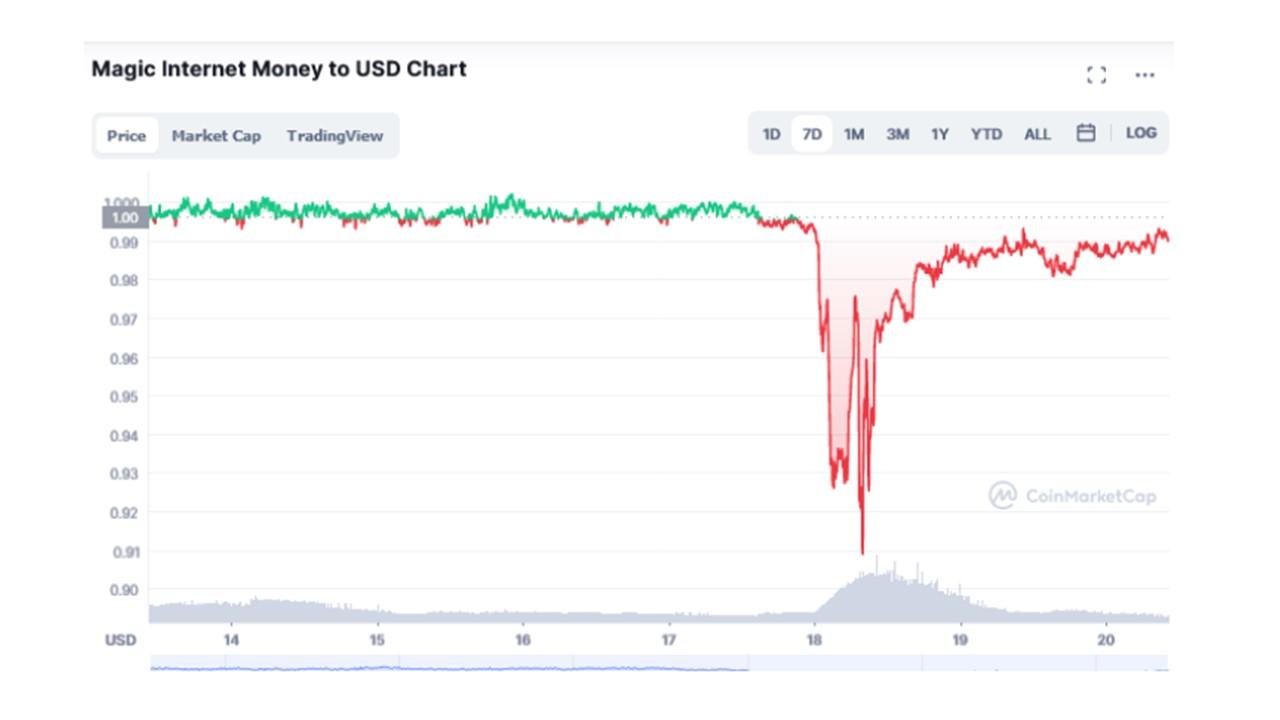 Article continues below advertisement
How does Magic Internet Money crypto work?
MIM crypto is part of the Abracadabra.Money DeFi platform. The other Abracadabra crypto is Spell token. While the MIM crypto's value is pegged to the U.S. dollar, Spell is a free-float token. The Spell token primarily performs a governance function on the Abracadabra platform.
Investors come to Abracadabra to borrow the MIM stablecoin to support their activities on other platforms. To borrow MIM coin, you need to first deposit interest-bearing crypto assets as collateral on Abracadabra. Once you're issued with MIM coin in exchange for your deposit, you can convert it into other stablecoins such as USDT or USDC to use in other DeFi operations.
Article continues below advertisement
Article continues below advertisement
What happened to Magic Internet Money (MIM) crypto?
MIM crypto began losing is dollar peg on June 17. It slipped further from the $1 value over the weekend but regained some value and was trading at nearly $0.99 in the morning of June 20. When MIM crypto began to slide from its peg, many investors rushed to sell, fearing they could be caught up in the Terra-type crash.
Although MIM crypto is supposed to maintain a value equivalent to $1, fluctuation in the value is expected. In fact, the fluctuation presents a profit opportunity for investors. When MIM's price drops below a dollar, borrowers can pay back their loans cheaply. When MIM's price climbs above a dollar, investors can borrow the crypto and sell it at a premium to those who need it.
Article continues below advertisement
What is the future of MIM crypto?
If you're wondering whether to buy the dip in MIM crypto or not, it may help to know what's going on. According to Autism Capital, the Abracadabra DeFi platform may be in trouble. It says that the Terra crypto collapse left Abracadabra with $12 million in bad debt, and that the project may soon become insolvent.
Article continues below advertisement
However, Abracadabra founder Daniele Sestagalli has strongly refuted the insolvency claims, saying that the project has enough funds to meet its debt obligations. It may be difficult to know exactly who's right at this point. Investors should proceed with caution regarding a MIM crypto investment decision.