Clean Energy (CLNE) Stock Is Popular on Reddit, Buy the Dip
Clean Energy Fuels (CLNE) is among the top three discussion topics on Reddit group WallStreetBets. The group has earned a name for itself by triggering short squeezes and has been instrumental in pumping several stocks. With CLNE stock down from its recent highs, should you buy the dip?
Article continues below advertisement
CLNE stock opened higher on June 14. The stock is up a massive 377 percent over the last year and is outperforming the S&P 500. While the stock is down over 45 percent from its 52-week high of $19.79, it's still up over 37 percent YTD. It has surpassed the returns of the S&P 500 by a wide margin.
What happened to Clean Energy Fuels stock?
Last week, Clean Energy Fuels stock fell after reports that Total Marketing Services, its largest shareholder, sold more shares. The group has been offloading CLNE shares for the last few weeks. The company's largest shareholder selling shares is negative news. The move is seen as the largest shareholder cashing out after the rally.
Article continues below advertisement
We saw something similar in fellow meme stock AMC Entertainment. Chinese billionaire Wang Jianlin's Dalian Wanda Group Co, which was a major shareholder of AMC Entertainment, has sold the shares amid the rally.
Article continues below advertisement
Meanwhile, AMC CEO Adam Aron actually celebrated the fact and expressed optimism about the company now being owned by several retail investors instead of a few institutional investors.
CLNE stock valuation
CLNE trades at an NTM EV-to-revenue multiple of 6.8x. The company's NTM EV-to-EBITDA multiple of 31.6x is nearly twice what the multiple has averaged over the last three years. Over the last year, all of the green energy companies have seen a rerating amid expectations of an accelerated pivot to green energy globally.
Article continues below advertisement
Like fellow meme stocks, Clean Energy Fuels' management also capitalized on the spike in its shares and issued more shares. This has been the typical rule book of most meme stocks. They have issued shares in a frenzy and in many cases ended up raising much more cash than their near foreseeable cash needs.
Article continues below advertisement
CLNE stock forecast
CLNE stock has a median target price of $20, which is a premium of 73 percent over the current prices. Among the six analysts covering the stock, four have a buy rating, while one has a hold and one has a sell. Incidentally, CLNE is among the stocks where WallStreetBets traders and Wall Street analysts seem to think the same.
Article continues below advertisement
CLNE stock on Reddit
CLNE stock is very popular on Reddit and there's a separate Reddit with around 3,800 members to discuss the stock. The stock is also among the hottest discussion topics on WallStreetBets.
A post on the group, which was upvoted almost 1,000 times, valued CLNE stock at $29 per share. The post compared the company's valuation to that of FuelCell Energy (FCEL) and harped on the point that while FCEL is negative on the EBITDA level, CLNE has positive EBITDA margins. To be sure, FCEL's NTM EV-to-sales multiple of 34x is over four times that of FuelCell Energy.
Article continues below advertisement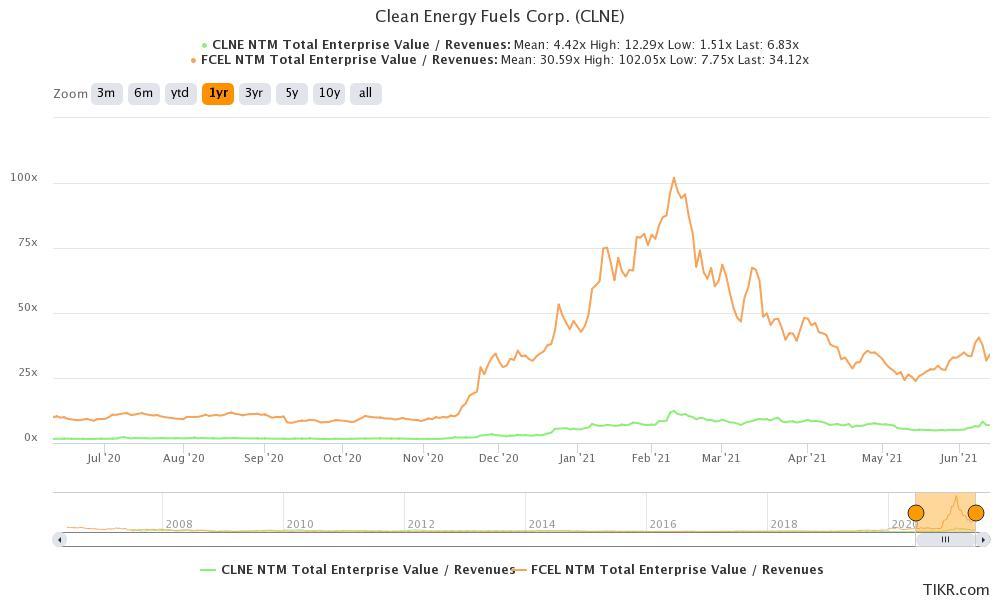 Is Clean Energy Fuels a good stock to buy?
Clean Energy Fuels stock looks like a good stock to buy at these prices based on its lower relative valuations. While the company's largest shareholder dumping shares has dampened the sentiments, if the company becomes more retail owned like GameStop and AMC Entertainment, it might help buoy prices, which we have seen with other meme stocks.