PSTH Stock: Ackman Identified Gems Like Stripe but Can He Grab Any?
The SPAC (special purpose acquisition company) mania also attracted billionaire fund manager Bill Ackman who founded Pershing Square Tontine Holdings (PSTH) in 2020. There were rumors that Ackman would take Stripe and Airbnb public, but he got snubbed. When will Ackman find a merger target for PSTH?
Article continues below advertisement
While there has been a frenzied selling in SPACs over the last month, PSTH has been somewhat immune from the sell-off. PSTH stock is down 16.7 percent from its 52-week highs, which is much lower than the drawdowns that we've seen in other SPACs.
For example, Chamath Palihapitiya's Social Capital Hedosophia Holdings IV (IPOD) is down 28 percent, while GS Acquisition Holdings Corp II (GSAH) is down 29 percent. There has been an even severe sell-off in SPACs that have announced merger targets. Churchill Capital IV (CCIV), which announced a merger with Lucid Motors, is down 59 percent from its 52-week highs.
Article continues below advertisement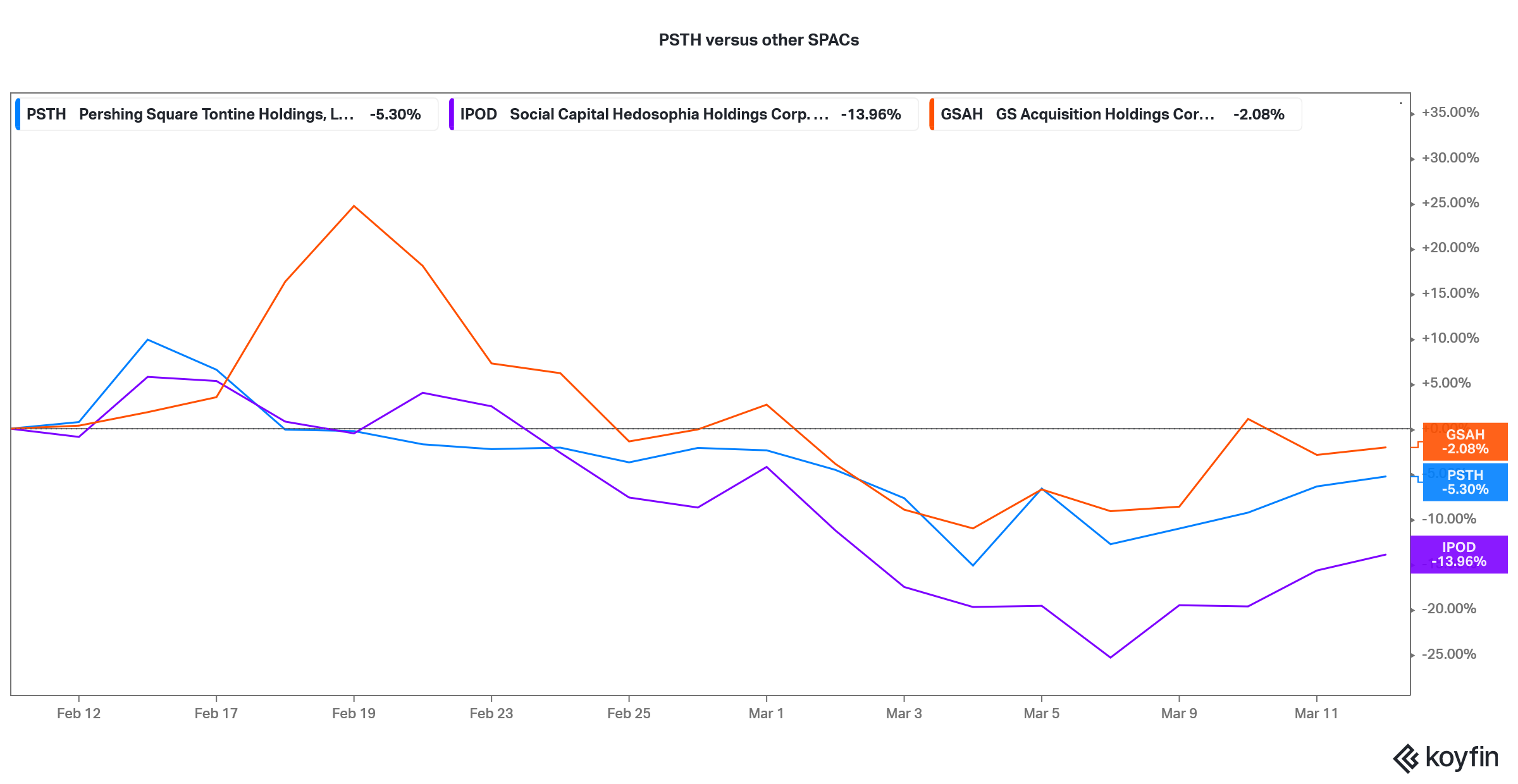 Why PSTH SPAC has outperformed
In a SPAC, especially those that haven't identified a merger target yet, the credibility and previous performance of the sponsor are important. On that yardstick, Ackman beats most SPACs hands down.
Article continues below advertisement
Ackman's Pershing Square Holdings (PSH) hedge fund rose 78 percent and 58 percent, respectively, in 2019 and 2020 and outperformed the S&P 500 by a wide margin. Ackman also made billions betting against the markets in March 2020. The trade would go down in history as one of the best trades ever.
Investors are optimistic about Ackman's ability to identify an attractive merger target for PSTH. Looking at the rumors, Ackman did identify two gems in Airbnb and Stripe, but the companies turned him down.
Article continues below advertisement
Rumors about Ackman taking Stripe and Airbnb public
Airbnb stock more than doubled on its listing day and is currently trading at three times its IPO price. In Stripe's most recent private market funding, the fintech company is valued at $95 billion, which is three times its 2020 private market valuation. Clearly, Ackman successfully identified the merger targets.
Article continues below advertisement
Even Palihapitiya tweeted that he wants to take Stripe public. However, the company seems to have different plans. Stripe is happy being a private company at least for now.
Article continues below advertisement
Bet on Ackman and buy PSTH before the merger
Looking at SPACs, there has been a flurry of them over the last year. 2020 was a record year for SPACs. They emerged as a quick way for private companies to go public in a booming stock market.
There was a record number of SPACs in 2020. So far, 2021 looks even better (or like a bubble depending on how you perceive it) and the number of SPACs in the first three months has exceeded the number in 2020. The amount of money that SPACs have raised in 2021 far exceeds what has been raised through traditional IPOs.
Article continues below advertisement
Ackman has set a differentiated criterion for merger targets compared to most other SPACs, which pretty much keep it as a freestyle match. PSTH is looking at companies that have simple and cash flow generative business models and high barriers to entry.
Article continues below advertisement
PSTH will also look at companies with trustworthy and competent management. PSTH prefers companies that don't have to overtly rely on capital markets to raise funds. The SPAC would consider companies with strong balance sheets and attractive valuations.
For a moment, PSTH's merger criterion would seem like a page out of Warren Buffett's book. These are the criteria that Buffett looks for in companies before investing. While PSTH hasn't been able to find a merger target yet, investors' patience and the faith in Ackman might pay off in the long term.