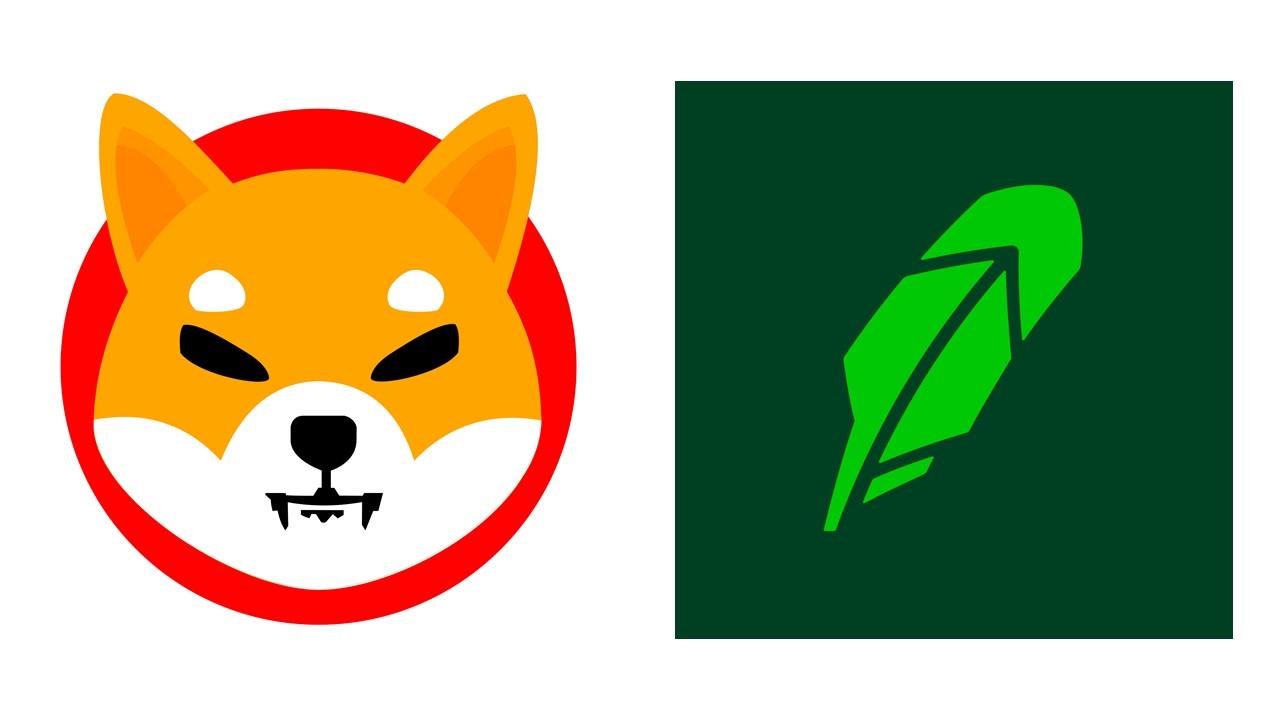 Should You Buy Shiba Inu Before a Robinhood Listing?
Shiba Inu's (SHIB) price hit multiple record highs on Oct. 27 amid growing support for a Robinhood listing of the Dogecoin rival. The crypto's price flirted with $0.00007, which drove its market cap to almost $28 billion. Is Robinhood going to offer Shiba Inu? Will Shiba Inu's price go even higher on a Robinhood listing or will it crash?
Article continues below advertisement
Article continues below advertisement
Shiba crypto launched in 2020 and it's classified as a meme coin alongside Tesla CEO Elon Musk's Dogecoin, Floki Inu, and Kishu Inu. Dogecoin stands tall as the top meme crypto with a market cap of more than $32 billion. However, Shiba has styled itself as the Dogecoin killer and aims to be the top meme crypto. Its recent surge has brought it closer to its goal of overtaking Dogecoin.
In addition to Coinbase, you can buy Shiba coin on eToro, Binance, and KuCoin. The crypto has a total supply of one quadrillion tokens. Vitalik Buterin made a donation of $1 billion in the form of Shiba token to India's COVID-19 fund. Dogecoin has also been used in high-profile donations.
Article continues below advertisement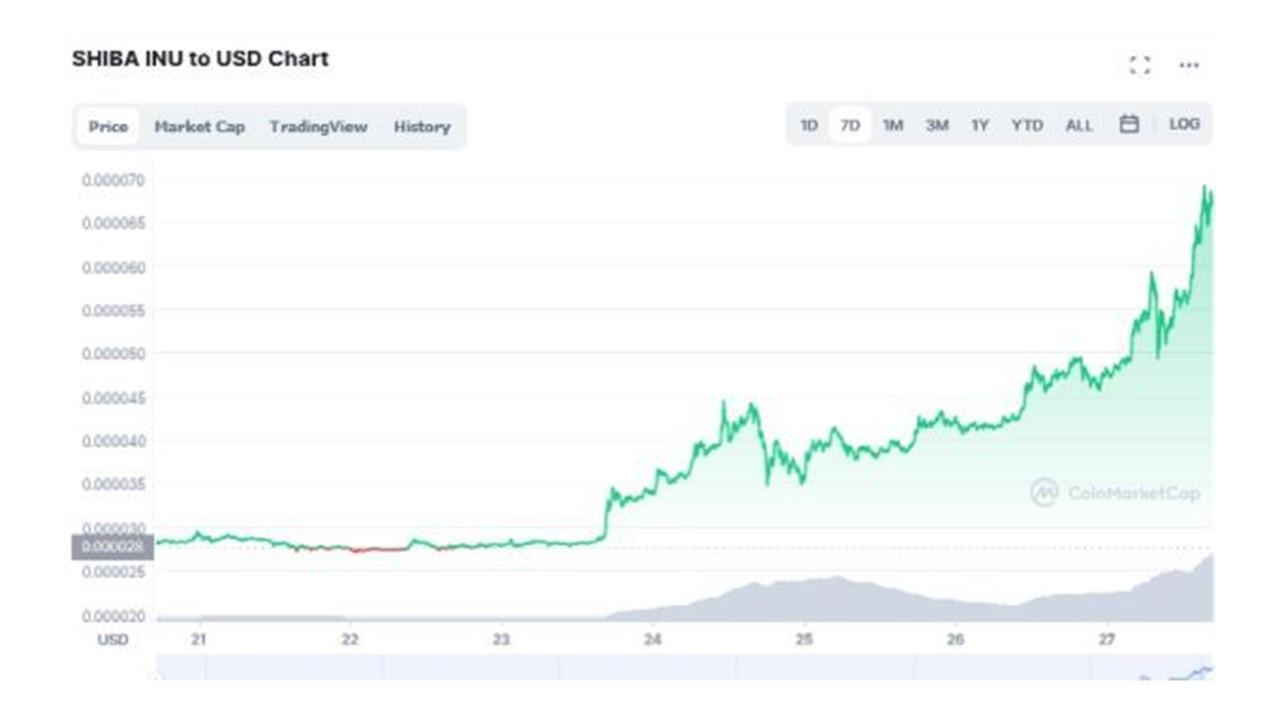 Why is Shiba going up?
Shiba's price has climbed 150 percent in the past few days. The crypto has gained more than 800 percent in the past month and almost 80,000,000 percent in the past year. The second-best performing crypto in the past year is Axie Infinity, which has gained about 90,000 percent.
Article continues below advertisement
Article continues below advertisement
Shiba's surge is supported by several factors. First, those who missed Dogecoin see Shiba as their second chance to get exposure to the next meme crypto to explode. Shiba has skyrocketed following its listing on Coinbase and there are hopes that Robinhood will list it as well.
Coinbase is the top crypto exchange. It's also the preferred platform for large crypto investors to carry out their trades. Therefore, a Coinbase listing gives coins significant new exposure to big investors. After Shiba's Coinbase listing, an anonymous large investor quietly purchased 277 million Shiba tokens worth almost $12 million. The huge purchase has also contributed to the crypto's rise.
Article continues below advertisement
Is Robinhood going to add Shiba Inu?
Robinhood is one of the most used online brokers not just for stocks but for cryptocurrencies as well. It's particularly popular with retail investors who have been shaking the markets lately as evidenced in the GameStop and AMC stock short squeeze.
Article continues below advertisement
Robinhood already offers a number of cryptos, including Bitcoin, Ethereum, Litecoin, and Dogecoin. Shiba Inu isn't on that list yet and there has been an effort to get it there. Shiba fans have launched a campaign to petition Robinhood to list the Dogecoin killer. The petition is seeing growing support, with more than 345,000 signatures collected, which brings it closer to the target of 500,000 signatures.
Article continues below advertisement
Robinhood knows that its customers want Shiba Inu and it's willing to list even more coins. However, CEO Vlad Tenev has cited the regulatory environment as the problem. The executive said that Robinhood is trying to be careful with its crypto listing, which might be why the company has still put Shiba on hold. But Coinbase listing of the crypto might encourage Robinhood to do the same soon.
Article continues below advertisement
Article continues below advertisement
Will Shiba Inu rise even higher on Robinhood listing or crash?
Shiba's price could skyrocket to another record high if it gets listed on Robinhood. A listing there would increase its investor visibility, offer a dose of credibility to still doubting investors, and boost confidence in the crypto's potential.
However, a rush to take profits might follow after a successful Robinhood debut, which could bring Shiba's price down for some time before it rebounds. Circles of boom and bust are common in crypto charts because of profit-taking. Many investors still view cryptos as speculative bets.
Article continues below advertisement
Shiba Inu price prediction end of 2021
Investors want to know where Shiba's price will be at the end of 2021 after its meteoric rise. As investors continue to seek the next cryptocurrency to explode and hopes of Robinhood listing firm as the petition gets more support, Shiba's price could continue hitting record highs through the end of 2021.
Article continues below advertisement
In addition to getting listed on more exchanges, Shiba's projects like an NFT marketplace and ShibaSwap exchange will also influence the crypto's price. Increasing awareness of family tokens like Leash and Bone might also stir more investor interest in Shiba Inu. For Shiba fans, seeing the price reach 1 cent will be a sweet milestone.
Article continues below advertisement
What did Elon Musk say about Shiba Inu?
Musk has clarified that he doesn't own Shiba Inu yet. Perhaps he's watching how the Robinhood listing campaign plays out before making a decision. Musk has invested in Bitcoin, Ethereum, and Dogecoin, all of which are listed on Robinhood.
The Tesla boss can be credited for sparking Shiba's surge. The crypto has been rising since the electric vehicle billionaire tweeted a photo of his puppy named Floki. Musk's puppy is a Shiba Inu breed, which is a famous Japanese hunting dog. Shiba Inu crypto takes its name from that dog, which is also the Dogecoin mascot.