The IPOE-SoFi Merger Is Coming, and Now's the Time To Buy
Chamath Palihapitiya's IPOE SPAC is taking SoFi public. The deal, which values the fintech startup run by former Twitter executive Anthony Noto at $8.7 billion, could close at any moment. Is IPOE SPAC stock undervalued as the SoFi merger date nears?
Article continues below advertisement
The IPOE-SoFi merger is expected to close by the end of Mar. 2021. IPOE stock has traded between $10.10 and $28.26 since its debut, and it closed at $16.44 on Mar. 29. IPOE investors will own about 9 percent of SoFi stock after the merger.
What are SoFi's competitors?
SoFi offers a broad range of fintech services, spanning lending to investing. In the lending space, it competes with PayPal (PYPL), Square (SQ), LendingTree (TREE), LendingClub (LC), and Avant, and in the investing space, it competes with Robinhood, eToro, and Webull. eToro is also going public in a SPAC deal, while Robinhood is considering traditional IPO.
Article continues below advertisement
Many of SoFi's publicly traded competitors have worked well for investors, a sign SoFi stock could be rewarding. Since their debuts, LendingTree, Square, and PayPal stock stocks have returned 2,700, 1,500, and 540 percent, respectively.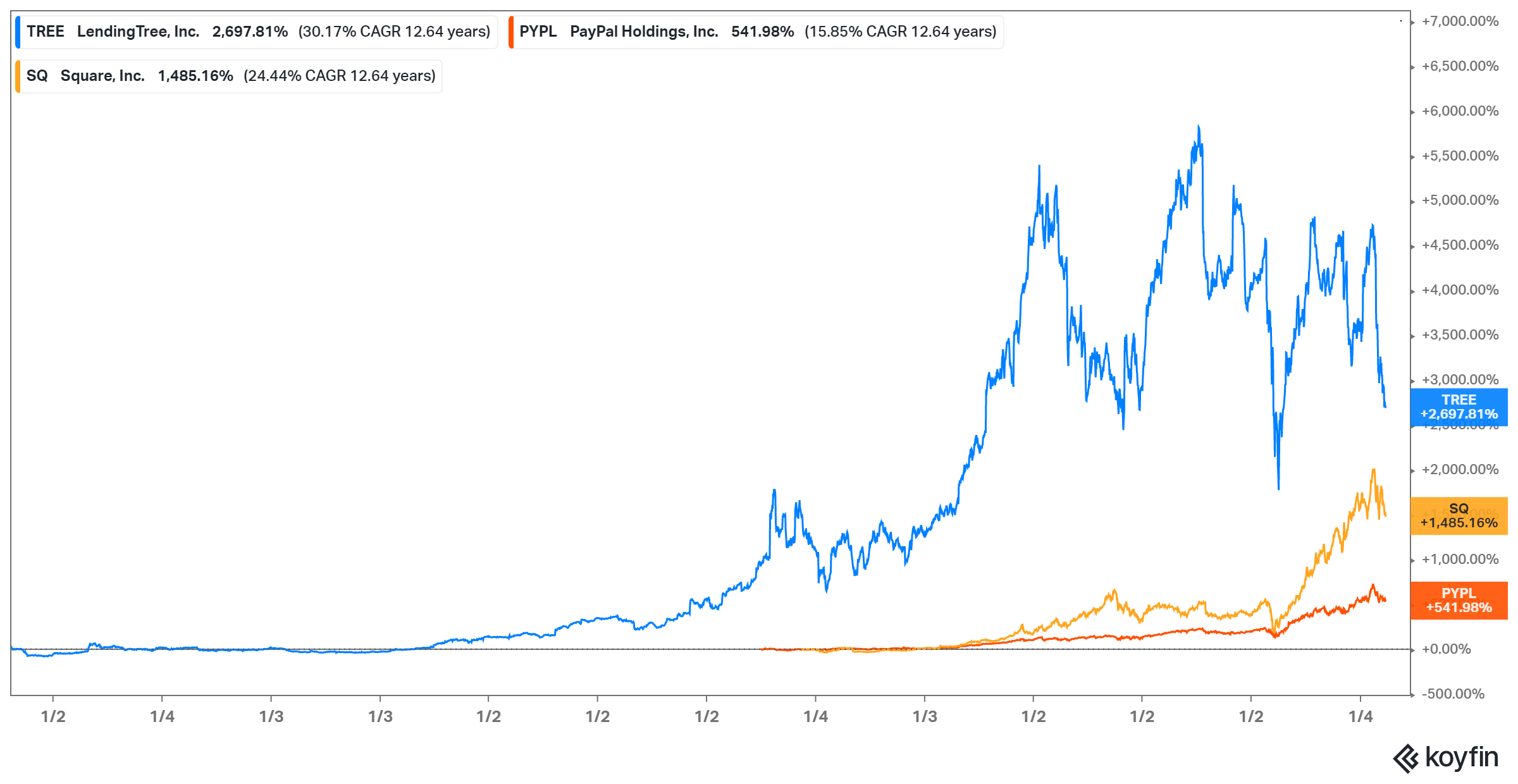 Article continues below advertisement
Is SoFi a good long-term investment?
Several factors make SoFi stock attractive to long-term investors. The fintech startup is growing rapidly—it generated revenue of $620 million in 2020, and it's on track to hit $1 billion in 2021 and $3.7 billion in 2025. The company expects to become profitable in the year it goes public, which is a rarity among fintech startups.
SoFi is also a well-funded business, and it's set to get $2.4 billion in cash as part of the IPOE SPAC deal. With ample liquidity, management can work on grow the business instead of worrying about financing for projects.
Article continues below advertisement
The fintech is also in the process of opening a bank, which will expand its existing credit business. The bank should allow SoFi to introduce more products and cut costs by saving on current payments it makes to third-party banks, boosting its revenue and profitability.
Additionally, SoFi is launching a service that will enable retail investors to have early access to IPO shares. As retail investors have long been waiting for this opportunity, the Robinhood competitor may be able to draw more investors to its brokerage service, and as a result, its other businesses.
Article continues below advertisement
BlackRock, Coatue Management, Durable Capital Partners, and SoftBank have invested in SoFi stock. These blue-chip institutional investors' involvement with SoFi signals an investment could pay off in the long term.
Article continues below advertisement
Is IPOE stock undervalued?
IPOE stock has dropped more than 40 percent from its peak, but its current price of about $16 is still 60 percent above its listing price. While it's unclear if IPOE is undervalued, it's clear that SoFi has a bright future. Furthermore, investors buying the future SoFi stock now are getting a better deal than those who bought near the top.
Should you buy or sell IPOE stock before the SoFi merger date?
Buying stocks on a dip is a common strategy among bargain hunters. And now that IPOE stock is down more than 40 percent from its peak, it seems to be in bargain territory. Moreover, seeing that SoFi is debuting as a well-funded business and is about to become profitable, the risk of it diluting its stock to raise cash looks minimal.