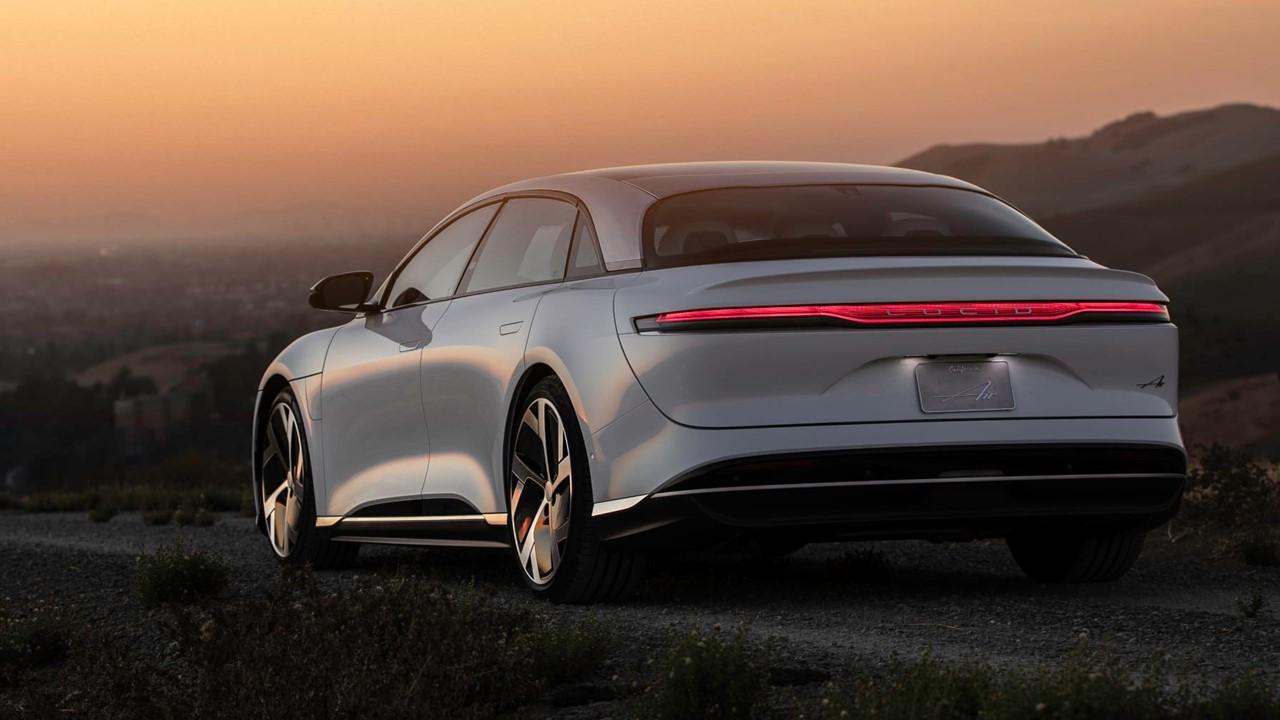 NIO Stock Is Tumbling, Bad News for CCIV and Lucid Motors
Churchill Capital IV (CCIV) is the most talked-about SPAC (special purpose acquisition company) over the last month. The blank-check company has announced a merger with Lucid Motors that some see as the next Tesla. Meanwhile, CCIV SPAC stock fell over 9 percent on March 2. Is the stock a good buy after falling 58 percent from its highs?
Article continues below advertisement
While many see Lucid Motors as the next Tesla, I would argue that given its premium positioning, Lucid looks like the next NIO. Now, NIO has been a turnaround story. NIO survived a bankruptcy scare in 2020 and rose over 1,100 percent in the year.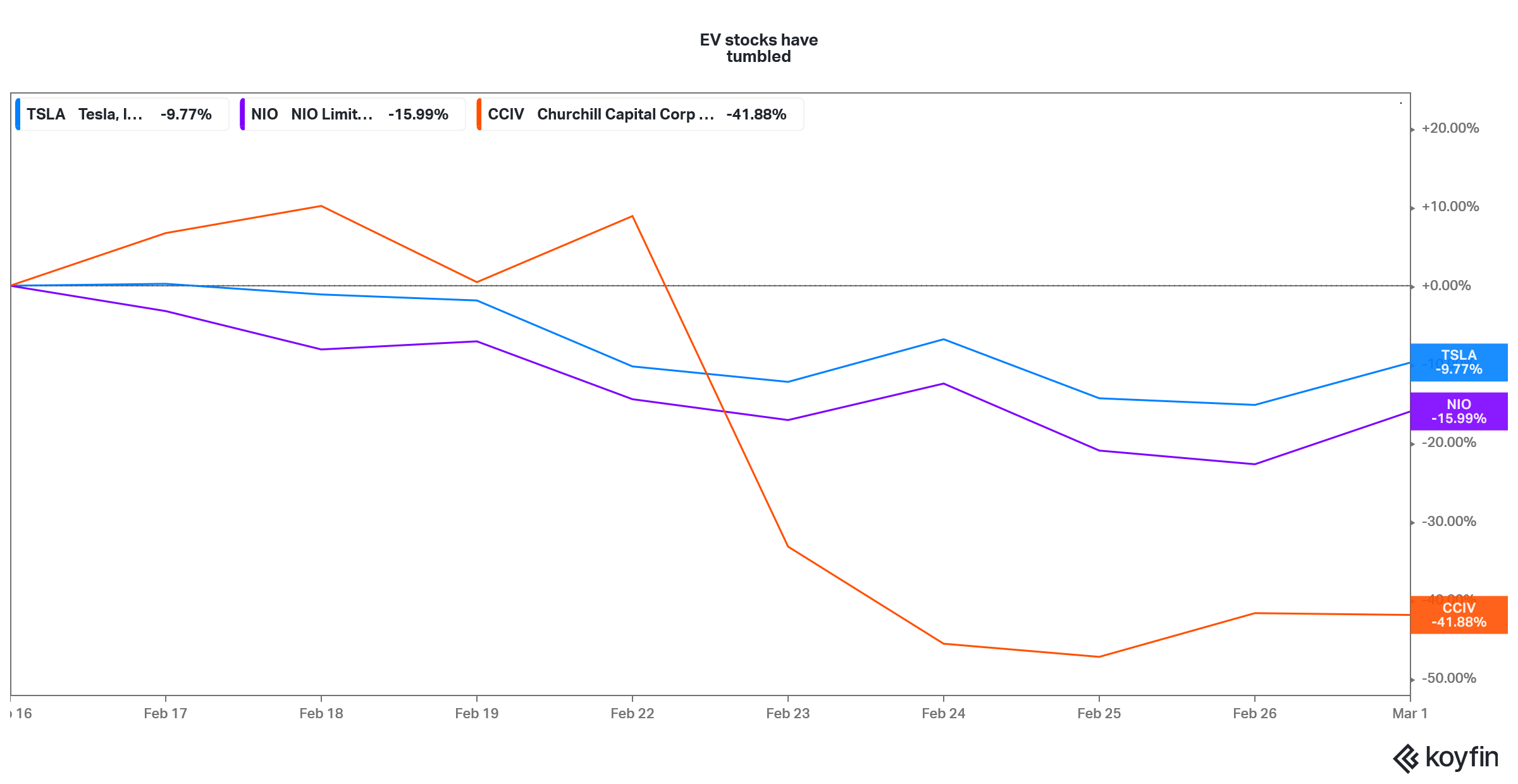 Article continues below advertisement
However, 2021 has been a different ballgame and the Chinese electric vehicle maker is down 11 percent so far. The stock is down 35 percent from its 52-week highs. Tesla, which rose 740 percent in 2020 is also in the red this year and is down almost 24 percent from its 52-week highs. The fall in Tesla, NIO, and other EV (electric vehicle) stocks spells trouble for the CCIV SPAC.
Is Lucid Motors the next NIO?
There's a tendency among observers to compare every EV company to Tesla. As I have noted in the past, the practice of labeling every EV model as a "Tesla-killer" is free marketing for Tesla cars. Like NIO, Lucid Motors is targeting the premium EV market.
Article continues below advertisement
Tesla also started as a premium EV carmaker but pivoted towards the mass-market Model 3 and Model Y, which now account for the bulk of its sales. Lucid Motors' upcoming cars will be pitched against Tesla's Model S. While NIO hasn't launched its cars in the U.S. yet, it looks like a bigger competitor for Lucid Motors than Tesla given its product positioning.
Article continues below advertisement
Fall in NIO and other EV stocks is bad news for CCIV
In its presentation announcing the merger, CCIV benchmarked itself against Tesla on multiple occasions including valuation. There isn't any denying that Tesla is the gold standard for the EV industry whether it comes to the car hardware, software, battery, or its Supercharging stations.
There was a rerating of all EV stocks in 2020 and markets saw many of them as the "next Tesla." Markets started valuing Nikola as the "Tesla of trucking" and NIO as the "Tesla of China." As for Tesla, at the peak, its market capitalization was above $800 billion.
Article continues below advertisement
Even after the fall, Tesla's market capitalization is above $650 billion which is more than triple that of Toyota Motors. NIO's market capitalization is slightly below that of General Motors—the largest U.S. carmaker.
Article continues below advertisement
Lucid Motors' partnership with Apple
There have been rumors that Apple might partner with Lucid Motors for its upcoming electric car that's codenamed, Titan. In the past, there have been rumors about Apple partnering with Hyundai/Kia Motors and Nissan Motors. Both of the companies denied that they were in talks with Apple.
From a product perspective, Lucid could be a good fit for Apple because both of the companies target the premium market. However, Lucid doesn't have enough production capacity to manufacture Apple cars. Apple might prefer to look at an automotive company that has the production capabilities that it lacks.
Article continues below advertisement
Lucid Motors' valuation still looks high after the crash
In the PIPE (private investment in public equity), CCIV valued Lucid Motors at $24 billion. It was a higher valuation than one might expect for a company that hasn't delivered its first car yet.
Meanwhile, at CCIV's current stock price, Lucid Motors is valued at around $45 billion. In contrast, NIO, which I think is a better peer for Lucid, has a market capitalization of around $68 billion.
Article continues below advertisement
While NIO's market capitalization is over 50 percent higher than Lucid Motors, the companies are in different stages. NIO expects to deliver up to 25,000 cars in the first quarter of 2021, while Lucid would deliver its first car later this year. NIO posted healthy double-digit gross margins and positive operating cash flows in the fourth quarter of 2020. Lucid Motors expects to post double-digit gross profit margins in 2023 on revenues of $5.5 billion.
Article continues below advertisement
Are EV stocks getting a rerating?
This year, we've seen a rerating of EV stocks after the sharp rise in 2020. In 2021, investors have preferred legacy automakers like Ford and General Motors that offer a much better valuation. Legacy automakers might give a tough fight to pure-play EV makers as they launch a flurry of new electric models.
Overall, the bearishness towards EV stocks like Tesla and NIO is bad news for companies like Lucid Motors. As the euphoria towards electric vehicles cools down, companies like Lucid Motors will have a hard time justifying their premium valuations.