Why FMAC SPAC Stock Is a Speculative Buy Amid Discord Merger Rumors
FirstMark Horizon Acquisition Corp. (FMAC) stock jumped over 32 percent on Feb. 4 amid rumors of a possible merger with Discord. The rise in FMAC SPAC stock is another reflection of the speculation in some SPAC names. The FMAC-Discord merger doesn't look imminent and is purely a rumor.
Article continues below advertisement
FMAC isn't the only SPAC name that's flying on Twitter, Reddit, or Stocktwits rumors. There are many more SPACs skyrocketing due to merger rumors floating on social media platforms. Churchill Capital Corp IV (CCIV) SPAC stock has also risen due to rumors that it will take Lucid Motors public.
Who owns FMAC?
When it comes to SPACs, the reputation of the individual or institution that's sponsoring it is important. After all, you are entrusting your money with a company that has no real operations and is created just to acquire an undisclosed private company. In its IPO in October 2020, FMAC raised $414 million, which it intends to utilize to acquire a company.
Article continues below advertisement
The FMAC SPAC is backed by FirstMark Capital, which is a venture capital company. FirstMark Capital is led by cofounders Amish Jani and Rick Heitzmann. Between the founders, FirstMark has invested in several companies including Pinterest, Riot Games, and Shopify. Jason Robins, who founded DraftKings, has also teamed with the FMAC SPAC, which brings more experience and credibility to the management team.
Article continues below advertisement
Many other venture capital and private equity funds, including SoftBank, have launched their SPACs. There's a nice synergy between SPACs and private equity funds. They have prior experience in identifying private companies.
Companies FMAC could merge with
While filing its S1, FMAC said that it would initially focus on U.S. tech companies. However, it didn't place any restrictions on the companies that it would consider for a merger. The definition of "tech" has also changed with fintech companies, electric vehicle companies, and health care companies like Clover Health increasingly getting classified as tech companies.
Article continues below advertisement
FMAC-Discord merger
There hasn't been an official announcement yet from FMAC or Discord on whether they are looking at a business combination. All we have are rumors floating around on social media platforms like Twitter and Reddit. However, Reddit group WallStreetBets showed its prowess by triggering a short squeeze in stocks like GameStop (GME).
Article continues below advertisement
FMAC on Stocktwits
Stocktwits users are divided over FMAC stock. While some see it as a buy ahead of the rumored Discord merger, others see the spike on Feb. 4 as speculative. Username meme_stocks expects a big sell-off on Feb. 5. FMAC stock was trading sharply lower in pre-market trading on Feb. 5.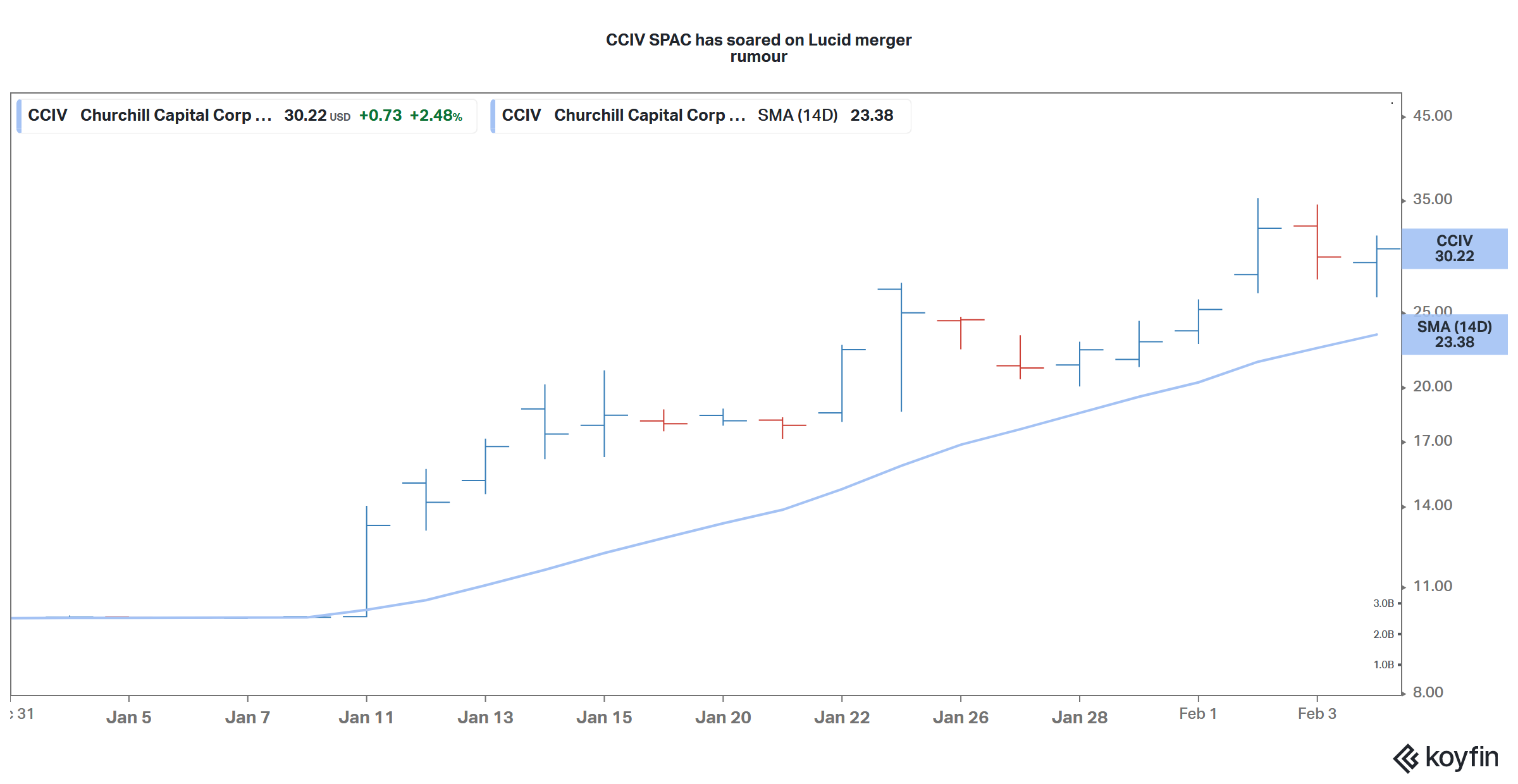 Article continues below advertisement
Another user going by the name rijerita expects FMAC to rise to $20, which would be a premium of 100 percent over the IPO price. Some of the SPACs like CCIV are trading at an even higher premium due to merger rumors. CCIV has rallied sharply over the last month, which can be seen in the graph above.
FMAC stock is a speculative buy
FMAC stock is a speculative buy like many other SPACs. However, the management team looks strong and has a long track record of identifying and investing in private companies. Investors can consider buying FMAC SPAC stock on Feb. 5 as it falls from its Feb. 4 highs.