Has the Endgame Started in CCIV or Should You Buy the Dip?
Churchill Capital Corp IV (CCIV) has been among the hottest SPACs in 2021. It has gained 194 percent YTD. However, CCIV stock tumbled over 8 percent on Feb. 3 and was trading flat in pre-market trading on Feb. 4. Should you sell CCIV SPAC stock now or use the fall as a buying opportunity?
Article continues below advertisement
Article continues below advertisement
There are rumors that CCIV plans to take Lucid Motors public. Led by a former Tesla employee, Peter Rawlinson, Lucid Motors has been termed as a "Tesla-killer" by many. Wall Street analysts tend to see every electric car company as a Tesla killer. Labeling electric car models as Tesla killers ends up glorifying Tesla and provides Elon Musk's company with free marketing for its brand. However, Lucid Motors looks like a strong contender in the electric vehicle market.
Article continues below advertisement
Lucid Motors-CCIV merger isn't imminent
It has been almost a month since reports emerged that Lucid Motors would merge with CCIV. To be sure, such rumors aren't uncommon. Just watch for discussions about SPACs on Stocktwits and you will find plenty of "upcoming mergers." When it comes to the CCIV-Lucid merger, it wasn't the usual Stocktwits, Reddit, or Twitter discussions. There were reports about the potential merger from credible media houses like Bloomberg.
PIF is Lucid Motors' largest shareholder
After the reports, investors piled up CCIV stock and expected to get a piece of a Tesla killer. In January, reports said that Lucid was in talks with Saudi Arabia's PIF (Public Investment Fund) to build a factory in Jeddah. PIF is Lucid Motors' largest shareholder.
Article continues below advertisement
Article continues below advertisement
On Lucid's listing plans, PIF governor Yasir Al-Rumayyan told CNBC that Lucid could "either do a private placement or go public through an IPO or a SPAC." He also said, "The company now through its board are evaluating different alternatives, and hopefully we will hear from them soon on the best alternative that they like."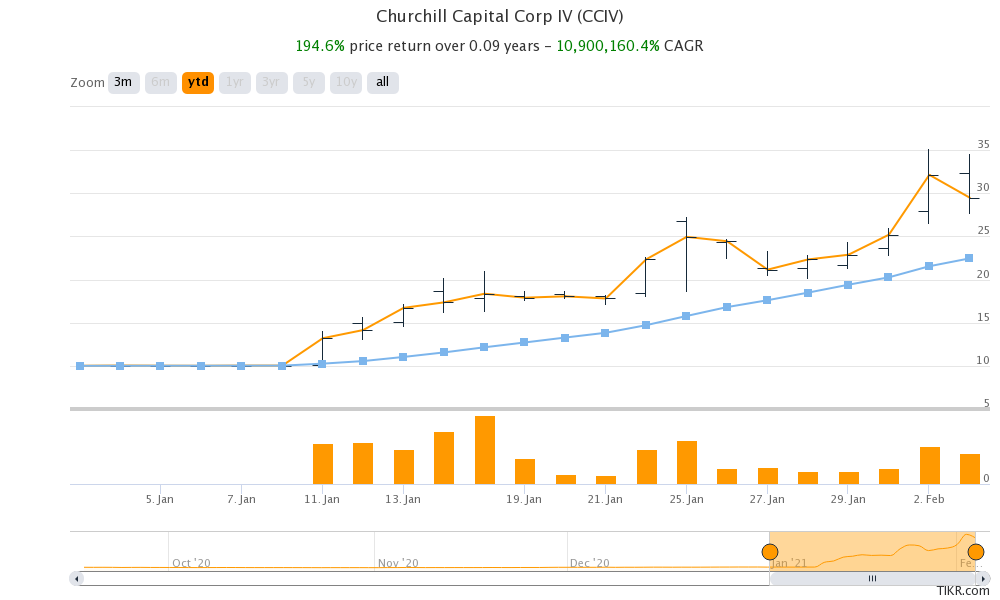 Article continues below advertisement
Chamath Palihapitiya's warning for SPAC players
CCIV stock has come off its 52-week highs as apprehensions grow about its merger with Lucid. What looked like an imminent deal a few weeks ago has started to look shaky now. Many people wonder if Chamath Palihapitiya will take Lucid Motors public.
Article continues below advertisement
Two of Palihapitiya's SPACs, Social Capital Hedosophia Holdings IV Corporation (IPOD) and Social Capital Hedosophia Holdings VI Corporation (IPOF) are still hunting for merger targets. Palihapitiya, also known as the king of SPACs, has a flair for green energy and tech companies. Electric vehicle companies like Lucid Motors fit the bill on both.
Article continues below advertisement
While we don't know if Lucid Motors with merge with CCIV or choose a different avenue to go public, Palihapitiya's latest tweet is a rude awakening for SPAC bulls who have bid price SPAC stocks expecting them to find good merger targets.
Is CCIV stock a buy or a sell?
CCIV is a story built around its merger with Lucid Motors. While CCIV's founder Michael Klein inspires a lot of confidence given his experience with SPACs in the past, investors should wait to buy CCIV stock.