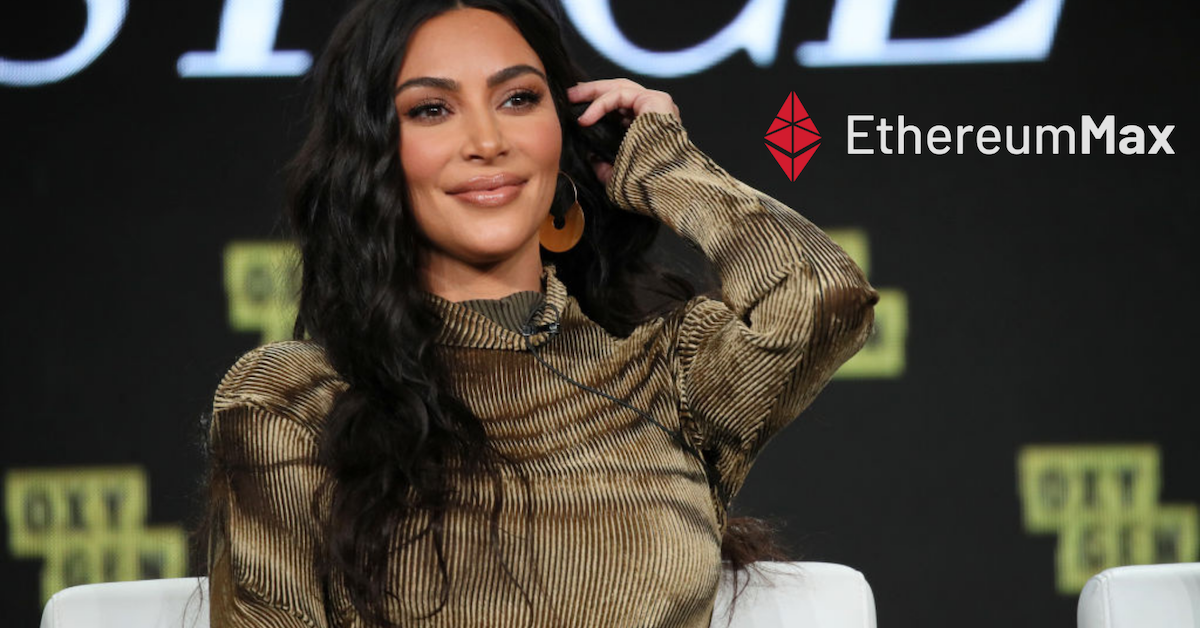 Kim Kardashian Supports Ethereum Max, Where Investors Can Buy It
By Alyssa Exposito

Aug. 10 2021, Published 1:39 p.m. ET
Recently, Kim Kardashian posted an Instagram story in support of Ethereum Max (EMAX) to over 200 million of her followers. Many people want to know more about the fairly new cryptocurrency. Most cryptocurrencies in this era are found being "shilled" by celebrities who more often than not, have some skin in the game or holdings. Similar to the original blockchain network, Ethereum, Ethereum Max has been backed by Floyd Mayweather and Kardashian. They encourage people to join the EMAX community. In sharing their support of Ethereum Max, many of their followers want to know where they can buy the crypto.
Article continues below advertisement
Unfortunately, many people fall prey to the influencer effect, where a large following comes with the notion of credibility and knowledge. Sometimes, the "expertise" leaves followers slightly disappointed when the seemingly genuine action, like tweeting support, was simply part of the job. It appears that Kardashian was paid by Ethereum Max in exchange for the Instagram story. Also, it appears that Ethereum Max was the exclusive cryptocurrency accepted for online ticket purchasing to the Mayweather and Logan Paul pay-per-view fight.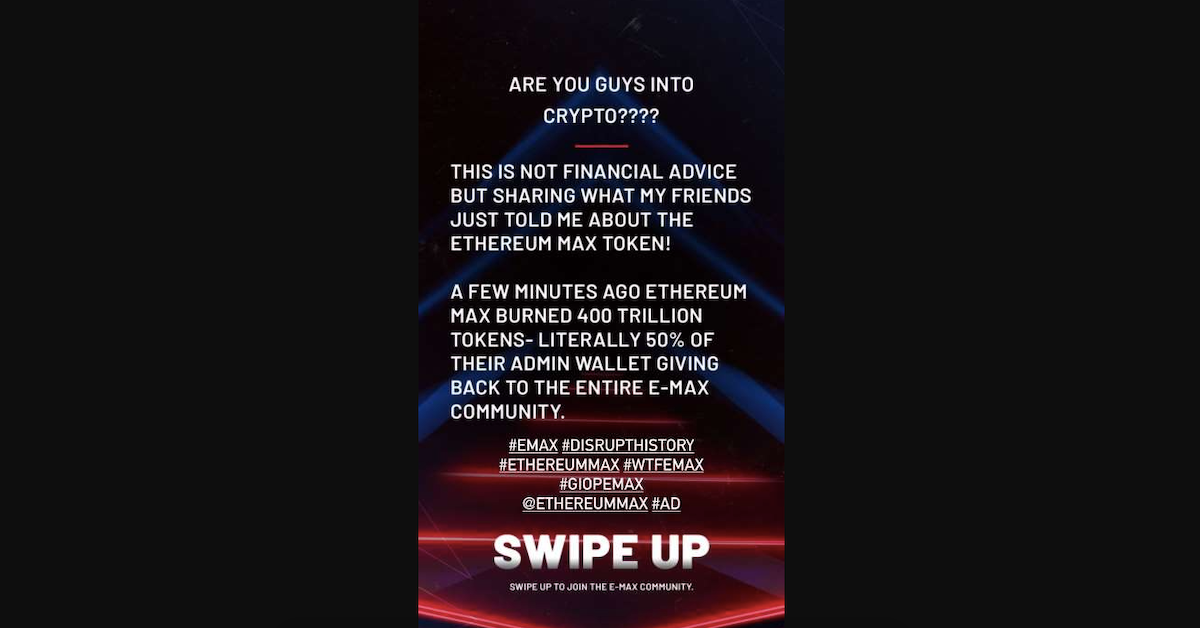 Article continues below advertisement
What is Ethereum Max?
Launched in May, Ethereum Max is a fairly new cryptocurrency. According to its website, EMAX is an ERC-20 token on the Ethereum blockchain. This suggests that it isn't a fork, an upgrade, or an Ethereum competitor. Since an ERC-20 token requires very little technical skill (which is the intent) to create, Ethereum Max can argue that it's simply taking advantage of the functions of the Ethereum blockchain itself.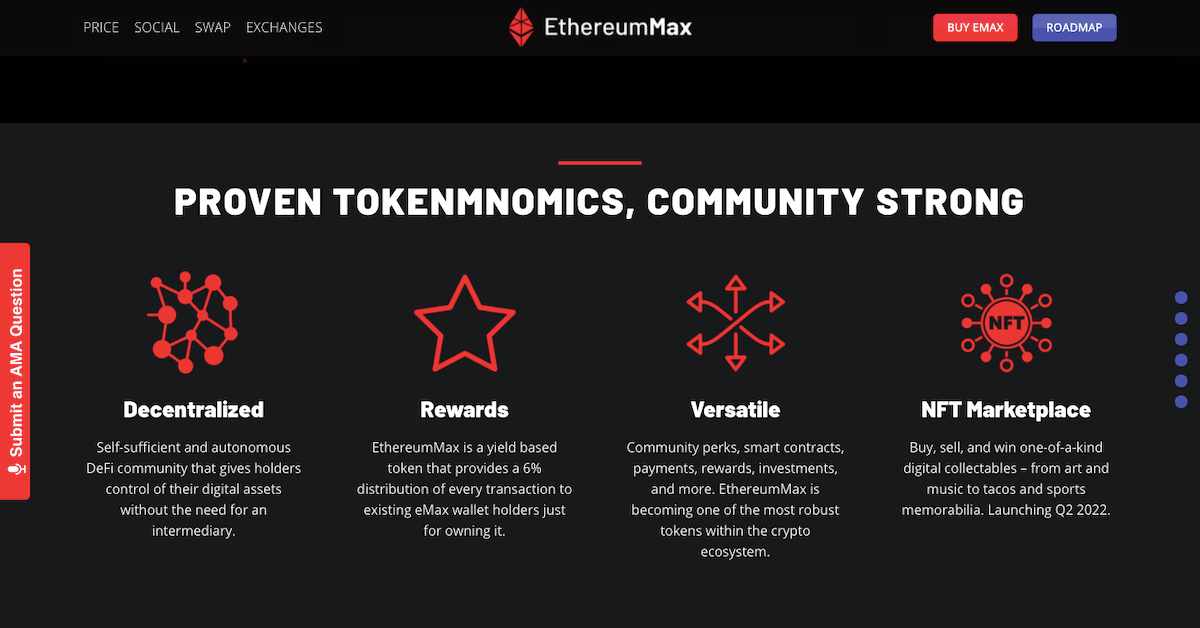 Article continues below advertisement
While some ERC-20s are created for fun with no specific utility model, others are used to operate secondary software systems. Broadly, the hope is that these tokens will increase in value based on their utility in those systems. However, it isn't quite clear how EMAX works exactly. The "tokenomics" section of the project's homepage only has vague descriptions of "community perks" and a forthcoming non-fungible token (NFT) marketplace launching in the second quarter of 2022. It also promises "yield rewards" that distribute 6 percent of all transactions divided among holders just by holding it. While Ethereum Max sounds very promising, it isn't clear without a whitepaper how any of these mechanisms will logistically roll out.
Where to buy Ethereum Max
Naturally, with the cat out of the bag regarding Kardashian's paid advertisement, many people question if other celebrities endorsing Ethereum Max were being compensated. In fact, many critics speculate that the token is a scam despite the attention it has been getting.
Article continues below advertisement
NBA legend Paul Pierce's endorsement didn't show evidence that it was a paid advertisement like Kardashian's. There also hasn't been any evidence of Mayweather disclosing payment for his promotion, their reputations lend some to speculate otherwise. In 2018, Mayweather was fined $615,000 by the SEC for tweeting about a coin that was a fraud. In comparison, Pierce has a reputation of "shilling" according to his own fans who express that EMAX is a "classic pump and dump."
Investors who are curious about where to purchase Ethereum Max, they should always do their due diligence in research and what they can afford to lose. Ethereum Max is traded on exchanges like Uniswap, Sushiswap, and 1 Inch Exchange,