CLOV Stock Forecast: Can Reddit Traders Take It to the Moon Again?
The Reddit mania refuses to die down and WallStreetBets has continued to target stocks. Clover Health (CLOV) was targeted by Reddit traders earlier in June, which took the stock as high as $28.85. WallStreetBets is targeting CLOV stock again and it's the second most discussed name on the group. What's the forecast for Clover Health stock and can Reddit traders take it to the moon yet again?
Article continues below advertisement
As is the case with most Reddit stocks, Clover Health stock fell sharply after the initial buzz. However, it settled at a higher price level than it traded before the short squeeze. The stock is gaining momentum amid interest from Reddit traders. After rising 12.4 percent on June 22, the stock opened sharply higher on June 23.
CLOV stock forecast
According to the estimates compiled by MarketBeat, CLOV stock has an average target price of $10.80, which is a 14.5 percent downside over its June 22 closing prices. The stock has two buys, two holds, and one sell rating. Amid the Reddit frenzy, Bank of America downgraded the stock from neutral to underperform.
Article continues below advertisement
CLOV stock short squeeze
In its SEC filing, Clover Health also admitted to a short squeeze in its stock. It said, "Investors that purchase shares of our Class A common stock during a short squeeze may lose a significant portion of their investment." AMC Entertainment has also previously warned investors about the volatility in its stock in an SEC filing. However, during the earnings call, AMC CEO Adam Aron praised retail shareholders for their enthusiasm towards the company.
Article continues below advertisement
Usually, a company warning investors might lead to a crash in prices. However, Reddit traders had different ideas and took it as a sign that they are getting "acknowledged."
Article continues below advertisement
Is another short squeeze coming on Clover Health stock?
According to data from Fintel, CLOV stock had a total short volume of 43.2 million shares on June 22, which was 28 percent of the total volumes. The short volumes look good enough to trigger a short squeeze in the stock if Reddit traders can get their act together.
CLOV stock prediction Reddit
A post on WallStreetBets, which was upvoted over 480 times at the time of this writing, talked about the possibility of a squeeze in CLOV stock. Also, the company's warning isn't deterring Reddit traders. One user with 58,000 Karma Points commented that they are in despite the warning. Another WallStreetBets post, which was upvoted 1,200 times, talked about buying and holding CLOV stock.
Article continues below advertisement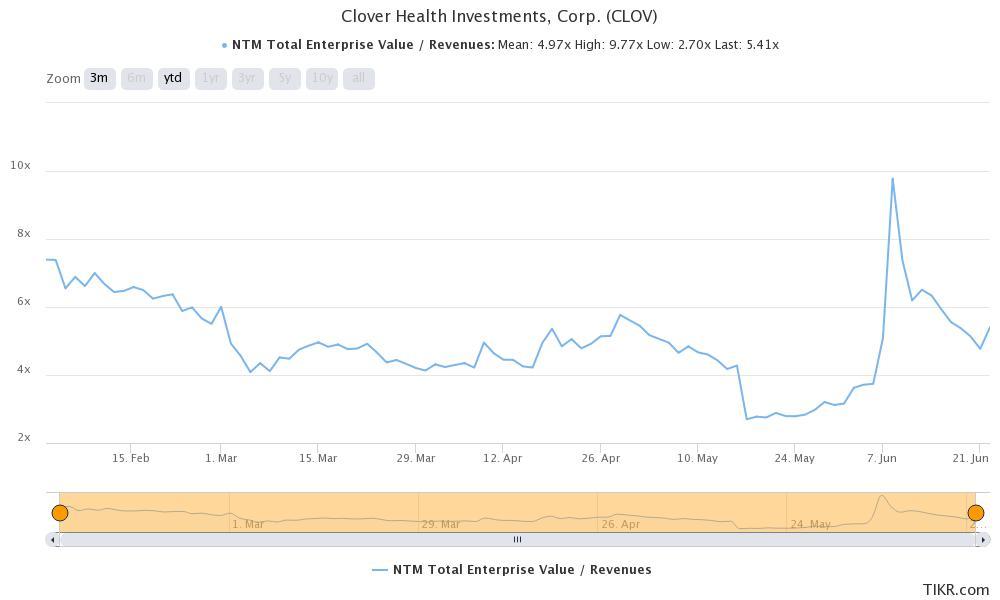 Is Clover Health a good stock to buy?
Meanwhile, it's always prudent to do your DD (due diligence) in WallStreetBets lingo. CLOV looks like a good stock to buy despite it earning its status as a "meme stock."
Article continues below advertisement
Clover Health has an EV (enterprise value) of around $4.8 billion and it expects to generate revenues of $1.7 billion in 2023. This implies a 2023 EV-to-sales multiple of 2.8x. The NTM EV-sales multiple is 5.4x. The multiples look reasonable based on the strong growth trajectory for Clover Health.
The stock has been under pressure after Hindenburg Research allegations. However, the company addressed the concerns quite well. Overall, CLOV looks like a good stock to buy now amid the growing Medicare Advantage spending in the U.S., which Clover Health expects to double between 2019 and 2025.