ChargePoint's Growth Story Amid Biden's Infrastructure Plan
By Anuradha Garg

Apr. 1 2021, Published 9:22 a.m. ET
President Biden unveiled a massive EV infrastructure plan on March 31. Since Biden's election win, EV stocks have been on a gaining spree due to his administration's favorable outlook for EVs and his push towards increasing their adoption to tackle climate change.
Article continues below advertisement
Biden's plan for EV charging networks
On March 31, Biden unveiled a $2 trillion infrastructure plan, which aims to tackle climate change. Out of this $2 trillion, he intends to spend $174 billion to spur the development and adoption of EVs. Currently, EVs make up just 2 percent of the new car market and Biden wants this market to become mainstream.
Article continues below advertisement

There are many hurdles as far as EV adoption is concerned. First and foremost, EVs are more expensive than their ICE (internal combustion engine) counterparts. Second, charging EVs is more difficult and takes more time than filling up a gas tank. Biden is trying to address these concerns through his infrastructure plan. He aims to lower the cost of EVs by offering incentives and rebates to manufacturers as well as consumers. 
Article continues below advertisement
As a part of this push, Biden also aims to build half a million chargers by 2030, which is a nearly 12 fold increase compared to the current chargers. While early movers like Tesla built their own charging stations, not many newly converted EV-makers like GM and Volkswagen see much economic sense in building out EV charging points of their own. Most of the automakers are collaborating with third-party companies to provide charging stations. This has increased the demand for companies specializing in providing EV charging points, like ChargePoint, Blink, and EVgo. 
How ChargePoint will benefit from Biden's infrastructure push
ChargePoint is the biggest independent EV charging infrastructure operator globally with over 150,000 charging sites across 14 countries. After the announcement of Biden's EV infrastructure push, CHPT stock rose by nearly 19 percent on March 31. CHPT went public through a reverse merger with Switchback Energy on March 1. 
Article continues below advertisement
A public and private collaboration was needed for the mass adoption of EVs. Biden's recent infrastructure push could be among the first steps to achieve this collaboration. EV charging companies, including ChargePoint, will benefit massively as the EV adoption rate accelerates. Biden's direct incentives could also help EV infrastructure plays like ChargePoint.
Article continues below advertisement
CHPT stock forecast
According to Market Beat, four analysts cover CHPT stock. Two analysts recommend a buy, while two recommend a hold. Analysts' average target price is 34.5, which represents an upside potential of 29 percent. 
On March 31, Citi initiated coverage on CHPT with a neutral rating and a target price of $28. Citi analyst Itay Michaeli is positive on the fundamental story but prefers to look for a more compelling entry point on the stock. He also doesn't see EBITDA profitability until 2024. 
Article continues below advertisement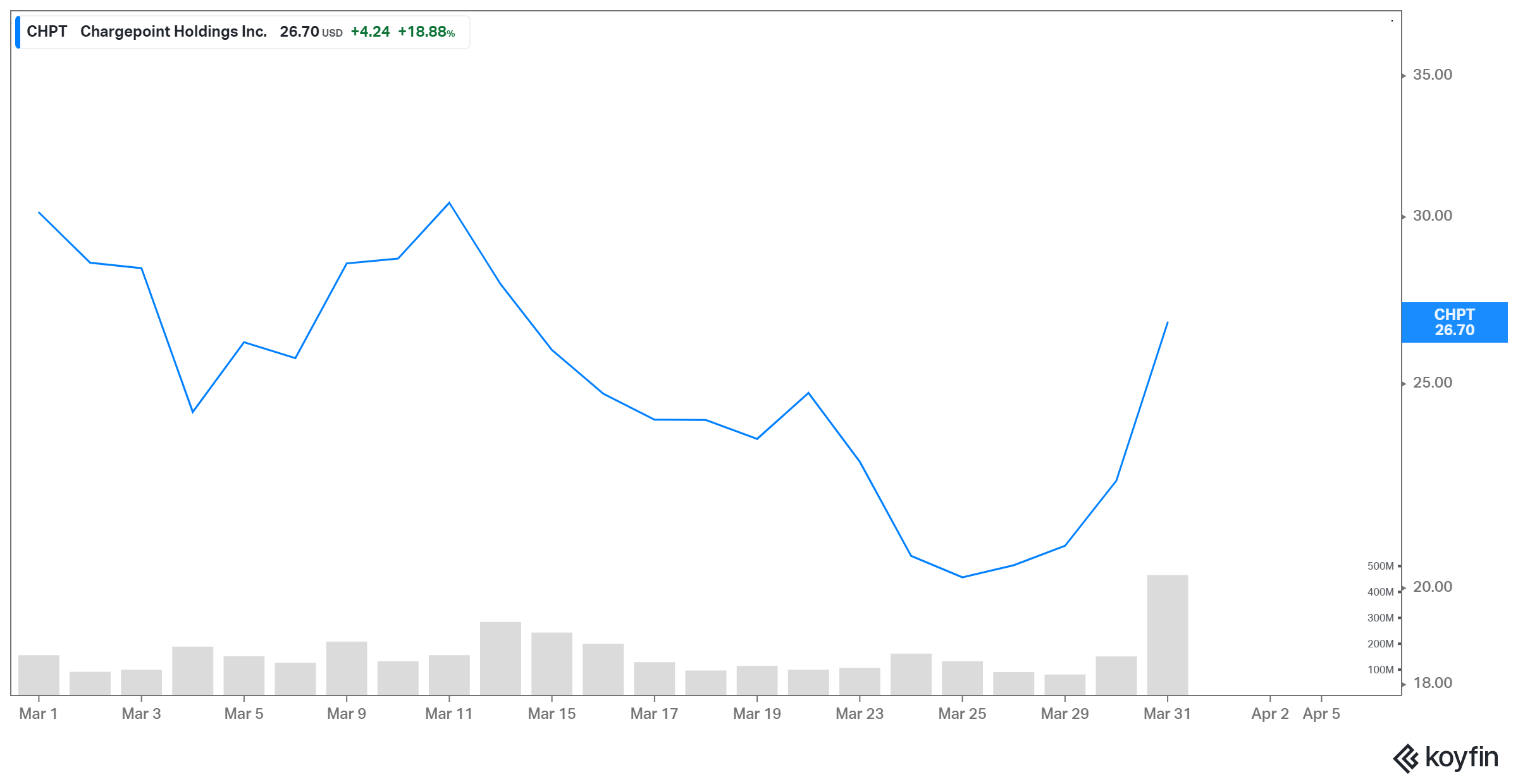 CHPT stock is a good bet.
On March 30, ChargePoint and NATSO, which represent the trade group representing travel plazas and truck stops, announced significant progress in the first year of the National Highway Charging Collaborative. It's an initiative that will leverage $1 billion in public and private capital to deploy charging stations at more than 4,000 travel plazas and fuel stops. During the first year of the collaboration, 150 DC fast charging spots have been funded with additional access to more than 1,500 publicly available DC fast charging spots. 
Article continues below advertisement
ChargePoint's progress towards installing fast chargers and expanding its network along with Biden's push for EV adoption should bode well for the company's overall business. With more than 70 percent market share in the North American market, the company should have the benefit of a network effect since there are significant switching costs.
Based on ChargePoint's EV and 2022 estimate revenue, its EV-to-revenue multiple is 34x, which is significantly lower than its competitor, Blink Charging. Since ChargePoint's public debut, the stock has recorded a decline of 11 percent even after the recent winning streak due to favorable developments. Therefore, investors can bet on CHPT as a long-term growth story hinged on the growing adoption of EVs.