Best Stocks Amid Fintech Revolution in 2021: How to Play the Story
Fintech and energy are two key investment themes to watch for the next decade. In the green energy space, electric vehicle companies are giving legacy automakers a run for their money. In the fintech space, they are challenging the dominance of large banks. What are the best fintech stocks that you can buy in 2021 and expect good returns in the long term?
Article continues below advertisement
There's a fintech revolution globally, in both emerging and developed markets. Chinese fintech company Ant Financial was set to become the largest IPO ever with a market capitalization exceeding that of JPMorgan Chase, the largest U.S. bank, before the listing was blocked by Chinese authorities.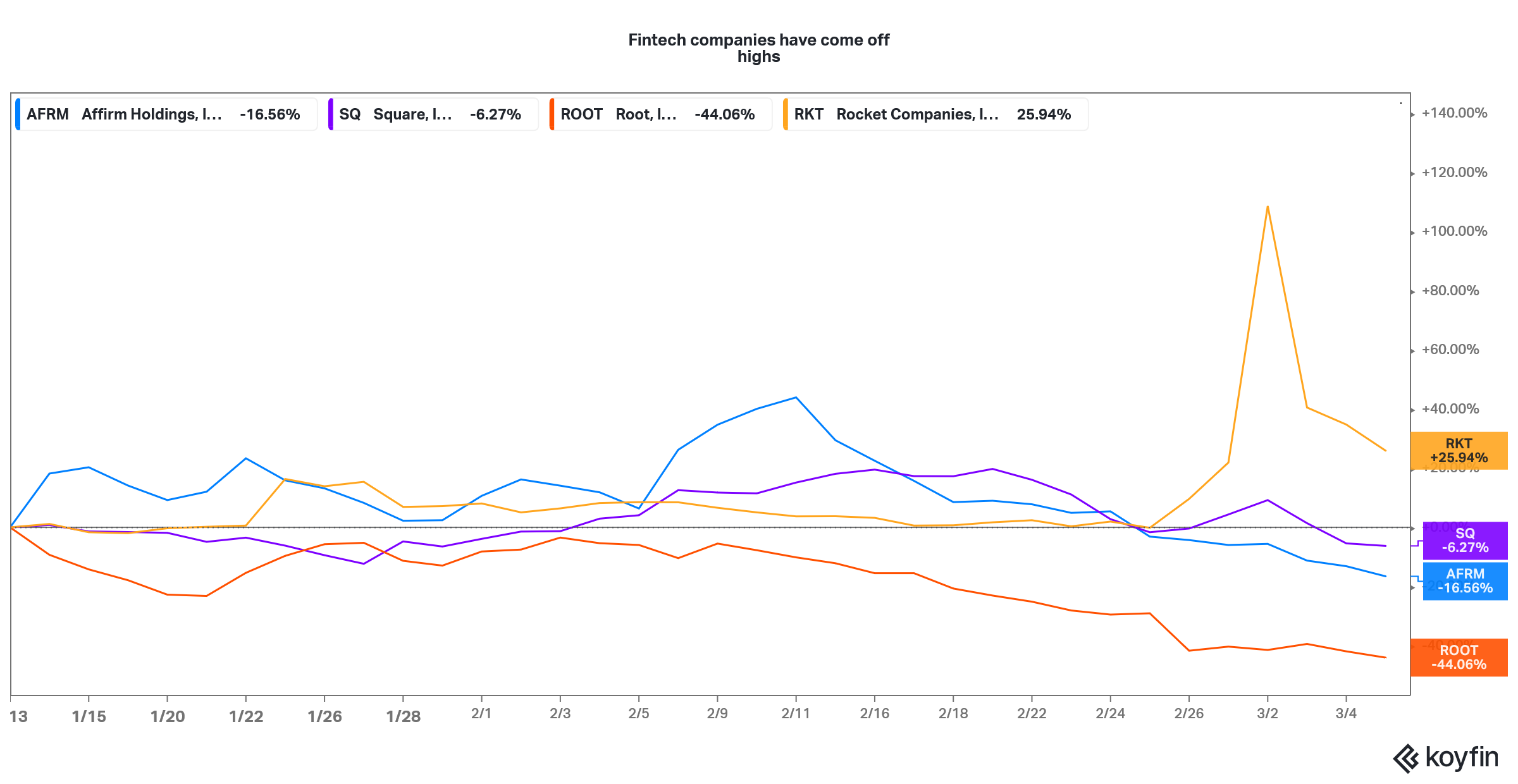 Article continues below advertisement
Best fintech stocks in 2021
The following are the best fintech stocks to buy in 2021:
Square
Affirm
Rocket Companies
Root Insurance
All of these companies are spread across the fintech space. Square is possibly the most popular fintech company. Despite surging sharply in 2020, it still looks like a good bet. The company has diversified operations and offers seller solutions for business as well as trading and broking solution for investors. The company also allows bitcoin trading on its platform and has invested in the cryptocurrency.
Article continues below advertisement
San Francisco-based Affirm works on the buy now and pay later model. The stock had a stellar listing earlier in 2021 but has looked weak since then. The recent weakness could be an opportunity to buy the stock at lower prices.
Article continues below advertisement
Not everyone would agree that Rocket Companies is a fintech player. However, the company has invested heavily in tech and looks like a good play in the fintech industry. It's trading at attractive valuations after having slumped from its 52-week highs.
Root Insurance is involved in the auto insurance business. It offers differential rates to drivers based on their driving habits in what it calls "fair rates." The differential pricing model in insurance is gaining traction among those who have good driving habits yet end up paying a higher premium due to fixed pricing charged by traditional insurance companies. The stock is trading near its 52-week lows and could be a good buy at these prices.
Article continues below advertisement
Outlook for fintech stocks
The outlook for fintech stocks looks positive given the fact that Millennials seem to prefer them over traditional financial services companies. In February 2020, JPMorgan Chase called fintech the "real COVID-19 story" pointing to "the rise of online start-ups and expansion of digital platforms into credit and payments."
Article continues below advertisement
JPMorgan Chase also pointed to Big Tech companies like Apple and Alphabet getting into the financial services industry. It said, "Co-opetition' between 'Fin' and 'Tech' players lies ahead, with banks stepping up investment to narrow the technology gap."
Upcoming fintech stocks
There are many fintech stocks that are due for an IPO. The fintech stocks include Robinhood and Chime. Also, SoFi or Social Finance has announced a merger with Social Capital Hedosophia Holdings V (IPOE). SoFi is expected to merger and list in the second quarter of 2021.
Article continues below advertisement
As a fintech platform, Sunlight Financial provides point-of-sale financing capabilities for residential solar contractors. It's also set to list by merging with The Spartan Acquisition (SPRQ) SPAC.
How to invest in fintech stocks
To invest in fintech stocks, you need to identify the stocks based on your risk appetite and investment needs. Then, you can place an order for the desired number of stocks through your broker. You can even choose one of the fintech companies as your broker.