Apple Stock Forecast: How High Can AAPL Go After the iPhone Event?
By Mohit Oberoi, CFA

Sep. 9 2021, Published 11:53 a.m. ET
With a YTD gain of 20 percent, Apple (AAPL) is the third best-performing FAANG in 2021. The stock is trading near its all-time highs. Despite showing some weakness in the year, AAPL has managed to recoup the lost ground and the returns are in line with the S&P 500. The company has scheduled its event for Sept. 14. What's the forecast for AAPL stock and how high could it go?
Article continues below advertisement
Apple was the best-performing FAANG stock in 2019 and 2020. The company's market cap fell below $1 trillion during the stock market sell-off in the third quarter of 2018. However, it has rebounded smartly and now has a market cap of $2.6 trillion.
Will Apple's market cap hit $3 trillion?
Apple was the first company to hit $1 trillion and then a $2 trillion market cap. Looking at the momentum, the stock could become the first company to hit a $3 trillion market cap. Gene Munster, who to his credit correctly predicted Apple's market cap hitting $2 trillion, forecast in 2020 that its market cap would hit $3 trillion.
Article continues below advertisement
How high can Apple stock go?
If Munster's prediction turns out to be true, it would mean Apple stock rising another around 17 percent from these levels. The street high target price for AAPL stock is $190, which would mean an upside of over 22 percent. If the stock hits the street high target price, its market cap would have surpassed $3 trillion.
Article continues below advertisement
Apple stock forecast
The forecast for Apple stock looks bullish and 32 of the 44 analysts covering it rate it as a buy or some equivalent. Apple stock has 10 hold and two sell ratings. APPL's median target price of $169.28 is a premium of 9 percent.
Apple's long-term forecast also looks positive. We're in a smartphone supercycle. The increased adoption of 5G phones also bodes well for smartphone companies like Apple. The biggest driver for Apple would be the services business that has been growing fast.
Article continues below advertisement
The stock has seen a valuation rerating amid the digital transformation and it's being increasingly seen as a software and tech company rather than a gadget maker.
Article continues below advertisement
Warren Buffett on AAPL stock
Warren Buffett is among the biggest Apple bulls. While the Oracle of Omaha has sold some Apple shares over the last two years, he regrets the decision. Buffett wanted to buy more Apple shares at a lower price. Unfortunately for him, the stock didn't fall to the levels that he wanted.
Article continues below advertisement
Apple electric cars
Apple is also said to be planning a foray into electric cars and autonomous driving. Not many details are known since the project is secretive. However, there have been reports of Apple unsuccessfully trying to partner with automakers for its electric car project. Looking at Apple's tech expertise and deep pockets, the company could be a formidable competitor to Tesla.
What to expect from Apple's event
Apple events attract a lot of attention, just like the launch of new Tesla products. There's speculation that the company would announce satellite connectivity to the upcoming iPhone model. According to Ming-Chi Kuo, the iPhone 13 might have four phones. CNET speculates that the new model would have a new design, battery, and upgraded cameras.
Article continues below advertisement
Since 2012, the event has been held in September, which is the last month of the company's fiscal year. 2020 was an exception and the event was delayed to October. As a result, the company didn't see the typical year-end boost in revenues from the new models. Apple's revenues surged in the next quarter.
Article continues below advertisement
AAPL stock valuation
Like 2020, the Apple event will be held online in 2021 due to the COVID-19 pandemic. However, if the company can come up with products that please markets, it could rise to new highs. The stock trades at an NTM PE ratio of 28.2x.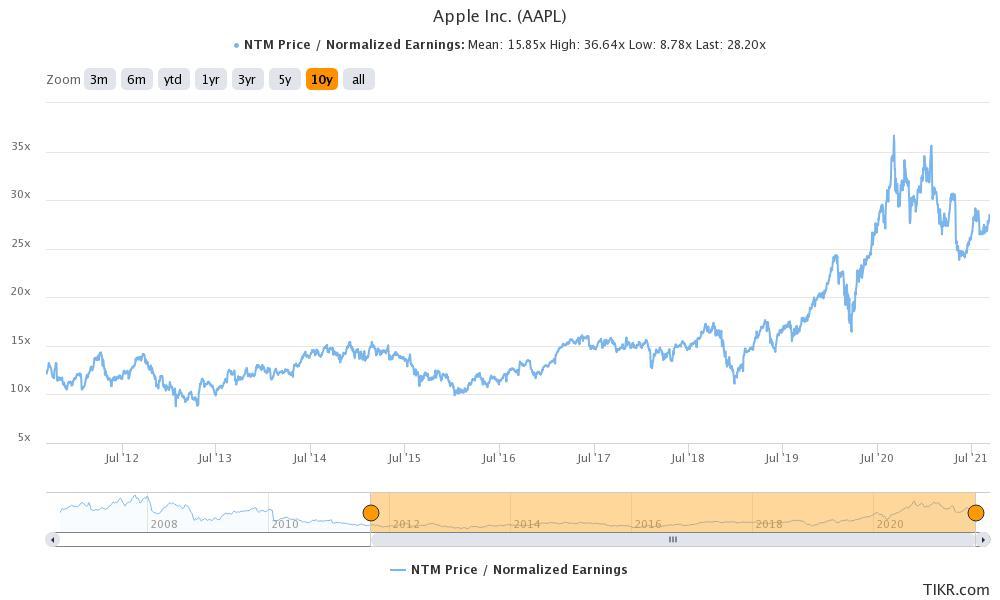 While that's way above the 10-year average of 15.8x, it's reflective of the new dynamics. The stock can sustain a bit higher multiple, which can drive the shares even higher.