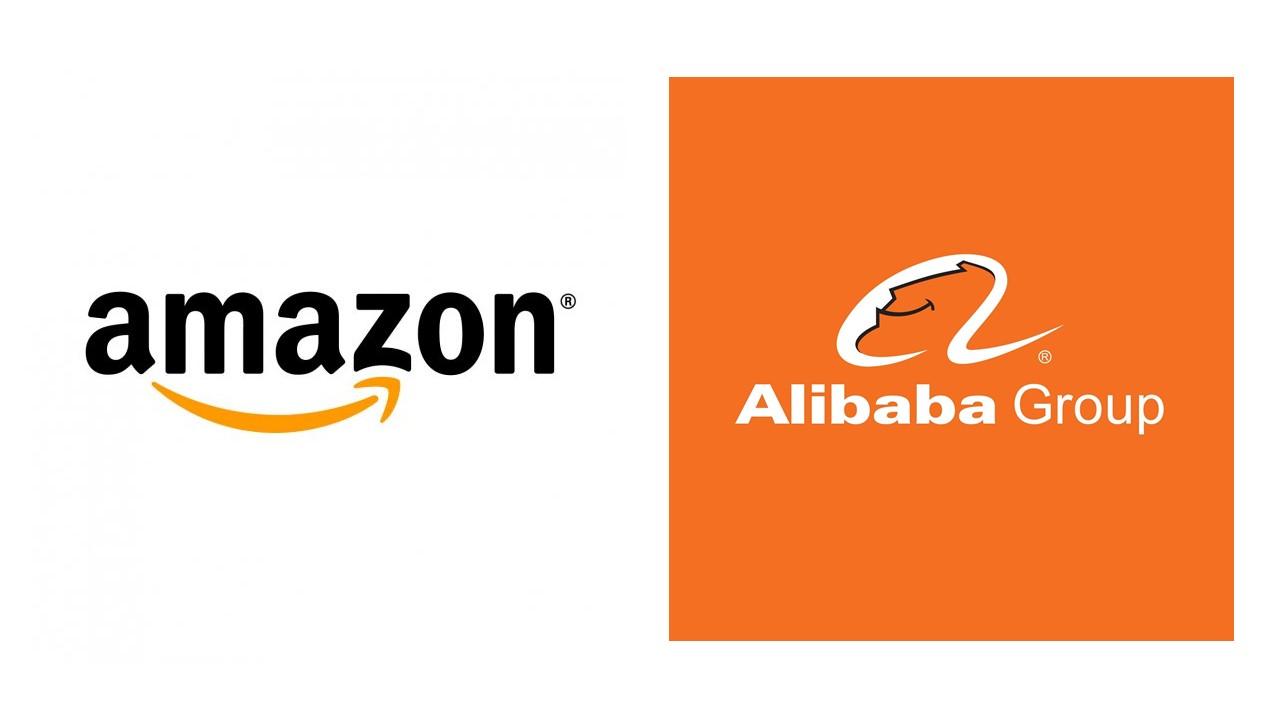 Amazon or Alibaba: Which Is the Better e-Commerce Stock to Buy?
e-Commerce sales have soared globally over the last year. The COVID-19 lockdowns pushed more people to shop online. The digital transformation that has been underway for many years accelerated during the COVID-19 pandemic. When we think of e-commerce, Amazon (AMZN) and Alibaba (BABA) are probably the first two companies that come to mind. However, when it comes to investing, which one of these is a better stock to buy?
Article continues below advertisement
First, we should understand that along with e-commerce operations, Amazon and Alibaba have also ventured into other businesses. For example, both of the companies have cloud operations. AMZN and BABA have invested in startup companies including in the electric vehicle industry. The companies also have exposure to the fintech space. Alibaba-backed Ant Financial was set to become the world's largest IPO before Chinese authorities stalled it.
Article continues below advertisement
Comparing Amazon and Alibaba
First, there's a difference in geographical exposure between Amazon and Alibaba. Amazon gets most of its revenue from U.S. markets. North America accounted for 60 percent of its revenues in the third quarter of 2020. In contrast, Alibaba gets most of its revenues from China.
Both of the companies have a different revenue share from cloud computing. In the September quarter, 12.8 percent of Amazon's revenues came from AWS (Amazon Web Services), while Alibaba got 8 percent of its revenues from cloud computing.
Article continues below advertisement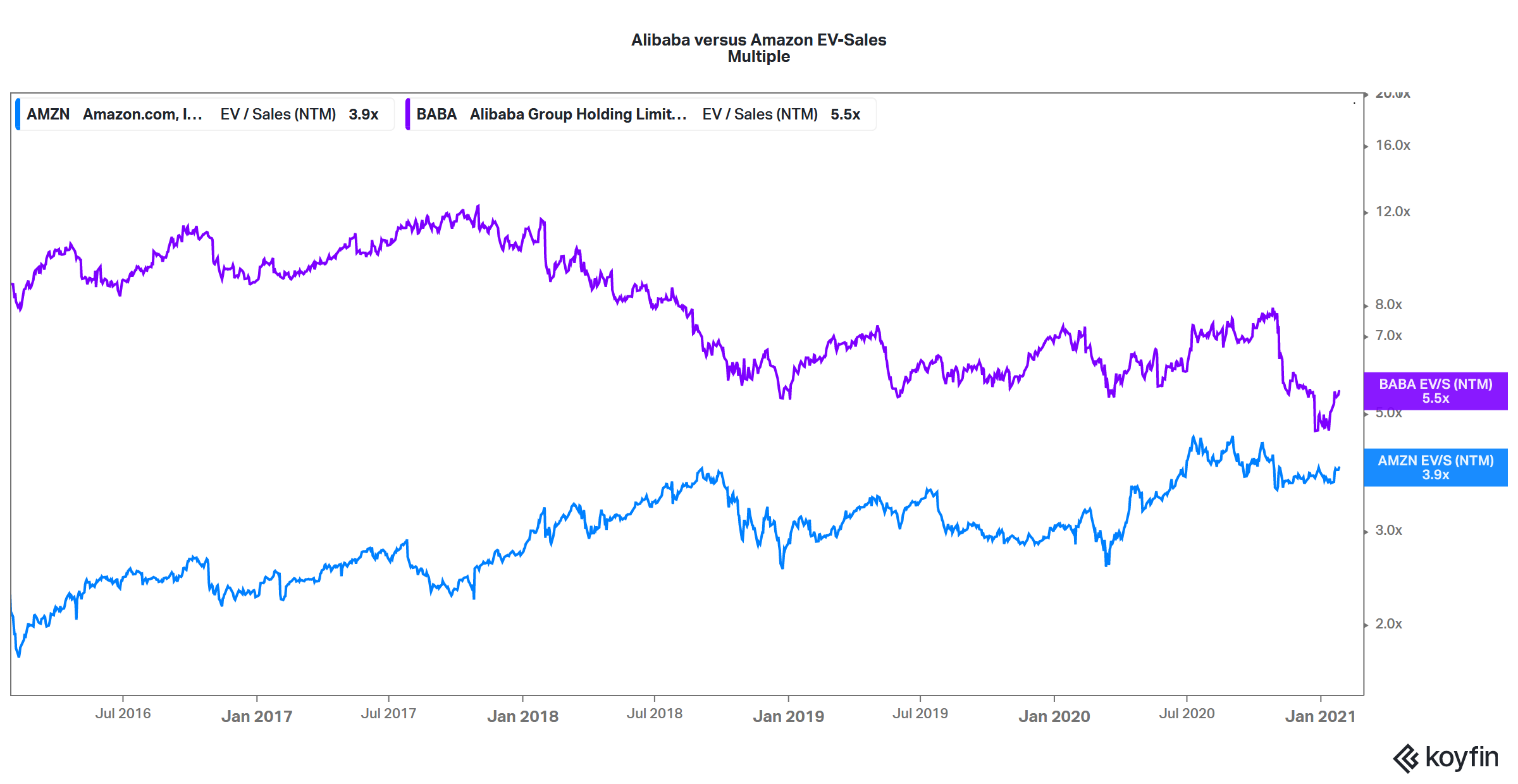 Amazon's valuation compared to Alibaba
Valuation is very important when it comes to choosing stocks for your portfolio. There's a divergence in the relative valuations of BABA and AMZN. AMZN stock trades at an NTM (next-12-month) EV-to-sales multiple of 3.9x, while BABA trades at an NTM EV-to-sales multiple of 5.5x. After BABA stock's underperformance, the valuation gap has come down sharply over the last two years.
Article continues below advertisement
However, things are different when it comes to the PE multiple. Amazon stock trades at an NTM PE multiple of 85.5x, while Alibaba's NTM PE multiple is only 24.3x. The valuation gap between the two stocks has widened over the last year.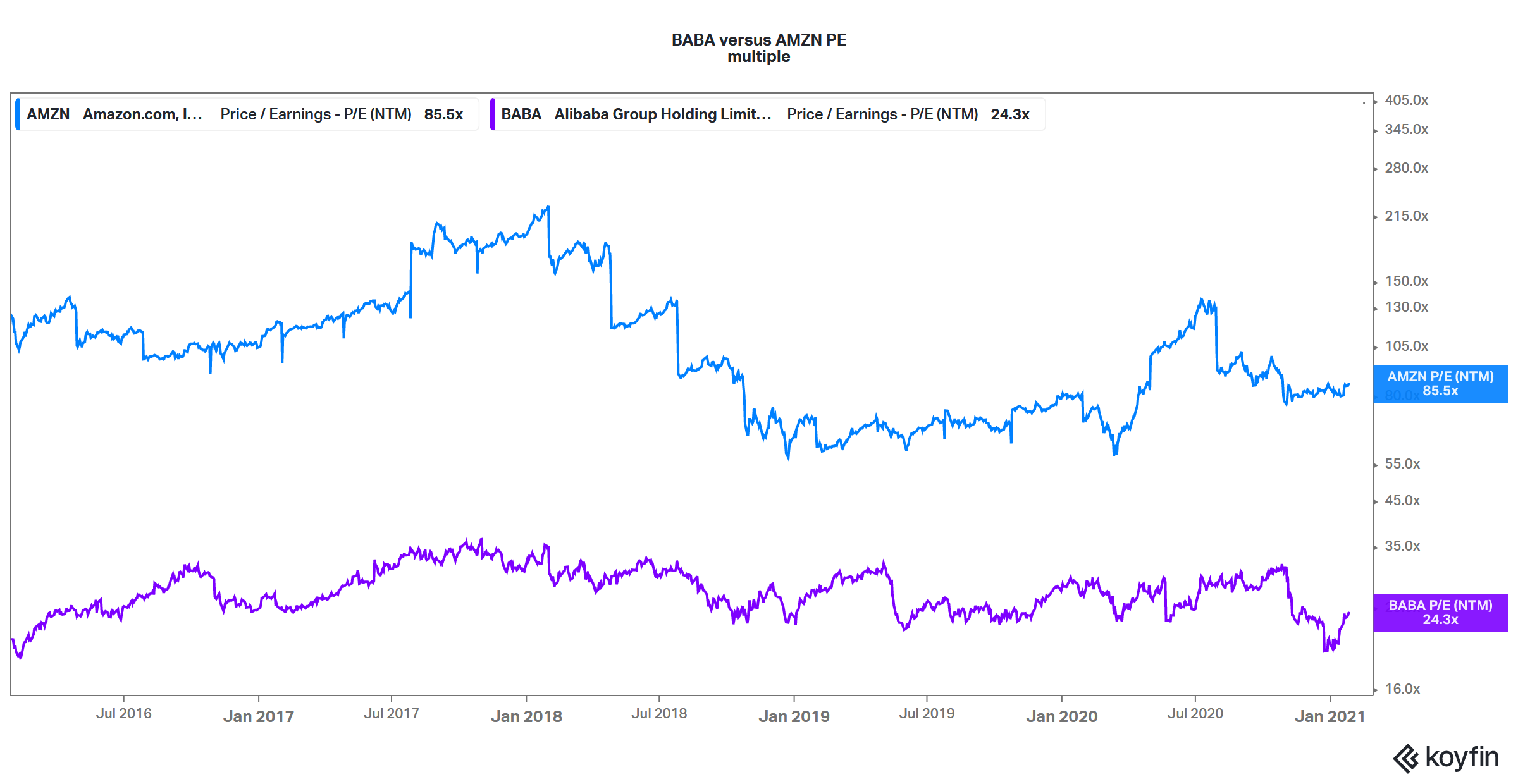 Article continues below advertisement
Alibaba's profits compared to Amazon
Another interesting data point we can look at is the total profitability. In the last fiscal year, which ended on March 31, 2020, Alibaba posted a net profit of $19.8 billion. The net profit is expected to increase to $28.5 billion and $34.6 billion in fiscal 2021 and 2022, respectively.
While Amazon's market capitalization is over twice Alibaba's market capitalization, it actually generates fewer profits. Amazon generated an adjusted net income of $11.6 billion in 2019, which is expected to rise to $17.7 billion in 2020 and $23.7 billion in 2021. It's worth noting that Amazon's fiscal year is the same as the calendar year. This doesn't impact our thesis that Alibaba generates more profits than Amazon.
Article continues below advertisement
Is BABA or AMZN growing faster?
Alibaba's revenues are growing faster than Amazon's and are expected to rise at a CAGR of 44 percent between fiscal 2016 and fiscal 2022. Amazon's revenues are expected to grow 27.1 percent between fiscal 2016 and fiscal 2021. However, when it comes to profit growth, Amazon beats Alibaba.
Article continues below advertisement
Is it riskier to invest in AMZN or BABA?
When choosing a stock, investors should look at the various risks involved. In Amazon's case, there are risks of antitrust legalizations in the U.S. as well as other markets. The company, like other U.S. big tech companies, faces the demands of digital tax in some jurisdictions even though some countries like France have gone ahead with a digital tax.
Alibaba faces its own unique set of issues including its revenue concentration in China. Jack Ma's tussle with Chinese authorities has highlighted the risk of investing in Chinese companies. China is cracking down on its tech companies and Alibaba looks like the prime target.
Article continues below advertisement
Also, given the negative global sentiments towards China, Alibaba would face challenges as it expands abroad. For example, India, which is among Amazon's fastest-growing markets, has barred several Chinese companies from doing business in the country. Some of the companies are linked to Alibaba.
Why BABA looks like a better buy than AMZN
Based on the analysis, BABA looks like a better e-commerce stock to buy. After the last few years of relative underperformance, BABA could outperform AMZN in the short to medium term. The valuation gap between these companies looks very wide and BABA might bridge the gap somewhat.