Elvis Presley's Jet Sat for Decades in a Desert – It Sold at Auction
A jet once owned by the King of Rock and Roll himself – Elvis Presley, sold at auction in January 2023 for a whopping $286,000. Mecum Auctions featured the red and silver 1962 Lockheed 1329 Jetstar in its lineup of items during its Kissimmee 2023 event, naming it as the main attraction.
Of course, Priscilla Presley, who was married to Elvis for six years, was in attendance to watch the bidding play out.
Article continues below advertisement
Article continues below advertisement
For the past 40 years, Elvis' jet sat in a desert at Roswell International Air Center in New Mexico after it was purchased in 1977 by a Saudi Arabian company, Mecum Auctions notes on its website. In between that time, businessman Jim Gagliardi purchased the jet in 2017 for $430,000, not including commission and fees.
Want to know how much Elvis paid for the private jet and the features that have remained intact, then keep reading!
How much is Elvis Presley's plane worth?
Elvis' plane that recently sold at auction was initially worth $840,000 – that's what the Jailhouse Rock singer paid for it on Dec. 22, 1976. Presley purchased the vessel from OMNI Aircraft Sales Inc. and used it to keep up with his busy touring schedule. Presley would often use the aircraft to transport his TCB band, Col. Tom Parker, backup groups, and Memphis Mafia to concerts and venues.
Article continues below advertisement
To ensure he could charter the jet at any given time, Presley "kept multiple pilots on retainer." After swapping hands two more times, Presley's jet fell into the hands of Gagliardi who reportedly never visited the vessel after acquiring it. Fast forward to 2023 and Presley's jet sold at auction to "an unnamed telephone bidder," People reported.
Article continues below advertisement
Article continues below advertisement
Many of the original features of Elvis' private jet remain intact.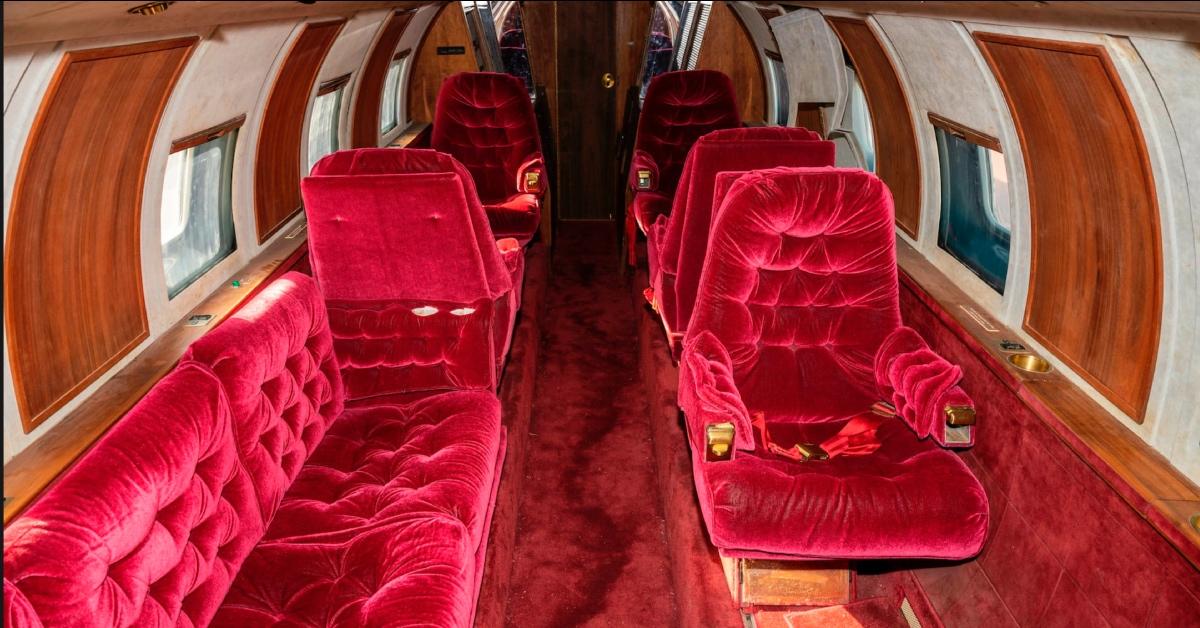 Given Presley's stage presence and position in the music industry, it's only natural to want to know what his travel quarters looked like. Some of the features of Elvis' plane that remain intact include red velvet upholstered seats that swivel, gold-finished hardware, an onboard TV and RCA VCR player, and a cassette player.
Some additional features you'll find on Elvis' private plane include an onboard lavatory equipped with a vanity, a Kenmore microwave, and wood cabin paneling. The plane is also equipped to hold nine occupants. Although many of the original features of Elvis' plane were untouched, the plane is missing its engines and many cockpit components.
Article continues below advertisement
Where is Elvis Presley's plane now?
The plane once owned by Presley will remain at the Roswell International Air Center until the new owner arranges to have it moved. Mecum Auctions pointed out that the jet will need to be disassembled in order to be shipped.
The plane was sold as-is and the sale included a copy of the Aircraft Security Agreement which was signed by Presley, a copy of the Aircraft Bill of Sale, and official FAA Blue Ribbon documents.
Article continues below advertisement
How many aircraft did Elvis Presley own?
In addition to the 1962 Lockheed 1329 Jetstar, Elvis owned a 1958 Convair 880, which was purchased in April 1975. He named the plane Lisa Marie and used the call sign Hound Dog 1 to identify it during air-ground communications. Presley spent over $800,000 to have the plane remodeled to his liking, which included 24-karat gold-flecked sinks, according to the Graceland website.
Elvis also owned a second JetStar which was customized with a yellow and green interior. Both planes can be viewed at Graceland in Memphis, Tenn.
Article continues below advertisement
Who owns the planes at Graceland?
The Graceland website states that Lisa Marie Presley retains 100 percent sole personal ownership over the Graceland mansion and its over 13-acre land. This includes furniture, cars, and other assets. However, after Lisa's passing in January 2023, it's assumed Priscilla took over as owner of the Graceland Mansion.
Today, Graceland's assets and business dealings are handled by Elvis Presley Enterprises, Inc. (EPE), a corporate entity created by the Elvis Presley Trust.