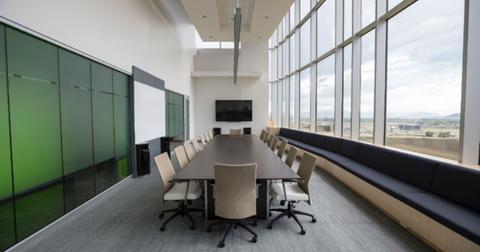 Get Real: Recreating Magic in the Market
By Grace Nightingale

Oct. 22 2019, Published 9:50 a.m. ET
In today's Get Real, we saw lots of insight about third-quarter earnings. Will Tesla be able to recreate last year's magic? Plus, smart homes could be the future.
Article continues below advertisement
Must-knows
Buffett bot versus Warren Buffett
Berkshire Hathaway's (BRK.A) Warren Buffett is arguably one of the best value investors. Havelock London is following Buffett's methods. Investors wonder if the startup can emulate Berkshire Hathaway's history of successful returns.
Governors discussed cannabis legalization
Despite Canada's recent marijuana expansion, the cannabis sector isn't doing well. Recently, governors from four states met to discuss cannabis legalization in the US.
Ford stock has been downgraded
Before Ford's (F) third-quarter earnings report, ValuEngine downgraded the stock to a "strong sell." Analysts have various levels of confidence in Ford stock, but it has risen this month.
Smart homes of the future
KB Home thinks that software-defined homes could be the future. Dan Bridleman, KB Home's SVP, discussed smart homes' evolution in a video interview.
What to watch for
Is an earnings break out in Amazon's future?
Amazon (AMZN) stock has been falling since July for a variety of reasons including the trade war and political backlash. If the company has a good third-quarter earnings report, the stock could see a welcome boost.
What to expect from industrial stocks
This week is busy for industrial stocks due to earnings releases. We have the prospects for GE, Lockheed Martin, Caterpillar, Boeing, and more.
Will McDonald's stock fall?
McDonald's (MCD) is scheduled to release its third-quarter earnings report today. Analysts' consensus estimate indicates that the company's sequential revenue and earnings growth rate could accelerate.
AMD's rally might continue
AMD (AMD) stock has closed in the red the past few sessions. However, the stock might maintain its previous momentum. Options traders are still bullish on AMD stock.
Can Tesla recreate last year's magic?
Tesla (TSLA) is scheduled to release its third-quarter earnings tomorrow. The company's earnings were exceptional in the third quarter of 2018. We'll have to see if Tesla can recreate last year's magic.