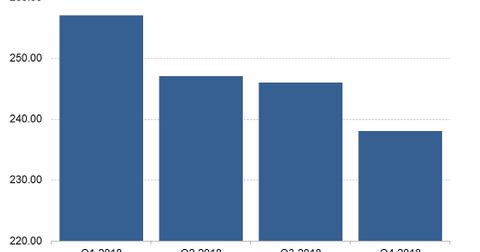 Snap's Shift to Programmatic Ad Selling Is a Double-Edged Sword
By Neha Gupta

Updated
Snap adopted a self-service model to extend advertiser reach
In order to grow its advertiser base—especially to reach overseas advertisers—Snap (SNAP) has adopted a self-service ad-selling model that the industry calls programmatic advertising.
Addressing investors last year after Snap released its third-quarter results, CEO Evan Spiegel disclosed that programmatic advertising accounted for more than 85% of the company's total advertising revenue. This percentage was reflective of a huge shift toward self-service ad selling considering that little more than a year ago, programmatic advertising had accounted for just 35% of Snap's advertising revenue.
WAKE UP WITH BAGELS & STOX, OUR NEW EMAIL THAT ENTERTAINS AND INFORMS YOU BEFORE THE DAY STARTS. SIGN UP HERE!
Article continues below advertisement
At the moment, Snap doesn't disclose the size of its advertiser base. Google (GOOGL) and Twitter (TWTR) also don't disclose their advertiser base sizes. According to Facebook (FB), it exited 2018 with over 6.0 million active advertisers. Baidu (BIDU) and Yelp (YELP) closed 2018 with 529,000 and 191,000 advertisers, respectively, on their platforms.
Snap's ad prices dip with a shift to programmatic selling
While the shift to programmatic ad selling may have helped Snap to extend its advertiser reach, it has also eroded the company's ad prices. As of 2018, Snapchat's ad rates had dipped to as low as $1.88 per impression, down from $8 in 2017, according to Digiday. In contrast, Facebook's ad rates are as high $19 per impression.
Still, the shift to programmatic advertising is great for Snap's bottom line, as the company can work with a smaller advertising sales team, thereby cutting its payroll expenses. Snap's operating expenses were down 9.0% year-over-year to $238 million in the fourth quarter.