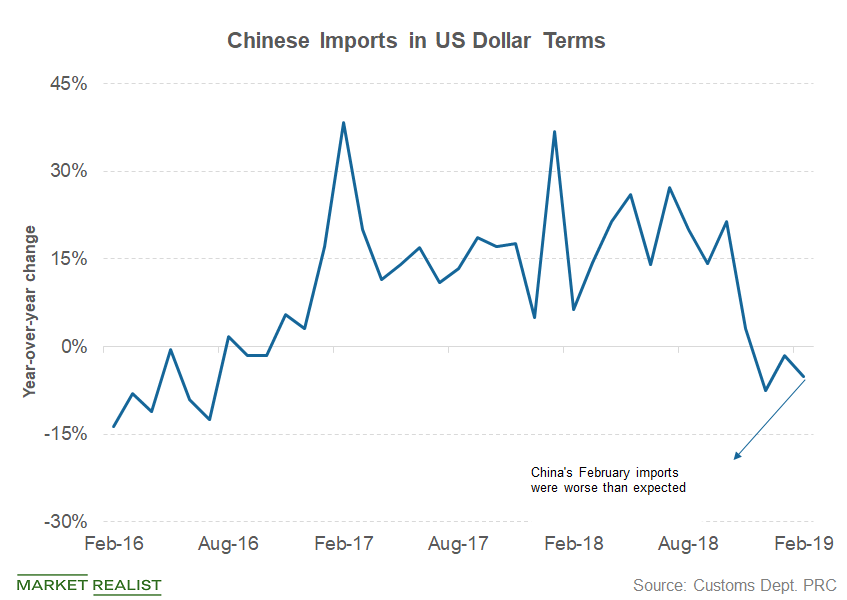 Why Europe Never Fully Recovered from the 2008 Financial Crisis
Europe
While the rest of the world recovered from the 2007–2008 financial crisis, Europe (VGK)(EZU) has been engulfed in one crisis after another.
Immediately after the global financial crisis, the sovereign debt crisis hit Europe. Next came the Grexit concerns in 2015. In 2016, the United Kingdom voted to leave the European Union. Last year, we saw a crisis over Italy's budget deficit. This year, uncertainty over Brexit has hurt business sentiment in the region.
Plus, automotive sales have been weak globally, hurting the German economy (EWG). Global trade has also been affected by President Trump's trade war, which is further affecting the German economy.
Article continues below advertisement
China's slowdown
China's slowdown is also taking a toll on Europe's economy as the country's imports have slumped in recent months. China's imports in US dollar terms fell 5.2% year-over-year in February. Imports had fallen in January as well. For its part, the ECB (European Central Bank) is taking measures to arrest the slowdown. At the beginning of March, the ECB said, "The Governing Council now expects the key ECB interest rates to remain at their present levels at least through the end of 2019." The current language is more dovish than last year, when the ECB said rates would be on hold "at least through the summer of 2019."
Central banks
But the ECB and central banks across the globe might fall short of their policy tools if a recession hits the global economy. See Economic Slowdown Deepens, Central Banks Take Charge for more analysis.
In the markets (QQQ), the FAANG pack is deep in the red today. As of 1:00 PM ET, Facebook (FB), Apple (AAPL), Amazon (AMZN), Netflix (NFLX), and Alphabet (GOOG) have respectively lost 0.39%, 1.1%, 1.9%, 3.0%, and 1.5%. Alibaba (BABA), Baidu (BIDU), and Micron (MU) have also lost 2.3%, 2.6%, and 3.9%. respectively.