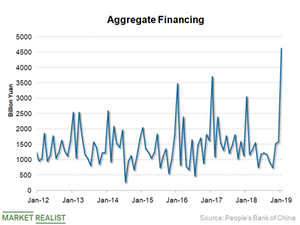 Can China Manage Growth without Fueling a Debt Crisis?
China's debt and growth
While there is no denying that China (FXI) needs stimulus measures to kickstart its slowing economy, any propping up needs to be done in a way to avoid another debt-fueled crisis. Chinese premier Li Keqiang outlined several measures, as we discussed in the previous part of this series, to shore up the economy. He was clear that measures need to be sustainable and not rely too much on debt. The world will be interested in how China's authorities approach this balancing act.
Article continues below advertisement
China's financial leverage
China's financial leverage has reached unsustainable levels in the last few years, and authorities have tried to crack down on excess leverage by putting various restrictions on lending institutions. However, as growth is faltering, authorities have once again eased their debt crackdown.
China's credit growth
China's credit growth surged to a record high in January, boosted by seasonal factors. Its aggregate financing reached 4.64 trillion, higher than economists' estimate of 3.3 trillion yuan. New loans in January hit 3.23 trillion yuan, a new record and higher than the estimate of 2.8 trillion yuan. While Chinese banks usually front-load their loans, if the current trend in lending is sustained, authorities may find it difficult to contain China's medium-term financial risks.
China's weak macroeconomic data is also negative for US stock investors. Many large US companies have raised their bets on China's economy in the last few years. As of March 4, the S&P 500 and NASDAQ Composite (QQQ) had risen 11.4% and 14.2%, respectively, this year, while General Motors (GM), General Electric (GE), Boeing (BA), Apple (AAPL), NVIDIA (NVDA), Amazon (AMZN), and IBM (IBM) had risen 17.3%, 42.6%, 34.2%, 11.5%, 17.4%, 12.9%, and 21.8%. In comparison, Chinese companies Baidu (BIDU), Alibaba (BABA), NIO (NIO), Tencent Holdings (TCEHY), and JD.com (JD) had risen 1.5%, 36.6%, 53.5%, 11.0%, and 38.0%, respectively.