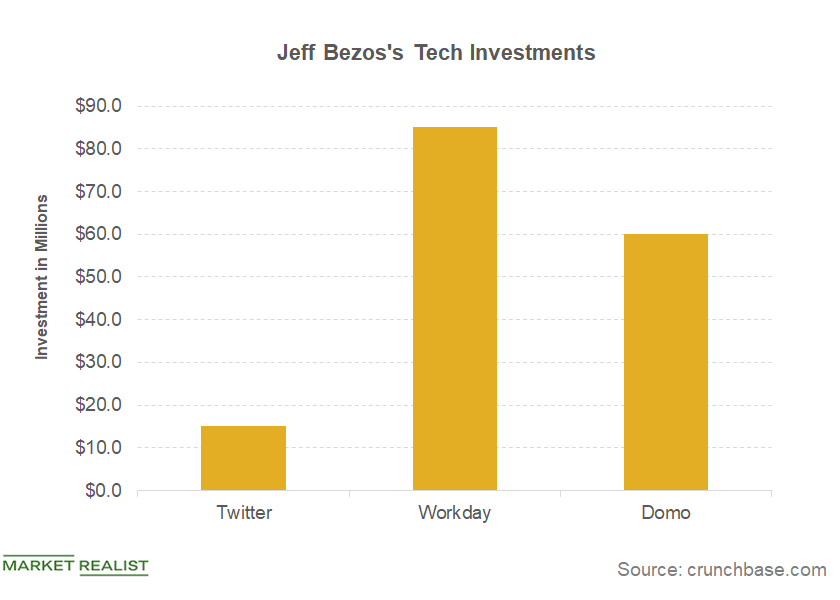 Jeff Bezos's Three Key Investments in the Tech Sector
Jeff Bezos's investments
In the previous article, we looked at the three sectors in which the world's richest person, Jeff Bezos, has invested through his investment company, Bezos Expeditions.
Technology, healthcare, and industrials are the top three sectors (SPY) in which Amazon's (AMZN) founder and CEO has invested. In this article, we'll look at more details about Bezos's investments in the technology sector.
Article continues below advertisement
Bezos's investments in the tech sector
According to the data compiled by Reuters, the technology sector makes up ~43.5% of Bezos Expeditions' total investment portfolio, amounting to nearly a $104.65 million investment in 25 companies in the tech sector.
Some of the more well-known public tech companies in which the company invests are Twitter (TWTR), Workday (WDAY), and Domo (DOMO). According to the data compiled by CrunchBase, Bezos invested ~$15 million in Twitter in 2008. Bezos invested nearly $85 million in Workday in 2011. Similarly, he poured ~$60 million into American software company Domo in 2013 and invested another $100 million in the company in 2017.
In the fourth quarter of 2018, Twitter stock rose 1.0%, Workday stock rose 9.4%, and Domo stock fell 8.5%.
To invest in the technology sector, you may want to consider the iShares Global Technology ETF (IXN) or the First Trust NASDAQ 100 Technology ETF (QTEC). IXN holds ~14.4%, 12.4%, 4.4%, and 4.0%, respectively, in Microsoft (MSFT), Apple (AAPL), Visa (V), and Intel (INTC). QTEC invests 2.9%, 2.9%, and 2.8%, respectively, in Advanced Micro Devices (AMD), Micron Technology (MU), and Workday.
In the next article, we'll discuss why startups account for the majority of Bezos's investments.