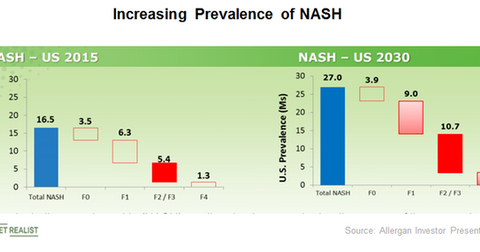 How Is Allergan Placed in the NASH Area?
By Margaret Patrick

Oct. 19 2018, Published 12:25 p.m. ET
Allergan's advent in NASH
Allergan (AGN) is currently focused on advancing its position in four therapeutic areas—medical aesthetics, central nervous system (or CNS) disorders, eye diseases, and gastrointestinal (or GI) diseases.
On November 1, 2016, Allergan announced the completion of the acquisition of Tobira Therapeutics. This deal added investigational NASH therapies such as orally administered CCR2/5 Inhibitor, Cenicriviroc (or CVC), and Evogliptin, an orally administered DPP-4 inhibitor, to Allergan's portfolio.
On September 20, 2016, Allergan announced the acquisition of Akarna Therapeutics. This deal added investigational NASH therapy, FXR agonist AKN-083, and other FXR compounds to Allergan's portfolio.
Allergan noted that these acquisitions enabled it to enter the NASH market, which is an adjacent growth opportunity for the company, considering its existing GI development and commercialization capabilities.
The chart above highlights the estimates of the increasing prevalence of NASH in the United States. Allergan noted that although NASH has become the leading cause of liver transplants, it remains underdiagnosed. 
Testing for NASH requires a liver biopsy, which is a highly invasive and costly procedure. However, Allergan expects to see increasing diagnosis rates for the disease going forward, driven by the availability of noninvasive testing methods and multiple treatment options.
Article continues below advertisement
CVC and fibrosis
On July 25, 2016, Tobira Therapeutics announced the results of the Phase 2b CENTAUR trial, which evaluated CVC in the NASH indication at the end of one year. Although CVC failed to meet the primary endpoint of this trial, the drug demonstrated improvement in fibrosis and prevented further progression of NASH in the tested patients. Based on these results, the Phase 3 trial, AURORA, was designed with improvement in fibrosis as the primary endpoint.
On September 22, 2017, Allergan announced the top-line results from the CENTAUR study that further highlighted antifibrotic activity of CVC in NASH patients with fibrosis.