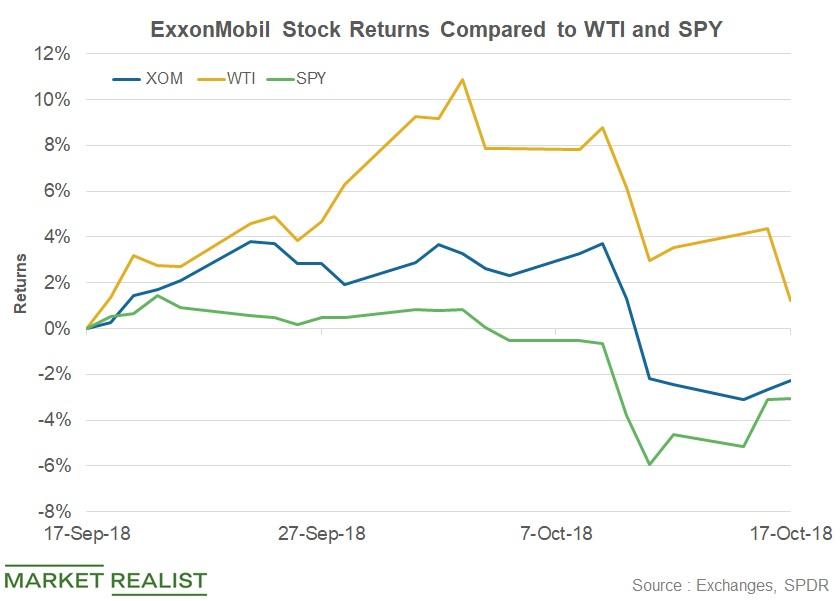 How Has ExxonMobil Stock Performed ahead of Its Q3 Earnings?
By Maitali Ramkumar

Nov. 20 2020, Updated 12:16 p.m. ET
ExxonMobil pre-earnings series
In the previous article, we examined ExxonMobil's (XOM) segmental outlook for the third quarter. Now, let's review ExxonMobil's stock performance before its third-quarter results.
We'll also compare ExxonMobil's stock price to the price of crude oil and the movements in the equity markets in the past month. Let's begin by reviewing the changes in WTI's price since September 17.
Article continues below advertisement
WTI price trend
Since September 17, WTI has risen 1.2%. This marginal rise has resulted from the steep decline in oil prices since October 3.
If we look at the period between September 17 and October 3, we'll see that WTI has risen 10.9% led by a fall in oil exports by Iran. Hurricane Michael also supported oil prices. However, since October 3, WTI has fallen 8.7%. During the same period, equity markets fell steeply. Also, higher oil output from major oil-producing nations affected oil prices. In the United States, crude oil inventories rose, impacting oil prices.
ExxonMobil stock returns
ExxonMobil stock has trended in line with the oil prices in the past month. The stock rose 3.3% between September 17 and October 3. However, since October 3, the stock has fallen 5.4% due to the steep decline in WTI. Since October 3, the steep fall in the US equity market has affected ExxonMobil stock. The SPDR S&P 500 ETF (SPY), a broader market indicator, has fallen 3.9% since October 3.
Overall, ExxonMobil stock has fallen 2.3% in the past month led by the stock's fall since October 3. In the past month, SPY has fallen 3.1%.
ExxonMobil's peer Chevron (CVX) has fallen 0.2% in the past month. Also, in the stated period, other global integrated energy companies YPF (YPF), Eni (E), and Suncor Energy (SU) have fallen 2.4%, 4.5%, and 5.1%, respectively.
In the next article, we'll review ExxonMobil's moving average positions ahead of its third-quarter earnings release.