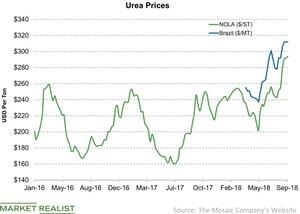 Urea Prices Flat to Positive in Week Ended September 7
By Adam Jones

Sep. 11 2018, Updated 1:40 p.m. ET
Urea-nitrogen fertilizer
Urea, the most common nitrogen fertilizer, has been on an upward trend in recent weeks. In the week ended August 31, urea prices made new highs at each of the locations in the chart below. Last week, which ended September 7, urea prices were broadly flat to positive at those two locations.
Article continues below advertisement
Weekly movements
Last week, urea prices in the NOLA (New Orleans) region of the United States rose 68 basis points to $267 per metric ton, from $265 per metric ton the previous week. Prices in Brazil were flat at $312 per metric ton, unchanged from the week ended August 31. Last week, prices at NOLA reached a new high, while prices in Brazil maintained their all-time high since January 2016.
Despite the strength in urea prices, nitrogen stocks (MOO) for CF Industries (CF), CVR Partners (UAN), and Nutrien (NTR) showed weakness last week.
Yearly movements
Year-over-year, urea prices in NOLA rose 39% year-over-year from $191 per metric ton in the corresponding week of 2017. In Brazil, urea prices rose 28% year-over-year, from $244 per metric ton in the corresponding week of 2017.
Next, we'll look at last week's natural gas price movements.