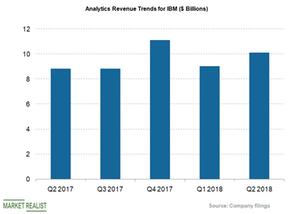 How IBM Cloud Could Contribute to Data Business Growth
By Aaron Hemsworth

Updated
The importance of cloud to Watson Health
IBM's (IBM) enterprise cloud remains an integral aspect that drives its Watson AI business. The higher adoption of IBM cloud in many enterprises has helped the technology giant make its product easily available to clients. Many hospitals and laboratories can quickly gain access to the vast amount of clinical data, which could help them better diagnose their patients.
IBM's cloud not only saves time by providing valuable information rapidly but also stores a lot of data. Its huge cloud infrastructure is offering economies of scale by storing an enormous amount of patient data, thus reducing the cost of file storage. Countries outside the United, including India and China, are IBM's most preferred destinations because they can be easily penetrated through IaaS (Infrastructure as a Service) cloud technology.
Article continues below advertisement
What's driving cloud performance?
IBM's cloud business continues to gain solid traction across various companies, driven by the availability of rich security features and innovative products such as blockchain and Watson AI. Generally, IBM offers its cloud service to clients by integrating these innovative features. From the graph above, you can see the revenue trend of its cloud business subsegment in the last five quarters.
These strong product capabilities may help IBM reduce the gap between other cloud operators such as Microsoft's (MSFT) Azure, Amazon's (AMZN) AWS (Amazon Web Services), and Google's (GOOGL) cloud platforms. In Gartner's magic quadrant for infrastructure as a service in 2018, the leading cloud operators were Microsoft, Amazon, and Google, while Oracle (ORCL) and IBM are in the niche category.