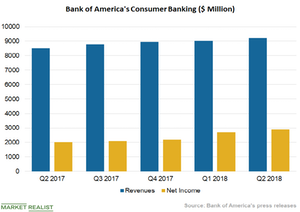 Consumer Banking Segment: The Key to Bank of America's Growth
By Anirudha Bhagat

Updated
Retail lending
The US economy is moving in a positive direction, as indicated by an improving GDP growth rate and a strong jobs market. That has led to an increase in credit demand from retail customers.
Consumer Banking is Bank of America's (BAC) largest segment, contributing ~40% to its total revenues. In the second quarter, BAC's core Consumer Banking segment reported net income of $2.9 billion compared to $2.7 billion in Q1 2018 and $2 billion in Q2 2017. That robust growth came on higher revenues, lower spending, and reduced taxes.
The segment's revenues grew 8% to $9.2 billion in the second quarter on 11% growth in net interest income and a 1.7% increase in non-interest income. An increase in net interest income was mainly driven by higher interest rates and robust deposit and lending growth.
Article continues below advertisement
The Federal Reserve's hawkish monetary policy has also benefited US commercial banks (XLF) since December 2015. It's a general trend that spreads, and net interest margins for banks expand in a rising interest rate scenario. Therefore, the Fed's rate hike policy has allowed banks to see improving margins. In the second quarter, Bank of America reported an expansion of 4 basis points in its net interest margin.
Loan growth
Bank of America's loan book expanded in the second quarter on corporate and retail lending. Its loan book grew 7%, which was in line with JPMorgan Chase's (JPM) growth. Deposits went up 5%. Its other two competitors, Wells Fargo (WFC) and Citigroup (C), saw limited loan book expansion in the second quarter.
Going forward, banks should focus on the manufacturing sector to improve US lending rates. The Trump administration's focus on boosting the US manufacturing sector through tax reductions and trade tariff impositions is expected to accelerate domestic manufacturing. Bankers could thus target manufacturing-related industries to grow. Wall Street anticipates that Bank of America's offtake may increase 3.3% year-over-year in the third quarter.