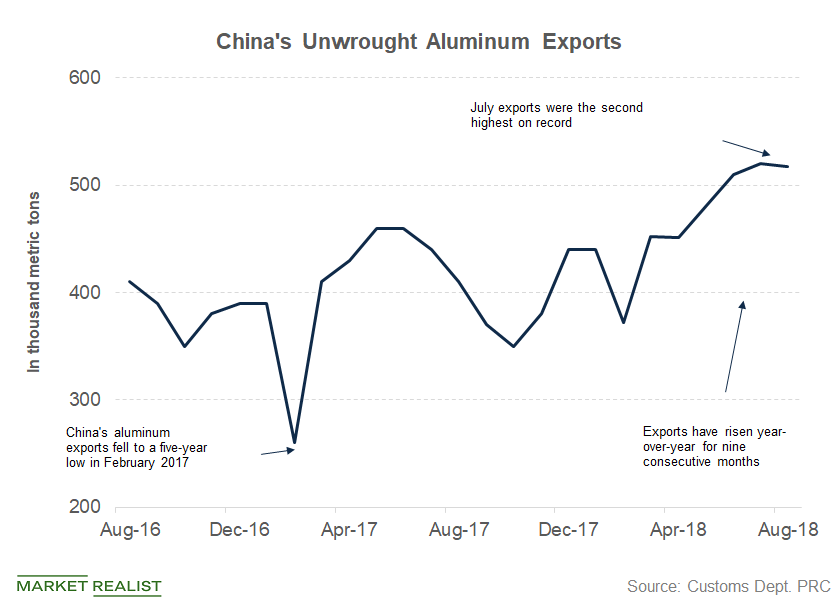 China or US Consumers: Who's Paying the Tariffs?
Tariffs
In March, President Trump imposed a 10% tariff on US aluminum imports apparently to protect US aluminum producers from imports. Notably, Alcoa hasn't been a big fan of the Section 232 tariffs. During the company's second-quarter earnings call, CEO Roy Harvey said, "Even if all U.S. curtailed capacity was back online and producing metal, the U.S. would still need to import the vast majority of its required primary aluminum, with approximately 60% from Canada, which is key to the North American supply chain." He also added, "In short, tariffs will not solve the challenges facing the aluminum industry."
Article continues below advertisement
Article continues below advertisement
In the past, Alcoa (AA) has requested President Trump address the core issue of Chinese overcapacity that's haunting not just US producers but global aluminum producers. Meanwhile, China's aluminum exports have continued their uptrend in August. The country exported 517,000 metric tons of aluminum last month, which is 26.1% higher than the corresponding month last year. China's aluminum exports are up 14.8% year-to-date in the first eight months of the year.
Section 232 tariff impact
The Section 232 tariffs have lifted US physical aluminum premiums. The premiums are a surcharge that end buyers like Ford (F), Tesla (TSLA), and the Coca-Cola Company (KO) have to pay. Coca-Cola recently announced a price hike, citing higher input costs including freight and metal prices. However, automotive companies have largely absorbed higher metal prices amid sagging car sales. Simply put, the Section 232 aluminum tariffs would be an additional cost for US consumers and businesses, as the country's smelting capacity is not adequate to meet domestic requirements. A letter from Apple (AAPL) on the next round of trade tariffs that Trump threatened states, "The burden of the proposed tariffs will fall much more heavily on the United States than on China."
In the next and final article, we'll look at China's August copper import data.