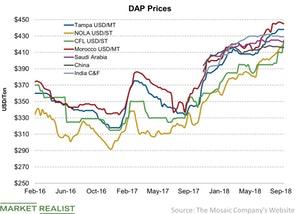 Are DAP Prices Outside the US Reversing?
DAP prices
DAP (diammonium phosphate) prices have been rising lately, and prices in some areas have reached three-year highs. However, last week it seems that DAP prices may have been reversing, especially in places like Morocco, Saudi Arabia, India, and China. Companies (XLB) such as Mosiac (MOS), Nutrien (NTR), Israel Chemicals (ICL), and Intrepid Potash (IPI) benefit when prices rise.
Article continues below advertisement
Prices reverse
Last week, DAP prices in Morocco fell 22 basis points to $445 per metric ton from $446 per metric ton. It was the third consecutive week that DAP prices fell in this location. While DAP prices in Saudi Arabia were flat at $423 per metric ton last week, they have fallen from the peak they achieved three weeks ago in the week ending August 24.
In China, prices remained flat at $416 per metric ton, and in India, prices were also flat at $429 per metric ton. At both these locations, prices have fallen from the peak achieved on August 24 as well.
In contrast to these locations, prices in the US have held on to their gains. In NOLA (New Orleans), DAP prices rose 72 basis points last week to $392 per metric ton, and in Central Florida, prices rose 3.7% to $425 per metric ton from $410 per metric ton a week ago. In Tampa, DAP prices remained flat at $438 per metric ton, but prices didn't reverse as they did in Morocco, China, India, and Saudi Arabia.
Next, we'll look at MAP (monoammonium phosphate) prices.