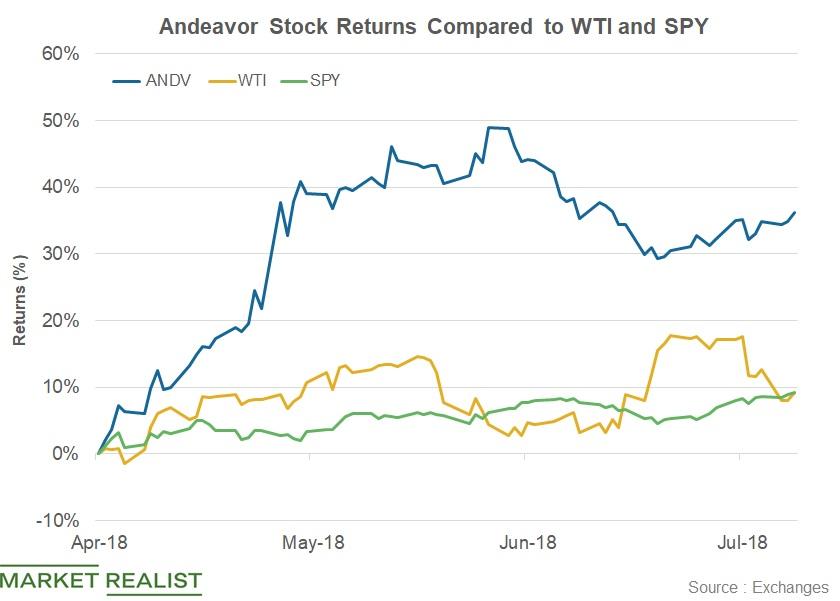 How Andeavor Stock Has Performed ahead of Q2 2018 Earnings
Andeavor stock performance
In the previous two parts of this series, we looked at Andeavor's (ANDV) earnings estimates and expected refining margin for Q2 2018. Now we'll look at ANDV's stock performance. Since April 2, the beginning of the second quarter, Andeavor (ANDV) stock has risen 36.2%. Similarly, peers have risen. Let's look at what led to a rise in Andeavor stock.
On April 30, Marathon Petroleum (ANDV) and Andeavor (ANDV) announced a merger. MPC is expected to acquire ANDV in an equity and cash deal. Andeavor stock surged sharply after the announcement. Plus, on May 7, ANDV announced its first-quarter earnings, which beat estimates and boosted the stock. In fact, on June 1, the stock almost gained 50% over April 2.
Also, in the second quarter, ANDV's refining index values rose in two of its three operating zones, which could result in higher refining margins YoY for ANDV in Q2 2018. We discussed this topic in the previous part of this series.
Overall, Andeavor stock has risen due to the acquisition announcement, better-than-expected Q1 2018 earnings, and year-over-year better refining index values since April 2.
Article continues below advertisement
Peers' stock performance
Since April 2, ANDV's peers Phillips 66 (PSX), Marathon Petroleum (MPC), and Valero Energy (VLO) have risen 16.8%, 1.1%, and 16.5%, respectively. Also, HollyFrontier (HFC) stock has risen even more sharply—by 48.2%.
Also, WTI has risen 9.1% since April 2. Plus, the SPDR S&P 500 ETF (SPY) has increased 9.2% since April 2. So Andeavor stock, with its 36.2% gain, has outperformed SPY.
Read on to the next part to see where ANDV's moving averages stand ahead of earnings.