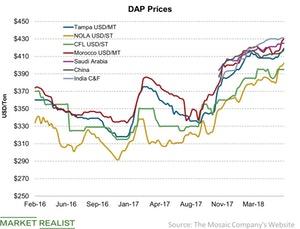 DAP Phosphate Fertilizer Prices Hit a High Last Week
By Adam Jones

Updated
DAP fertilizer
DAP (diammonium phosphate) fertilizer prices in four of seven locations around the world rose last week, continuing an upward momentum. Prices at the other three locations were unchanged. At each of the locations, the current prices were at their peak since the beginning of the year.
Article continues below advertisement
Weekly movements
DAP prices in the United States were mostly positive. In Tampa, DAP prices rose 96 basis points to $419 per metric ton from $415 per metric ton the previous week. In the NOLA (New Orleans) region, prices rose 75 basis points week-over-week to $365 per metric ton, from $362 per metric ton. DAP prices in Central Florida remained flat at $358 per metric ton.
Outside the United States, Morocco saw prices rise 70 basis points week-over-week to $430 per metric ton. Prices in China rose 48 basis points to $417 per metric ton week-over-week.
In Saudi Arabia and India, DAP prices were broadly flat at $425 per metric ton and $431 per metric ton, respectively.
Yearly movements
Year-over-year, DAP prices remained firm with NOLA seeing an increase of 29% from $282 per metric ton. Tampa saw an increase of 21%, and Central Florida was right behind with a 20% year-over-year increase.
Outside the United States, DAP prices remained strong year-over-year, supporting companies (MXI) such as Mosaic (MOS), Nutrien (NTR), and Israel Chemicals (ICL).
In China and India, DAP prices rose 23% and 22%, respectively. In Saudi Arabia, prices rose 20%, and in Morocco, they rose 18% year-over-year.