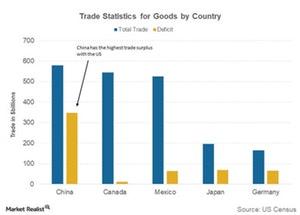 How Would Gold React to Foreign Governments Dumping US Debt?
By Anuradha Garg

Jun. 22 2018, Updated 3:26 a.m. ET
Retaliation for tariffs
President Trump's imposition of tariffs on China (MCHI) and key allies has rattled the markets (DIA) across the globe. In addition to the obvious impacts on global trade, these tariffs also have other repercussions. China and other countries have vowed to retaliate against the imposition of these import tariffs on their products. 
An escalation of this trade war could result in these countries using more unconventional methods, such as dumping US debt that they own. China is the largest holder of US Treasuries (TLT).
Article continues below advertisement
Cutting US debt holdings
In March and April, several foreign governments reduced their US debt holdings—including T-bills—by $47.6 billion. Most notable among these governments was Russia (RSX), which cut its US debt holdings by 50.0% from $96.1 billion to $48.7 billion. 
China reduced its US debt (BND) holdings in April by $5.8 billion. Japan also cut its debt holdings by $12.3 billion. While the overall declines are relatively small, it could become a concern if this is the beginning of a trend.
US deficits
Foreign demand of US debt is critical, as the Federal Reserve is reducing its holdings and the US budget deficit is expected to soar in coming years. In April, foreign investors held ~$6.2 trillion in US debt out of a total of ~$14.8 trillion of outstanding US Treasury debt.
Trading partners aren't expected to go as far as dumping US Treasuries altogether, as it would be detrimental to their own investment interests. However, slowing or stopping their purchases of Treasuries would be vastly unsettling for the markets. As the demand for US debt goes down, interest rates would have to increase to attract more interest.
While the dumping of US debt is a remote possibility, a decline in purchases would also have a detrimental impact on the US dollar (UUP). Along with increasing trade war tensions, this could be enough to support gold prices (GLD).