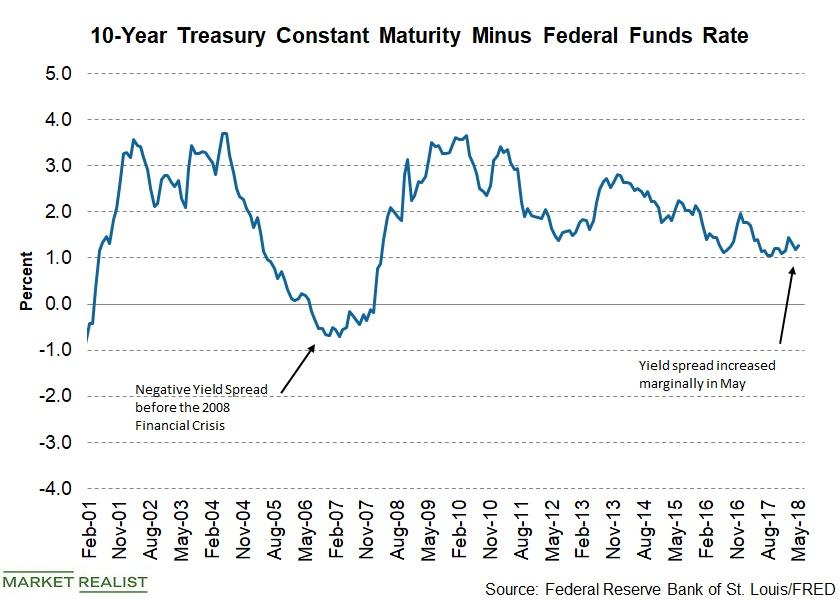 How the Yield Spread Changed the Outlook for the Economy
By Ricky Cove

Jun. 25 2018, Updated 9:03 a.m. ET
Yield spreads as a recession indicator
The US bond markets have struggled as expectations for higher interest rates increased the downward pressure on bond prices. In response to increased chances for rate hikes after a series of positive economic data, short-term yields have increased more than long-term yields, which led to the flattening of the US bond market yield curve. 
An inverted yield curve, in which short-term yields (SHY) are higher than long-term yields (TLT), is considered as a warning sign for a future recession. So, the yield spread finds its place in the Conference Board's LEI (Leading Economic Index).
Article continues below advertisement
Yield spreads used in the LEI
The LEI's economic model uses the yield spread between the ten-year Treasury bond (IEF) and the federal funds rate (TBF) as one of the components. The May LEI report indicated that this yield spread increased from ~1.2 in April to ~1.3 in May. The use of the term "symmetric" along with the inflation target in the May FOMC meeting minutes led to the increase of yield spreads in May.
This credit spread has a weight of 11.0% on the LEI. In the May LEI report, the yield spread had a net impact of 0.14 (or 14.0%). The impact of the yield curve on the LEI is expected to remain positive as long as the yield curve is uninverted.
The outlook for the yield spread
The increase of the yield spreads in May is expected to remain a temporary phenomenon. Mismatched inflation (TIP) expectations and increased demand at the long end of the curve are expected to pressure the yield curve toward further flattening. 
In the final part of this series, we'll analyze the change in consumer expectations in May and its impact on the LEI.