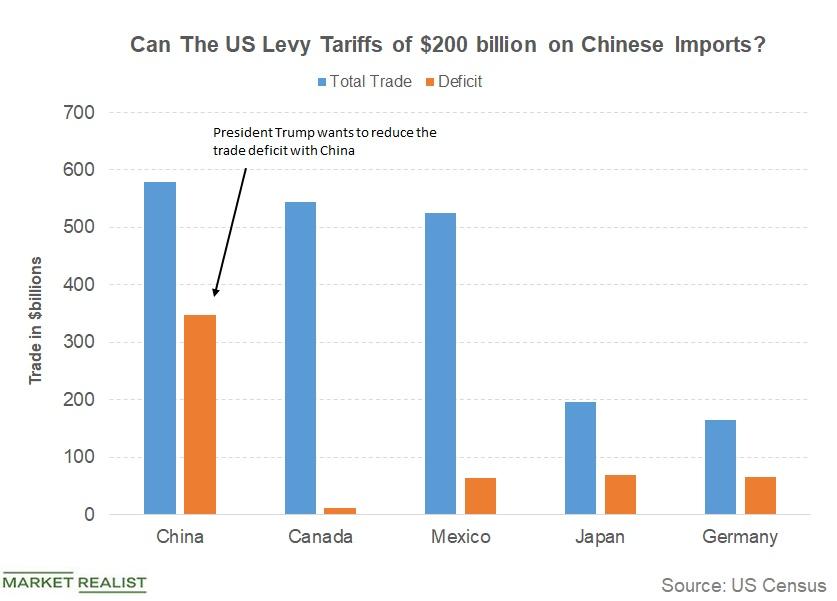 How China Could React to the US Tariff Increase
By Ricky Cove

Dec. 4 2020, Updated 10:53 a.m. ET
How China could retaliate
As the United States imported just $130 billion into China last year, it may be difficult for China to directly counter Donald Trump's threat of imposing tariffs on $200 billion of US imports from China. However, there are many other ways China could hit back. The simplest measure would be to switch to producers or manufacturers from other countries. China (FXI) could also increase tariffs on US imports, making US imports unmarketable in China.
Article continues below advertisement
Examples of defensive steps from China
China could start importing agricultural products from Argentina or Brazil, and switch to Airbus from Boeing (BA) for airplanes. China could also restrict US multinational companies from conducting operations in China, which has a lot of consumers who purchase products from US companies such as Apple (AAPL) and General Motors (GM). There are already some high tariffs on US pork, fruit, and nut exports to China, and these exports have declined drastically in recent months.
Key dates
On June 20, the Trump administration is expected to announce export controls on US technology to China and restrictions on Chinese investments in the United States. The second important date is July 6, when the first round of Chinese tariffs on US imports is due to be implemented. Trump has threatened to add more items to the tariff table if China (GXC) imposes retaliatory tariffs. In the next part of this series, we'll discuss how China could distort global markets.