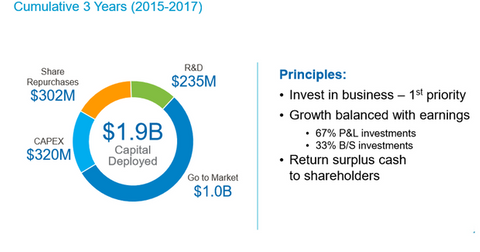 Exploring the Details of Align's Recent Stock Repurchase Program
By Sarah Collins

Updated
Align Technology announced a new stock repurchase program
On April 23, Align Technology (ALGN) held its Investor Day, during which it announced the authorization of a stock repurchase program. The company's board of directors authorized a program under the terms of which it may repurchase ALGN common stock worth up to $600 million over the next three years.
This authorization exists in addition to the company's existing authorization of $300 million, which was approved by the board in April 2016. Thus, the company now has a total stock repurchase authorization of $900 million.
Align's stock buybacks
To date, Align Technology has made share buybacks of ~$200 million out of the company's total authorization of $900 million. It also has plans to repurchase $100 million worth of stock in 2018. Align's capital allocation priority remains investment in business to yield growth. The company plans to invest in new business models that are expected to yield an attractive return on investment. Share buybacks remain the next priority for the company's capital allocation strategy in order to return value to its shareholders.
Over the last three years, Align Technology has bought back 3.4 million shares. At the end of Q1 2018, Align had 80.1 million outstanding shares and investments and cash and cash equivalents worth $673 million.
Management's thoughts
According to Align Technology's CEO, Joe Hogan, "This repurchase program reflects the Board's confidence in our strong future, as well as our commitment to delivering value to our stakeholders. Align's capital strategy allows for our strong balance sheet to fund both internal and external opportunities that will accelerate our long-term growth trajectory."