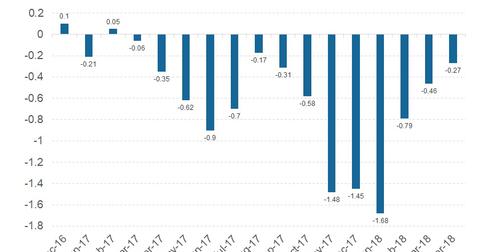 Should We Worry about the Contracting Credit Index?
By Ricky Cove

Updated
Understanding the leading credit index                      
The Conference Board uses credit conditions in the economy as one of the components of the leading economic index (or LEI) economic model. Changes to six financial market instruments are modeled to construct this credit index. The six components of the leading credit index are:
two-year Swap (SHY) spread (real time)
debit balances on margin accounts at broker-dealer (monthly)
AAII Investors Sentiment Bullish (%) less Bearish (%) (weekly)
Senior Loan Officers CI Loan Survey: Bank tightening credit to large and medium firms (IWM) (quarterly)
security repurchases (GOVT) from the total finance-liabilities section of Federal Reserve's flow of fund report
Article continues below advertisement
Performance of the Leading Credit Index in April
The Leading Credit Index contracted for the third consecutive month in April with a reading of -0.27, a marginal decline as compared to the March reading of -0.46. This is an inverse index where a lower credit index reading reflects better credit conditions. The declining trend of the credit index could suggest tightening financial conditions in the future.
In the LEI, a lower credit index reading has a positive impact on the index as better financial conditions make it easier to obtain credit. This credit index has a weight of 8.2% on the LEI, and in the April LEI report, the Leading Credit Index had a net positive impact of 0.02 or 2% on the overall LEI reading.
Credit conditions could be tightened further
The current climate of increasing interest rates could lead to tightening financial conditions in the near term. The US Fed is expected to increase rates again in June, and if the improvements in the economy and inflation continue, there could be two more hikes in 2018 followed by three hikes in 2019. The bottom line is that markets and the economy need to be prepared for tightening credit conditions in the future. In the next part of this series, we'll analyze the impact of the flattening yield curve on the April LEI reading.